More Las Vegas houses boarded up despite improved economy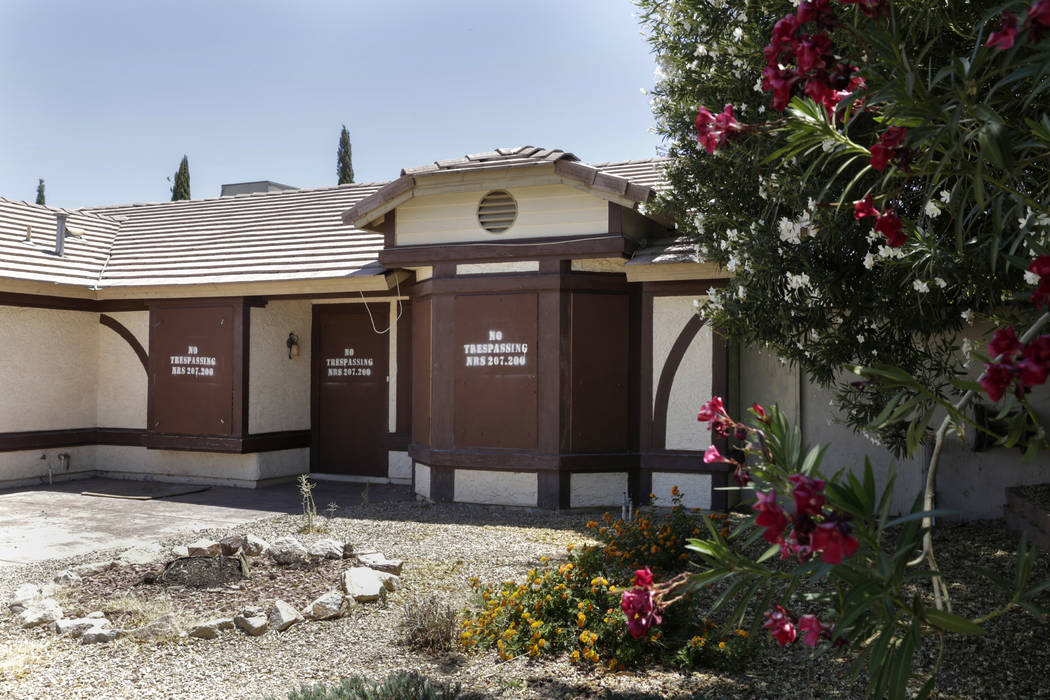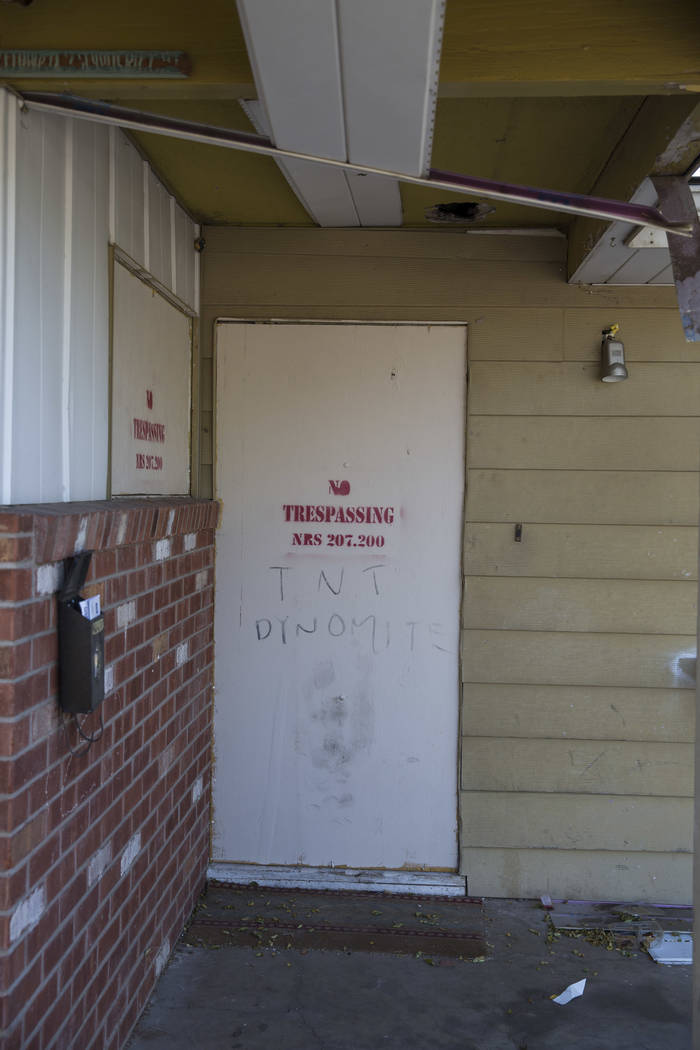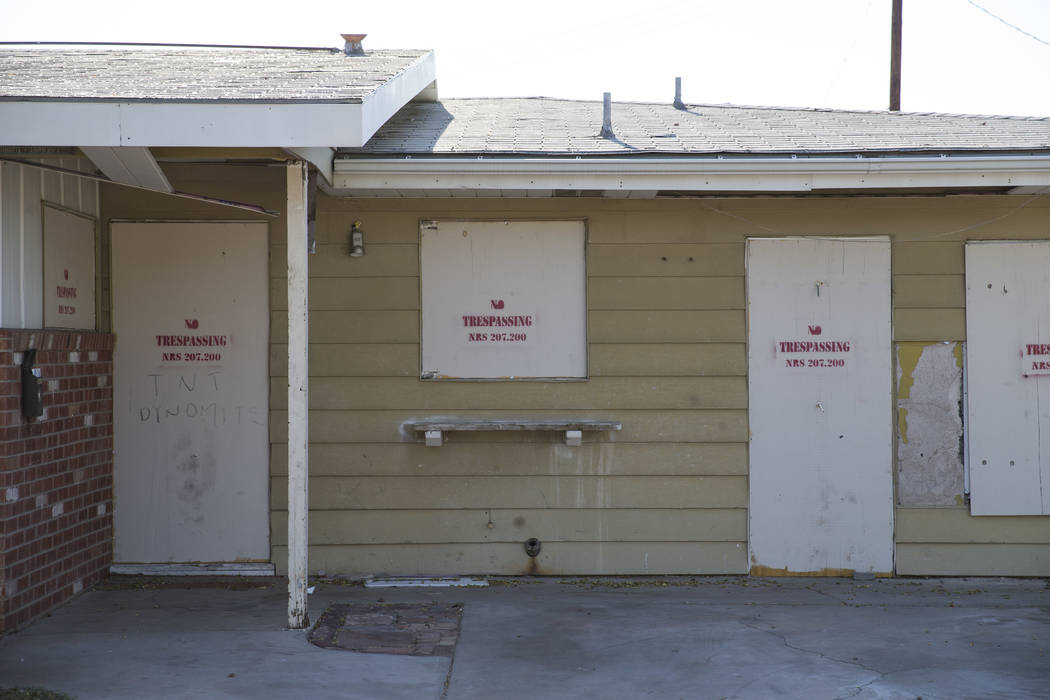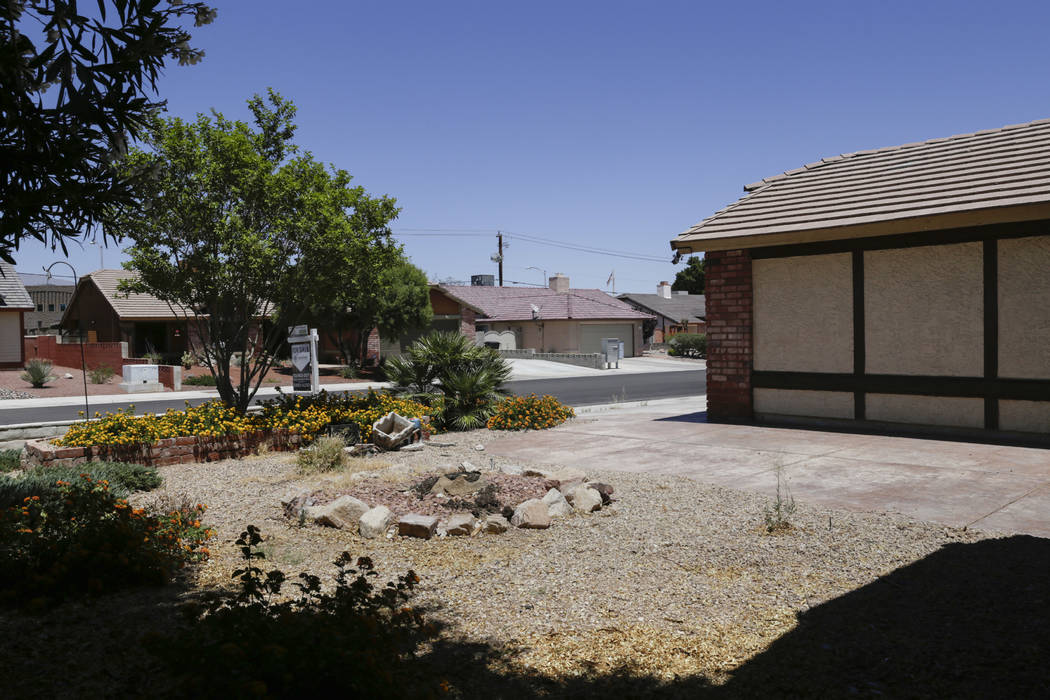 At an abandoned house a mile or so from the Meadows Mall, the boards covering the front door and windows have a red-colored message: "No Trespassing."
But people aren't staying away. A side gate is open, someone sprayed an anarchy symbol on the house, and a next-door neighbor sees vagrants come and go. Some nights, he says, there's so much noise he can't sleep.
The house was boarded in March, though it's not the only property in Las Vegas getting covered with plywood.
The number of homes getting boarded up in the city has been rising even as the real estate market and broader economy improve. Blocking a home's entry points doesn't guarantee its security, but it's a way for local officials to deal with nuisance properties, and such efforts have been increasing.
Las Vegas officials will board a house if the owner fails to secure the so-called open and accessible property. As of June 5, city contractors had boarded homes 97 times in the fiscal year that started last July, compared with 117 the previous fiscal year, 44 in 2011 and around 30 annually before the recession hit, according to city officials.
The figures are only for homes within Las Vegas city limits, not in unincorporated Clark County or other cities such as Henderson and North Las Vegas.
It's not uncommon for abandoned houses in the valley to get squatters or vandals, or to go up in flames. But even if they stay empty, the homes can fall into disrepair with trash and debris scattered about, dead or overgrown landscaping, broken windows, polluted pool water or other problems.
'Almost everywhere'
Phyllis Weaver, who lives near the intersection of Bonanza Road and Eastern Avenue, knows all about vacant properties. The house next door is empty, and a homeless person is camping in the backyard of another one on her street.
She's also a contractor whose family-owned company, Weaver Construction, gets hired by the city and Clark County to board empty properties. She's securing two to three homes per month.
Vacant houses are "almost everywhere," she said, and her workload from the city and county isn't dropping.
"They're kind of neck and neck, to be totally sad about it," Weaver said.
Las Vegas city officials receive new complaints about abandoned properties "every day," code-enforcement supervisor Vicki Ozuna said. Many homes getting boarded up are in older, more centrally located areas of Las Vegas, but neighborhoods outside the city's core aren't immune.
Officials have theories about what's fueling the rise in cast-aside houses, she said, including that lenders should be foreclosing on vacant properties but aren't, leaving homes in limbo and up for grabs. Ozuna figures 20 percent of the homes the city boards up has squatters or vagrants.
All told, she said city officials do wonder: "Why are we still coming across so many abandoned houses?"
'Hopefully it'll work'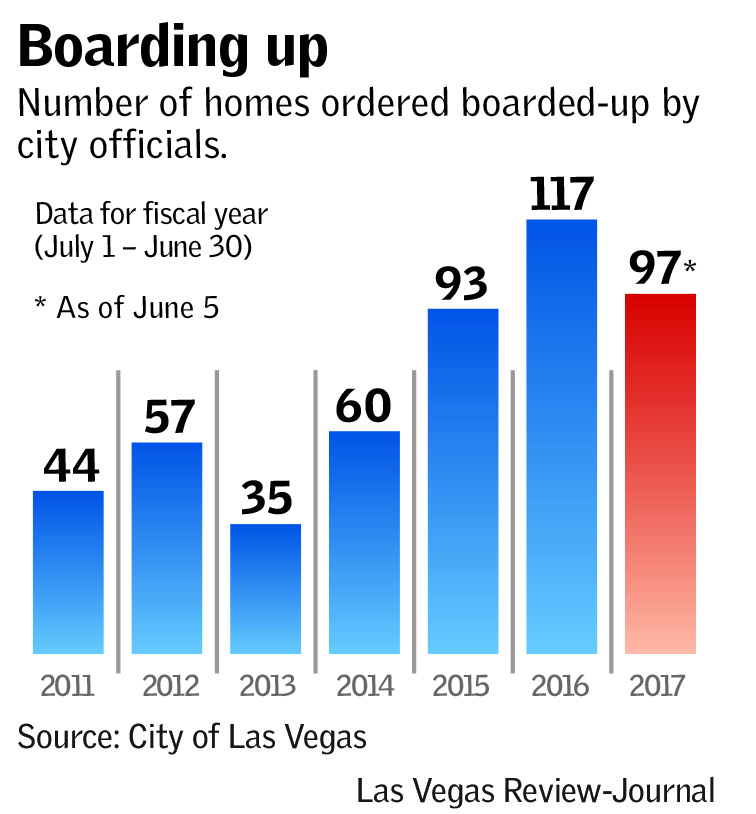 It costs around $1,200 to $1,500 to board a typical house, and in perhaps fewer than 5 percent of the city's cases, people still broke in, Ozuna said.
"For the most part, they just move on and find another place to hang out," she said.
To prevent break-ins, city officials launched a pilot program last year to secure homes with a sheet plastic made of polycarbonate, a supposedly more durable option than plywood. But vagrants still got inside the test house off Charleston Boulevard near Pecos Road; they cut through the walls and ripped off the plastic covering.
City officials told the owner to demolish the house or give code enforcement a timeline to permanently secure and rehab it, a filing with the county recorder's office shows. The owner tore it down, but if he hadn't, the city would have, Ozuna said.
The city also hired a contractor to create software that uses tax data, foreclosure filings, liens and other records to predict whether a house is abandoned. Officials hope the program, dubbed the Community Risk Data Portal, will be up and running in the next few months, Ozuna said.
"Hopefully it'll work," she said.
Banks are "moving through their inventory" with foreclosures, short sales and other efforts, but the difficulty of repossessing a house "certainly still exists," Nevada Mortgage Lenders Association Chairman Jon Gedde said.
He pointed to federal and state regulations that largely were enacted after the housing crash, saying there can be "severe consequences" if lenders don't follow all the rules when foreclosing on a property.
Gedde figured it takes an average of about 500 days — or almost a year and a half — in Nevada to repossess a home, from when a borrower is 90 days late on payments to the lender taking title. That's longer than in most states, he said, but shorter than in some.
Problems pile up
The local economy has made headway after getting all but wiped out by the recession. But Las Vegas, ground zero for America's foreclosure and underwater crises, still has a higher-than-average share of empty homes.
Some 13,900 homes in Clark County, or 2.1 percent of residential properties, were vacant as of the third quarter last year, compared with 1.6 percent nationally, housing tracker Attom Data Solutions reports.
The boarded-up house near the Meadows Mall didn't empty out because of financial problems. The owner was sentenced in February to one to two years in prison, with 87 days credit for time served, after pleading guilty to possession of a controlled substance with intent to sell, court records show.
But other recently boarded properties are owned by people who took out mortgages before the economy crashed.
The owner of a one-story, 1980s house near Lone Mountain Road and Jones Boulevard took out a $150,000 mortgage in February 2007. But liens for unpaid water, sewer and trash bills started mounting two years ago, and the city in January ordered the owner to remove all refuse and waste, repair the garage door and remove stagnant water from the pool and spa, filings with the county show.
The notice also said there was no electric service at the house, kitchen and bathroom drains were blocked, and windows were broken.
The house was boarded up in April. On a recent visit, a side gate was open and the garage door was damaged, as if someone had driven into it.
'We should just tear it down'
Squatters have taken over homes around the valley in recent years, enabled by the big inventory of vacant properties and widespread use of fake leases. State lawmakers and local governments have cracked down, but the problem persists.
The Metropolitan Police Department, which handles Las Vegas and unincorporated Clark County, has reported "vast increases" in squatter-related service calls. It received almost 5,400 last year, up 73 percent from 2014.
Nuisance housing isn't only within Las Vegas city limits. From 2012 to 2016, Clark County officials responded an average of 831 times annually to abandoned properties in unincorporated areas, according to figures from spokesman Dan Kulin.
Clark County Commissioner Marilyn Kirkpatrick said she's frustrated that the county will board up homes, but people still get inside. As she sees it, one solution is to bulldoze problem properties.
Kirkpatrick said many vacant homes are owned by people who live out of state and don't respond to county officials' letters or phone calls.
"Zero response," she said. "And I think that if you don't respond, we should just tear it down."
Commissioners discussed abandoned properties at a hearing June 6 at Kirkpatrick's request. At the hearing, Clark County code-enforcement supervisor Dave Pollex said he's dealing with a lot of squatter homes.
As he described it, properties can have stolen power or no electricity, squatters often have criminal backgrounds, and "a lot of times" properties get set on fire.
"To me, it's just an out-of-control issue right now," he told commissioners. "And honestly, we can't keep up with it."
Contact Eli Segall at esegall@reviewjournal.com or 702-383-0342. Follow @eli_segall on Twitter.
Fire hazard
One problem with abandoned houses: they can catch on fire.
In many cases in Las Vegas, they're set by vagrants who accidentally torch the place when cooking or trying to stay warm.
There are about 50 to 60 vacant-home fires annually in the city, up from around 40 a few years ago, Las Vegas Fire & Rescue spokesman Tim Szymanski said.
City spokeswoman Margaret Kurtz knows this firsthand, as there were two on her street this past winter, she said.
Firefighters might find sleeping bags, groceries, toothpaste, and trash inside. Most of the people aren't trying to be destructive, Szymanski said. "They're just trying to find a place to live, and as long as it's free."