Some house flippers still at home in Las Vegas, despite slimmer profit margins
December 3, 2016 - 8:58 pm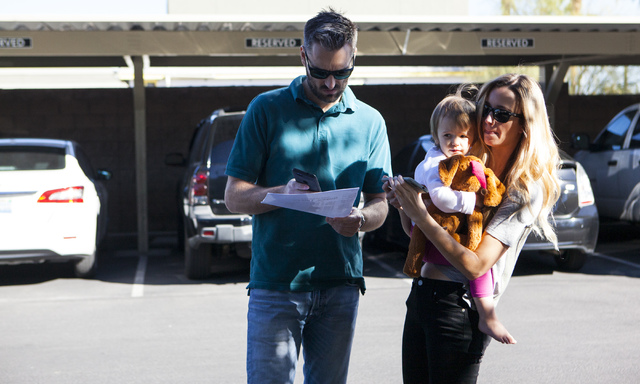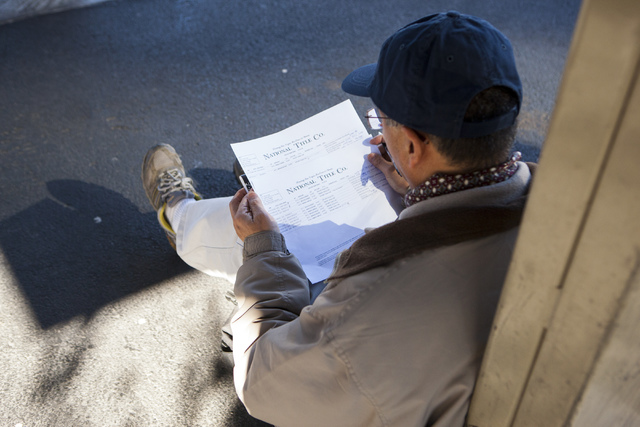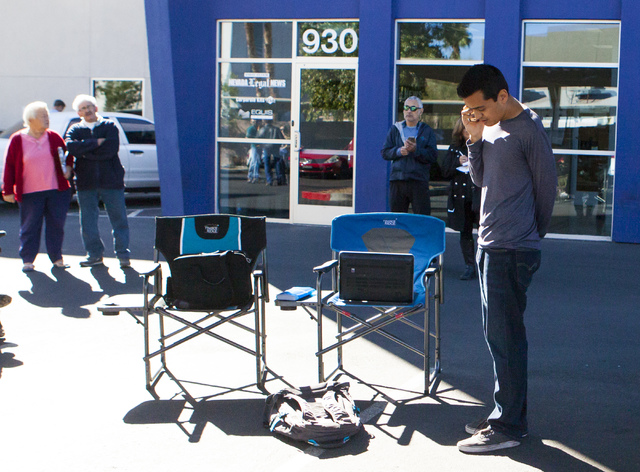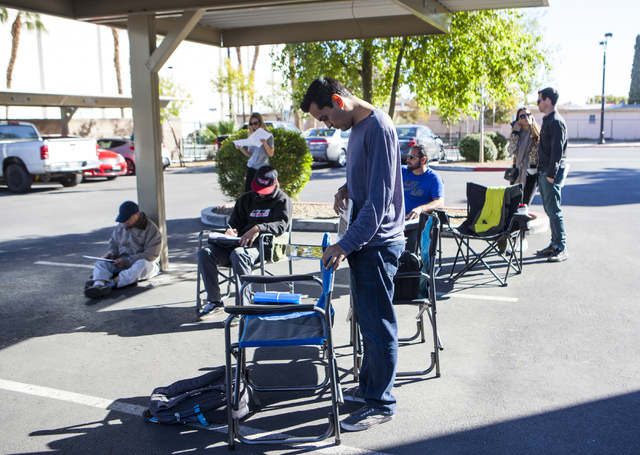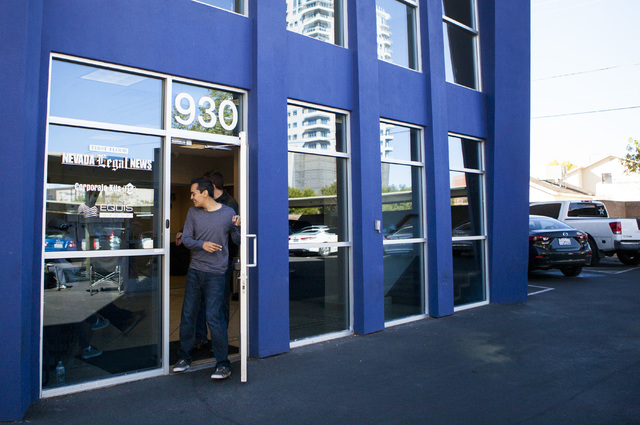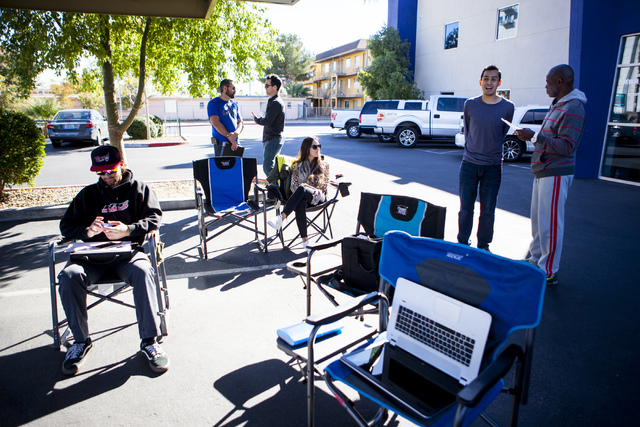 When Jose Navarro started working at foreclosure auctions, the recession was pummeling Las Vegas' economy — but it was a great time to load up on cheap houses to flip.
With buyers packed into an office building's parking lot near downtown, hundreds of homes a day came up for bid, Navarro says, and properties sold for a relative pittance. Bidders weren't allowed to use the toilets inside, he says, but they also didn't want to miss the great deals coming up for grabs, so buyers urinated on the walls outside rather than leave to find a bathroom.
Flipping was a hallmark of the housing bubble last decade, helping inflate values until they burst, and surged in popularity again at the depths of the recession, when prices collapsed and Southern Nevada was awash in foreclosures.
Today, the get-rich-quick tactic isn't as easy, common or lucrative as it was in those days. But flippers haven't given up on Las Vegas.
An auction bidder who buys mostly for other investors, Navarro had a simple plan: When foreclosures were slowing and auction crowds shrinking, he kept coming back, hoping the lighter competition would work in his favor.
"Now I get people from 2012, 2013, and they're like, 'You're still here?'" he said.
Some 7.1 percent of Las Vegas-area home sales in the second quarter this year were flips. That's down from 14 percent in the same period in 2010, when the economy was in shambles, and far below a peak of 19.4 percent in late 2004, when the economy was booming, according to national housing tracker Attom Data Solutions.
Portrayed as an easy money-maker on reality TV, flipping has slowed amid higher prices, slower growth in home values and fewer repossessions. These ingredients make for a steadier, more normal time in a market prone to wild swings, but they also crimp flippers' earnings.
"The (profit) margins are just getting thinner and thinner," auction bidder Josh Canon said.
VIP Realty Group owner Glenn Plantone said he flipped at least 50 to 75 houses per year in the valley after the market crashed. Now he averages less than one per month.
Plantone, for one, doesn't see "much of an appeal" to flipping houses in Las Vegas anymore.
"There's really no opportunity to flip," he said.
Homes were so cheap during the recession that people could roll out of bed, "dumb, drunk and stoned," head to the auction and make money off their purchase, broker and investor Josh Galindo said.
Galindo attended auctions for years after the economy tanked. Now, amid the smaller tally of homes coming up for bid, he finds maybe 5 percent of his flips there. Other sources include real estate agents and his website webuyanyvegashouse.com.
Flipping now is harder and a "completely different business," he says, but one set of clients in particular keeps him busy: twin brothers Phil and Tom Boeckle, founders of the PT's chain of taverns.
Galindo said the brothers have been flipping homes since the market crashed. Their volume of deals used to be bigger, but they aren't lightweights today. By year's end, Galindo figures he will have bought, renovated and sold about 60 homes in 2016 for the Boeckles.
"Next year we plan to do even more," said Galindo, founder of Galindo Group Real Estate.
During the bubble years last decade, few places got as crazed with flipping as Southern Nevada. Nationally, flips' share of home sales peaked in early 2006 at 9 percent, less than half of Las Vegas' top rate, according to Attom.
Flipping slowed as the economy softened but picked up as things got worse and foreclosures mounted. Navarro, who started working at the auctions after he graduated from Arbor View High School in 2010, said prices were so low that there was "no such thing as a bad purchase." One person bought a house not knowing it had been torched in a fire and still made probably $30,000 on the resale, he said.
Bidders today can use the toilets in the office building where the auctions are held, at 930 S. Fourth St. But five or six years ago, when the crowds were much larger, Navarro says they weren't allowed to, so it was "extremely common" for bidders to urinate on the walls of the parking lot.
Galindo says he did that "many times," and Canon says if a bidder claims he didn't relieve himself outside, "he's lying to you."
"Everybody there peed on the wall," Canon said.
Repossessions slowed after Nevada's "robosigning" law, which made it harder for lenders to seize homes from delinquent borrowers, took effect in 2011. But flippers' business also took a hit when big investment firms started gobbling up cheap homes in Las Vegas to turn into rentals.
Hedge funds and other big-money investors bought in bulk and weren't interested in landing the steepest discounts possible, real estate pros say, letting them outbid the bargain hunters. "We had to fight over the scraps that the hedge funds left," Canon said.
Navarro, 25, was born in Mexico City and moved to Las Vegas at age 12, and started working for himself in 2011. Today he is part of a small group of bidders who still go to auctions each week. He doesn't pick the homes for clients, he says, but provides them with plenty of research.
His spreadsheet of properties includes addresses, parcel numbers, photos, opening bids and estimated values. He pays five people to drive around the valley to take pictures and three people in the Philippines to do data entry and other work.
Auctions may not draw big crowds today, but they were faster-paced and more cutthroat at the depths of the recession, when buyers scrambled for big discounts. The median sales price of previously owned single-family homes peaked at $315,000 in mid-2006 in Southern Nevada, but after the bubble burst, it plunged to a low of $118,000 in early 2012.
As of October, the median was $233,250, having nearly doubled since hitting bottom, according to the Greater Las Vegas Association of Realtors.
"If I had unlimited funds and a time machine," Canon says, "I would have gone back and bought everything."
Contact Eli Segall at 702-383-0342 or esegall@reviewjournal.com. Follow @eli_segall on Twitter.
RELATED
Don't fear a bubble despite rising new-home prices in Las Vegas
Nevada's Foreclosure Mediation Program to stop accepting applications after Dec. 31
Despite monthly dip, Las Vegas home prices up 5.1 percent