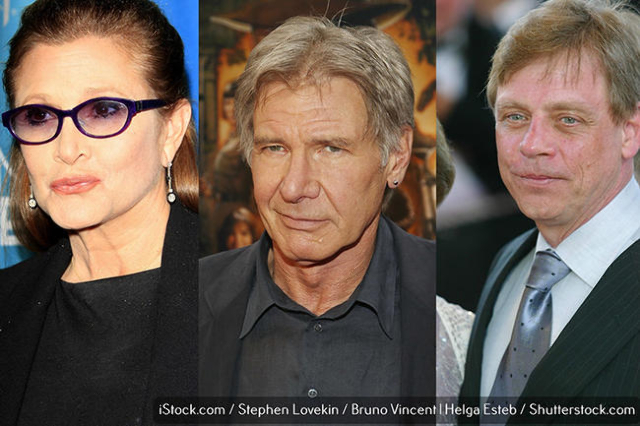 "Star Wars: The Force Awakens" has the potential to become the biggest movie of all time. Initial projections have the movie crushing every other film released this year, with predictions of a $215 million take on opening weekend alone. The cumulative earnings are predicted to hit $762 million at the box office, making it the second highest-grossing movie in the "Star Wars" movie franchise when adjusted for inflation.
'Star Wars': A Billion-Dollar Franchise
"Star Wars: The Force Awakens" is the seventh installment in the overall series and the first of a new trilogy of the "Star Wars" movie franchise. Including re-releases and special editions, the "Star Wars" films have grossed more than $4.5 billion at the global box office. Including merchandise, licensing, television and other revenue streams, the "Star Wars" brand has earned $37 billion throughout its nearly 40-year history.
With three more installments planned for release between 2016 and 2018, this juggernaut franchise doesn't show any signs of slowing down — and neither does George Lucas, who created the franchise. According to Forbes, George Lucas' net worth is a staggering $5.3 billion, which can largely be credited to the series' success.
Lucas isn't the only one who has benefited from the "Star Wars" franchise's continued success. Some of the main stars in the older movies are returning to join the "Star Wars 7″ cast — and they have acquired incredible wealth from the franchise, as well. Here's a look at the main cast members and how starring in the films has impacted their finances.
J.J. Abrams Net Worth: $120 Million
Producer, writer and director J.J. Abrams is worth $120 million. Widely known for creating the TV show "Lost" and directing the latest "Star Trek" movies — including 2013's "Star Trek Into Darkness" — Abrams has taken over the director's seat for "Star Wars: The Force Awakens."
According to PayWizard.org, Abrams' annual salary as of July 2014 is $28 million, and last year he made Forbes' list of The World's Highest-Paid Celebrities, along with fellow directors Steven Spielberg, Peter Jackson and Joss Whedon.
Without a doubt, Abrams earned much of his fortune thanks to a combination of box-office hits and popular TV shows with his name on them: "Armageddon," "Cloverfield," "Mission: Impossible III," "Alias," "Fringe," "Felicity," "Almost Human," "Revolution" "Person of Interest" and more. Currently, the Hollywood big shot is working on a few projects, including "Star Trek Beyond" that's expected to release on July 22, 2016, and "M:1 6 — Mission Impossible," which is slated to release in 2017.
Harrison Ford Net Worth: $210 Million
Harrison Ford's career as one of the most successful leading men in Hollywood began with the actor's early work as a carpenter in Los Angeles. His woodworking trade led to a connection that landed him a role in 1973's "American Graffiti" and put him on George Lucas' radar.
Ford's $210 million net worth can be credited to his 40 film titles, which have banked more than $6.6 billion at the worldwide box office. Adjusted for inflation, Ford's average movie earns more than $208 million for a total of more than $8.33 billion at the domestic box office alone.
The 73-year-old was paid just $10,000 for his unforgettable role as smuggler, Millennium Falcon captain and rebel hero Han Solo in the original "Star Wars" in 1977 — the movie that launched his career. But he pulled in $100,000 for "The Empire Strikes Back" and banked $500,000 for "Return of the Jedi."
Mark Hamill Net Worth: $6 Million
Unlike Ford, Mark Hamill was already an established actor by the time he took on the role of Luke Skywalker in the original "Star Wars." Hamill reportedly earned $650,000 for the film — a hefty paycheck in 1977.
Hamill had the foresight to sign on for the deal to take a quarter of a percent of future earnings. That — along with his successful career as a film and television star, theater performer, voice actor and narrator — has earned him a net worth of $6 million.
Carrie Fisher Net Worth: $5 Million
Carrie Fisher was just 19 years old when she was chosen for the timeless role of rebel leader Princess Leia in the original "Star Wars." Although her salary was never disclosed, Fisher was wise enough to join several other principal actors — like Hamill — in agreeing to take a percentage of the movie's profits, plus a take of TV screenings, re-releases and more.
The young actress, however, made the critical mistake of signing away her likeness for free, which means she missed out on the mountains of money associated with "Star Wars" merchandising. Kids have owned everything from Princess Leia lunchboxes to bed sheets. Early contractual mishaps aside, Fisher has amassed a net worth of $5 million.
Lupita Nyong'o Net Worth: $500,000
Lupita Nyong'o's net worth might be small compared with the net worths of other "Star Wars" cast members' net worths, but give her some time — the Academy Award-winning actress has a few more projects up her sleeves that might help her build her fortune in 2016.
She's starring in the upcoming drama "Queen of Katwe" and the highly anticipated Disney live-action film, "The Jungle Book." Plus, the model/actress has a deal with Lancôme. According to the Hollywood Reporter, Lancôme's parent company, L'Oreal, reportedly pays its spokespeople a salary in the seven-figure range.
In "Star Wars: The Force Awakens," Nyong'o's character is Maz Kanata. According to The Verge, Kanata is a new character added to the franchise, and Abrams has kept details about her mostly under wraps. "Lupita never ceased to amaze me," he told Page Six about Nyong'o's performance in the film. "She elevated all the scenes she is in. I'm forever grateful and can't wait for people to see her stunning performance."
Daisy Ridley Net Worth: $500,000
Daisy Ridley is making her big-screen debut as Rey in "Star Wars: The Force Awakens." Ridley's Rey seems to be a prominent character in the new film and is described as a "mysterious scavenger" by the New York Times.
Ridley has acting credits on a few TV shows and shorts, including "Saturday Night Live," "Silent Witness" and "Youngers," but "Star Wars" is by far her biggest gig. Interesting fact: Before she landed a role on "Star Wars: The Force Awakens," Ridley was actually working in a beer and alehouse. "I knew a lot about beer," she told the Times.
Adam Driver Net Worth: $2 Million
If you're an avid viewer of HBO's "Girls," you'll probably recognize Kylo Ren in "Stars Wars: The Force Awakens" as the "Girls" character Adam Sackler. Adam Driver plays both roles, but whereas Driver's Adam Slacker is a somewhat awkward, 20-something in "Girls," Kylo Ren is the new bad guy in the upcoming "Star Wars" movie.
Driver has publicly stated that his character in "Stars Wars" is on the dark side — and that's pretty much all we know. "Kylo Ren is definitely a fan [of Darth Vader]," said Driver in an interview with ABC News, referencing the franchise's ultimate villain from past movies.
Prior to "Star Wars" and "Girls," Driver has appeared in a number of shows and films, including "Inside Llewyn Davis," "Lincoln," "What If," "This Is Where I Leave You" and "Law & Order." In 2016, it looks like Driver will have opportunities to increase his $2 million net worth. He's expected to star in "Silence" with Liam Neeson and Andrew Garfield, as well as "Midnight Special" with Kirsten Dunst.
'Star Wars: The Force Awakens' Cast Earnings
There is no reliable public information that reveals cast salaries for "Star Wars: The Force Awakens." In fact, the extent to which the veteran stars will even be seen in the film is still uncertain. There is speculation, for example, that Hamill appears only briefly in the final frames.
A Disney executive revealed in April that the new "Star Wars" movies, including "The Force Awakens," will have budgets of between $175 million and $200 million each, which is in line with the budgets of other major modern blockbusters.
DisneyExaminer analyzed the movie's potential costs and expenses based on that budget, as well as on an examination of earlier "Star Wars" film costs. The analysis concluded that roughly $40 million of the $200 million budget will go to casting, "namely the legacy cast: Harrison Ford, Mark Hamill, Carrie Fisher."
When "Star Wars 7″ arrives, the movie will likely crush the box office, break records and reinvigorate legions of fans who have been longing for a new set of "Star Wars" films that live up to expectations. The movie is also likely to turn a new generation onto the series, ensuring a future crop of fans will give their loyalty — and their dollars — to the franchise for years to come.
From GoBankingRates.com: 'Star Wars: The Force Awakens' Cast: Harrison Ford Net Worth, Mark Hamill Net Worth and Carrie Fisher Net Worth
Related Stories:
–5 Jedi mind tricks to save you more money
–5 most popular comic book franchises from The Avengers to Spider-Man