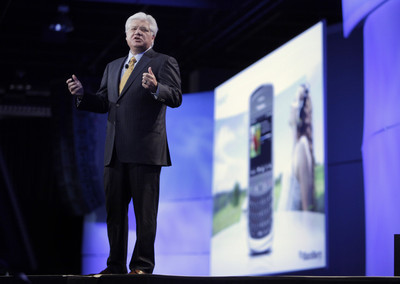 Sonic Automotive posts loss, issues warning
Sonic Automotive, a Charlotte, N.C.-based auto dealer controlled by Las Vegas Motor Speedway owner Bruton Smith, on Wednesday posted a $685.6 million loss for the fourth quarter and said it may have to file for bankruptcy protection.
The Charlotte Observer newspaper said the company, which has 164 franchises in 15 states, had about $1.9 billion in outstanding debt as of Dec. 31.
Roughly $1.5 billion of debt is scheduled to mature this year and next. The Observer noted that the debt includes $105.3 million due May 7 that Sonic said it may not be able to pay if it can't restructure debt.
Sonic's fourth-quarter loss amounted to $17.10 per share for the three months ended Dec. 31. A year earlier, Sonic had earned $23 million, or 54 cents per share.
Sonic Automotive operates four dealerships in Las Vegas: Cadillac of Las Vegas East at 2711 E. Sahara Ave., Cadillac of Las Vegas West at 5185 W. Sahara Ave., Honda West at 7615 W. Sahara Ave. and Volvo of Las Vegas at 7705 W. Sahara Ave.
The Charlotte Business Journal said Wednesday that Sonic is considering selling up to 20 percent of its 164 dealerships.
Community Bancorp fails to file report
Community Bancorp, the Las Vegas-based holding company for the similarly named bank, on Wednesday reported that it has not filed its 10-K annual report with the Securities Exchange Commission because the company is unable to report on 2008 financial results until an audit has been completed.
The banking company previously reported that it is completing a review of goodwill, which the premium paid for bank acquisitions, and an assessment for loan losses.
The company expects to report a loss, increase its loan loss reserves and take a charge related to deferred taxes.
The holding company filed for an extension on the deadline for the annual report.
BlackBerry maker starts shop for applications
Research In Motion Ltd.'s online applications store for its BlackBerry phones began operating Wednesday, starting the newest front in its rivalry with Apple Inc.'s iPhone for a bigger share of the consumer market.
BlackBerry App World, which initially will offer 1,000 games, music and other applications for customers to download, is the latest part of RIM's strategy to broaden its smart phones' appeal beyond business users, who account for more than half of its customers.
"Our strategy is about enablement, we're trying to create as much enablement in music" and other programs for consumers as possible, co-Chief Executive Officer Jim Balsillie said. "That's the very card we're playing here."
The announcement was made as the International CTIA Wireless show gets under way in Las Vegas.
As smart phones, which can be used for sending e-mail and surfing the Web, become more like mini computers, companies are racing to ensure they don't get left behind.
Microsoft Corp., the world's largest software maker, also plans to open an application store this year for its Windows Mobile operating system. Apple's App Store, which opened in July, offers more than 15,000 programs.
Macau revenue results boost casino stocks
Shares of casino operators with properties in Macau climbed Wednesday on better-than-expected March revenue results.
While revenue dropped 6 percent for the month compared with a year earlier, JPMorgan's Joseph Greff said in a client note that the results were not bad given the current economy.
MGM Mirage's stock rose 30 cents, or 12.88 percent, to close at $2.63 on the New York Stock Exchange; shares of Las Vegas Sands added 73 cents, or 24.25 percent, to $3.74, also on the NYSE.
Wynn Resorts Ltd. rose $1.58, or 7.91 percent, to $21.55 on the Nasdaq National Market.
NEW YORK
Dow Chemical closes deal for Rohm & Haas
Dow Chemical Co. said Wednesday it has closed on its $16.5 billion buyout of Rohm & Haas Co., a deal that it hopes will fuel growth in the high-margin specialty chemicals market.
Rohm & Haas will form the core of a new advanced materials unit that is expected to have $14 billion in annual sales, Midland, Mich.-based Dow said.
The Rohm & Haas brand will disappear and its stock was to cease trading on Wednesday, Dow said.
Ex-Mandalay Resort exec to bid on casino
Former Mandalay Resort Group Chairman and Chief Executive Officer Mike Ensign apparently wants back into the casino business.
Ensign, who helped engineer Mandalay's $7.9 billion buyout by MGM Mirage in 2005, is teaming with a Topeka, Kan., development company to bid on operating a casino in south central Kansas.
Equity Ventures was expected to submit a bid Wednesday for the Prairie Sky casino project in Sumner County, which is near Wichita. Equity Ventures had bid successfully on a $500 million casino project with Harrah's Entertainment. But the Las Vegas-based casino operator withdrew because of financial issues.
Ensign is the father of Sen. John Ensign, R-Nev.
WASHINGTON
Official calls for high capital requirements
The head of the Federal Deposit Insurance Corp. says new oversight of big financial institutions deemed to be high risk should include raising their capital requirements to help protect the financial system.
FDIC Chairwoman Sheila Bair's comment that some big banks and other financial institutions should be mandated to hold more capital as a buffer against risk in times of stress brought vigorous applause from an audience of bankers Wednesday.
Bair is calling for a new system of regulation that prevents institutions from taking on excessive risk and becoming so big their failure would endanger the financial system.
NEW YORK
'Grand Theft Auto' maker to pay $3.3 million
Video game publisher Take-Two Interactive Software Inc., the publisher of "Grand Theft Auto," said Wednesday it has agreed to pay a total of $3.3 million to settle investigations of its stock option granting practices.
New York-based Take-Two said the settlements are with the Securities and Exchange Commission and the New York District Attorney. The company is paying the $3 million civil penalty without admitting or denying the SEC's allegations.
NEW YORK
Tax-shelter scheme draws harsh sentences
A judge, saying he wanted to send a message to "quick-buck artists," handed down stiff sentences Wednesday to two former executives and a lawyer with accounting firm KPMG for helping rich people evade more than a billion dollars in taxes.
U.S. District Judge Lewis Kaplan sentenced former KPMG executive John Larson to more than 10 years in prison; a fellow executive, Robert Pfaff, received more than eight years.
The judge said Larson, 57, and Pfaff, 58, were "centrally involved" in the brazen tax shelter scheme "that didn't pass the smell test from Day 1." He gave lawyer Raymond Ruble, 63, a term of 61/2 years in prison.
The judge said he hoped the sentences "will say to quick-buck artists, 'Not so fast.' "
The men were convicted in December of multiple counts of tax evasion.
NEW YORK
Treasury prices climb on economic news
Treasury prices rose Wednesday, boosted by upbeat economic data.
The benchmark 10-year Treasury note rose 0.06 points to 100.75. Its yield slipped to 2.65 percent from 2.68 percent late Tuesday. Prices move opposite to yields.
The 30-year bond rose 0.59 points to 99.75, and its yield fell to 3.49 percent from 3.56 percent.