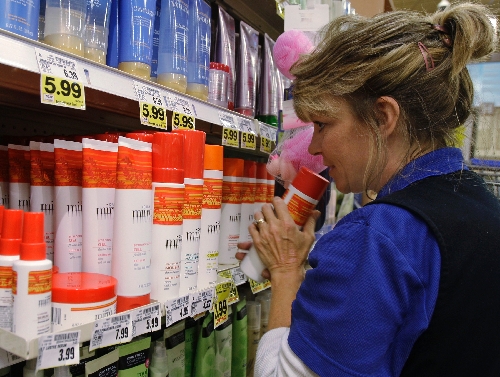 CINCINNATI
Kroger continues store-brand push with cosmetics expansion
Grocery chain Kroger Co. is making a big push into the beauty business, this summer more than doubling its number of store-brand cosmetics, shampoos and other items while preparing to launch more products this fall and next year.
The move by the nation's largest traditional grocer underscores how supermarkets, buoyed by the recession's lift to store brands, are aggressively expanding beyond food and drinks. Kroger says it's had double-digit percentage increases in sales during the slow, almost-quiet rollout of the Mirra beauty line that began last October.
"This was a very big leap for Kroger," said Susan Scherer, who manages its beauty business.
Kroger, with nearly 2,500 stores in 31 states, has made store brands a high priority, saying the products build customer loyalty. Store brands also usually have bigger profit margins than national brands. Corporate brands account for 34 percent of Kroger grocery items sold and 26 percent of grocery revenue.
WASHINGTON
Laborers' International Union agrees to rejoin AFL-CIO
The Laborers' International Union has agreed to rejoin the AFL-CIO, sparking hopes that a once-splintered labor movement is moving closer to reuniting under a single umbrella.
"We are very excited that the labor movement is headed toward becoming more unified just as we need it the most," said Richard Trumka, president of American Federation of Labor and Congress of Industrial Organizations, or AFL-CIO, on Friday in a statement issued to The Associated Press.
Laborers spokesman David Miller declined to confirm the decision, but said leaders of the 800,000-member union representing construction workers would have more to say after a meeting on Sunday. Trumka told the AFL-CIO's executive council last week that the move would become final in October.
The Laborers and five other unions bolted from the federation in 2005 in a bitter dispute that damaged the AFL-CIO's political heft and sapped millions in dues from its budget.
Led by Service Employees International Union President Andy Stern, the breakaway unions formed the rival Change to Win federation amid complaints that the AFL-CIO wasn't doing enough to organize new workers and halt the decline in membership.
NEW YORK
HP shareholders file lawsuit against company over CEO exit
Shareholders of Hewlett-Packard Co. have filed a "derivative lawsuit" against the technology company and its board over former CEO Mark Hurd's abrupt resignation last week.
A derivative lawsuit lets shareholders sue executives or board members over claims that their actions harmed the company as a whole.
The lawsuit seeks unspecified damages and changes to HP's corporate governance. It was filed in California Superior Court in California on Tuesday on behalf of shareholders by Brockton Contributory Retirement System against Hurd, Interim CEO and Chief Financial Officer Catherine Lesjak and HP's other board members.
The lawsuit claims HP lost "significant credibility" due to the controversy that erased more than $9 billion in market capitalization when HP's shares started trading on Monday following the resignation. It also says that Hurd's severance package, which could top $40 million, could have been "dramatically limited" by HP's board by firing him for cause.
Hurd resigned Aug. 6 after an investigation into a sexual harassment claim found that he falsified expense reports covering meetings with a female events contractor. Hurd has settled separately with the woman.
MUMBAI, India
After BlackBerry, India may restrict Google, Skype access
India may ask Google and Skype for greater access to encrypted information once it resolves security concerns with BlackBerrys, which are now under threat of a ban, according to a government document and two people familiar with the discussions.
The 2008 terror attacks in Mumbai, which were coordinated with satellite and cell phones, helped prompt a sweeping security review of telecommunications ahead of the Commonwealth Games, to be held in New Delhi in October.
On July 12, officials from India's Department of Telecommunications met with representatives of three telecom service provider groups to discuss interception and monitoring of encrypted communications by security agencies.
"There was consensus that there are more than one type of service for which solutions are to be explored," according to a copy of the minutes of the meeting obtained by The Associated Press.