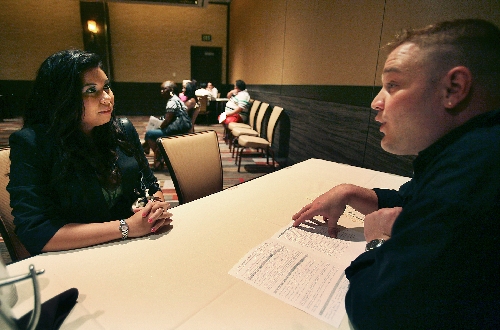 WASHINGTON
Rise in factory output pushes July industrial production up
Industrial production rose in July on the strength of U.S. manufacturing, as auto factories stayed open and businesses replaced worn-out equipment.
Output at the nation's factories, mines and utilities increased 1.0 percent last month, the Federal Reserve reported Tuesday.
Factory output, the largest single component of industrial production, grew 1.1 percent. It was the biggest jump in nearly a year. Boosting output were auto plants that kept operating when they normally shutter for summer renovations. Even without the strong auto sector, factory output rose 0.6 percent.
Business equipment production grew 1.8 percent, the most of any major market group.
WASHINGTON
Higher costs for food, cars, drugs boost wholesale prices
Wholesale prices rose last month for the first time since March on higher costs for food, autos, pickup trucks and pharmaceuticals.
The Labor Department said Tuesday that the Producer Price Index, which measures price changes before they reach the consumer, rose by 0.2 percent in July, after three months of declines. The rise matched Wall Street economists' forecasts, according to a survey by Thomson Reuters.
Excluding volatile food and energy costs, "core" producer prices rose by 0.3 percent in July, the ninth straight increase.
Core prices have risen by 1.5 percent in the past year.
Over the past year, producer prices have risen by 4.2 percent, above June's figure but down from this spring, when the index increased by more than 5 percent in March, April and May.
That's a bigger increase than consumer prices, which rose by only 1.2 percent in the past year.
That shows companies are reluctant to pass on their higher costs to consumers, who are already reluctant to open up purses and wallets due to high unemployment, tight credit and weak wage growth.
NEW YORK
Wal-Mart Stores' net earnings increase 3.6 percent in quarter
Wal-Mart Stores Inc. reported a 3.6 percent increase in second-quarter net income as it benefits from cost-cutting and robust global growth in China, Brazil and Mexico.
The discounter said Tuesday it had net income of $3.59 billion, or 97 cents per share, for the period ended July 31, up from net income of $3.47 billion, or 89 cents per share, a year ago.
Revenue rose almost 3 percent to $103.7 billion. Revenue at stores open at least a year fell 1.4 percent, worse than the 0.26 percent expected by Thomson Reuters. At Wal-Mart's namesake stores, that measure fell 1.8 percent, while at Sam's Clubs, it rose 1 percent.
Analysts had expected earnings per share of 96 cents on revenue of $105.3 billion.
ST. LOUIS
Potash deems $38.49 billion buyout bid 'grossly inadequate'
A global race to snap up fertilizer companies accelerated Tuesday, when fertilizer producer Potash Corp. of Saskatchewan Inc. rejected a buyout offer worth $38.49 billion, calling it "grossly inadequate."
The unsolicited takeover bid from BHP Billiton Ltd. raises the ante for agribusiness firms trying to lock in ownership of fertilizer supplies before an expected rebound in crop production. Fertilizer prices skyrocketed during the food shortage of 2008, and companies like BHP think history could repeat itself as consumers start spending more on food.
Potash adopted a shareholder rights plan, known as a poison pill, to prevent anyone from snapping up more than a 20 percent stake as it shores up company defenses.
BHP Billiton, an Australian natural resources company, is offering to buy Potash for $130 per share, a 16 percent premium to the stock's closing price Monday.
Shares of Potash surged above the bid price to a new 52-week high, with many investors thinking that the bid is only going to go up.
NEW YORK
Reynolds Group will pay $4.4 billion for Hefty maker
Reynolds Group, part of the global packaging business owned by New Zealand's richest man, said Tuesday it will pay about $4.4 billion for Hefty bag maker Pactiv.
Including debt, the acquisition is valued at about $6 billion. It's the latest and biggest in a string of deals that has built Reynolds parent company Rank Group Ltd. into a worldwide packaging empire under owner Graeme Hart.
Reynolds Group Holdings Ltd., a Chicago-based subsidiary, is offering Pactiv shareholders $33.25 per share in cash. That's a premium of about 8 percent over Pactiv's closing share price of $30.92 on Monday. But it's 39 percent higher than the closing price May 14, the last trading day before reports of a potential deal began to emerge.
Reynolds, which expects to close the acquisition in the fourth quarter, said it will finance the buyout with $5 billion in new debt from affiliates of Credit Suisse, HSBC and Australia New Zealand Bank.
MINNEAPOLIS
Move brings union vote closer for Delta flight attendants
A federal agency has taken another step toward a union vote for flight attendants at Delta Air Lines Inc.
Flight attendants who worked for Delta before it absorbed Northwest were nonunion. Their colleagues who came from Northwest are unionized. Delta bought Northwest in late 2008.
The National Mediation Board ruled on Monday that the two are operating as a single carrier. Flight attendants will trigger a union election if the Association of Flight Attendants-CWA can show interest from at least 35 percent of them. Delta has about 20,000 flight attendants, including more than 7,000 who came from Northwest.
The union has two weeks to show enough interest for an election.
NEW YORK
Union for stagehands may picket at Fashion Week
A union representing 2,200 stagehands is threatening to put on a show of its own when Mercedes-Benz Fashion Week opens at Lincoln Center next month.
The union's leader said Tuesday that its members may picket the twice-yearly event that draws many of the world's top designers.
Local 1 of the International Alliance of Theatrical Stage Employees has a contract that covers the various theaters at Lincoln Center. The contract does not explicitly include Lincoln Center's Damrosch Park, where Fashion Week will pitch its tents starting Sept. 9.
Union spokesman Bruce Cohen said that Local 1 has, however, a right to work Fashion Week. If the event goes forward with nonunion labor, picketing will be "one option," he said.
But IMG Fashion, the company that produces Fashion Week, contends there is no obligation to hire union labor for the event.
IMG spokesman Zach Eichman said via e-mail that the company hopes to find "an amicable solution."