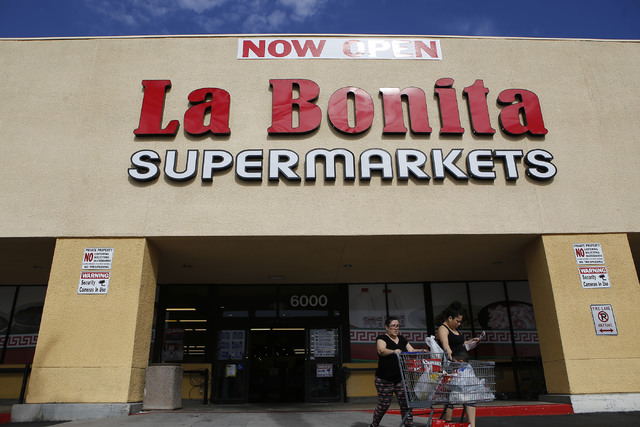 Las Vegas Valley supermarket chain La Bonita will open its largest location around January.
To staff the North Las Vegas store, at 2203 Civic Center Drive, La Bonita will soon hold a hiring event to hire about 200 new employees, spokeswoman Zaira Contreras said. A date for the event has not yet been set.
The current largest La Bonita store has 167 employees, Contreras said.
Once the store opens, it will be La Bonita's sixth in the valley. The Hispanic grocery store sells meat, fruits, vegetables, baked goods and tacos.
La Bonita previously occupied a smaller store space in the Civic Center Drive shopping center.
Earlier this month, North Las Vegas issued a permit for $1.1 million worth of work on the new 56,000-square-foot La Bonita space.
The supermarket closed its previous 25,000-square-foot space in February. A Ross discount store will take possession of that space around February and open sometime thereafter, said Aaron Lefton of Agora Realty & Management.
The 200,000-square-foot Fiesta Plaza was refurbished shortly after Agora Realty & Management spent $12.95 million two years ago to purchase the property.
Since then, Agora has worked to attract new tenants to the center near North Las Vegas City Hall.
Contact Wade Tyler Millward at wmillward@reviewjournal.com or 702-383-4602. Follow @wademillward on Twitter.
2203 Civic Center Drive, north las vegas, nv