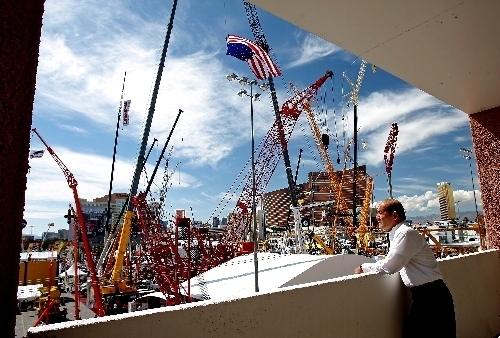 Call 2014 the year of the convention.
Some 70 new conventions of at least 500 attendees each are set to come to Las Vegas this year, according to the Las Vegas Convention and Visitors Authority.
In addition, the American Library Association's annual conference and exhibition, American Wind Energy Association's WINDPOWER and Solar Power International are slated to come to Vegas, bringing an estimated 50,000 attendees and generating $63 million in local nongaming economic impact.
In addition to the new business, nine rotating shows return to Las Vegas this year attracting more than 320,000 delegates for a nongaming economic impact of $404 million. The rotating shows include the CONEXPO-CON/AGG construction show.
"We are always seeking new business," said Chris Meyer, vice president of global business sales for the convention authority.
To help put the local trade show industry in perspective, Las Vegas has the equivalent of 185 football fields of meeting and exhibit space.
In 2013, convention and trade show attendees represented 12.7 percent of all visitors to Southern Nevada, or 5.1 million people. Las Vegas' meetings and convention industry employs about 58,000 people and generates as much as $6.8 billion in local nongaming economic impact.
In 2013, 22,027 conventions and meetings were held in Las Vegas, up 1.9 percent from the 21,615 that were held in 2012.
Contact reporter Laura Carroll at lcarroll@reviewjournal.com or 702-380-4588. Follow @lscvegas on Twitter.