Las Vegas Valley jobless rate hits record 15 percent
October 22, 2010 - 4:38 am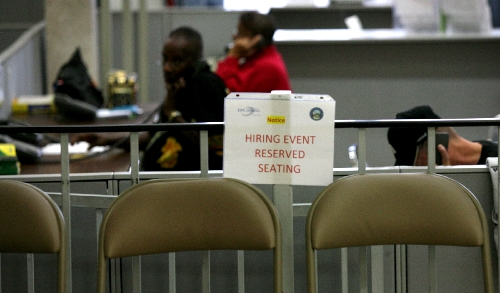 Dave Warnock doesn't have a lot of lives to save these days.
Warnock, a Las Vegas construction risk manager who trains workers in job-site safety and monitors occupational hazards, lost his job as director of safety with general contractor Marnell Corrao Associates two months ago. Warnock worked on several big projects, including the M Resort, Echelon and a new tower at Caesars Palace. But as those projects wrapped up or halted, work dried up.
Now, Warnock ranks among the city's 145,400 unemployed workers. That share of jobless residents represented a local record of 15 percent in September, according to Friday numbers from the state Department of Employment, Training and Rehabilitation.
"It's tough, because you go from 100 miles an hour to zero, and then you're trying to get enough confidence to get back out there," Warnock said. "I loved my work. I miss the satisfaction of seeing how I can change people's behaviors to better themselves, and to make things better for their families as well — to see people go home at the end of each day saying, 'I accomplished something without killing myself.' "
Warnock, who also has industrial experience and a military background in explosives safety, said he's had a few nibbles from potential employers, but mostly for positions for which he's overqualified.
It's a familiar refrain in a state with a persistently high jobless rate.
On top of the Las Vegas Valley's new 15 percent high, statewide unemployment was 14.4 percent in September. Nearly 200,000 Nevadans lacked jobs in the month and were looking for work. Add in discouraged workers who've dropped out of the labor force and underemployed part-timers who want full-time jobs, and unemployment in the Silver State easily exceeds 20 percent, experts say.
Nevada remained No. 1 in the nation for unemployment in September, with California's 12.4 percent joblessness coming in at No. 2. Just 11 states have double-digit joblessness; nationwide, unemployment was 9.6 percent in September.
Economists and researchers said they do see some positive economic signs in Nevada, though.
For one thing, it looks like the jobless rate won't rise much more.
Statewide unemployment went unchanged from August to September, at 14.4 percent. It's the first time since January that joblessness in Nevada stayed stable from month to month instead of increasing. It's also just the second time the state's jobless rate remained steady from month to month since the recession started in December 2007.
Bill Anderson, the employment department's chief economist, said the newest numbers suggest joblessness in Nevada may finally be bottoming out. Since January, unemployment gained 1.4 percentage points, but joblessness has risen just two-tenths of a percentage point in the past three months, Anderson noted.
Added Brian Gordon, a principal in local research and consulting firm Applied Analysis: "The job market has started to bounce around in a fairly tight range over the last year or so, and that may suggest that we're entering the trough of the cycle here in Southern Nevada. We are starting to see a ceiling in terms of where the unemployment rate is headed, though that doesn't mean it can't edge up further."
Observers also pointed to several key indicators that have turned positive for the area. Personal income has grown both nationally and statewide in recent months, Anderson noted. Visitation to Las Vegas has increased in nearly every month in 2010, and taxable sales and gaming win recorded big year-over-year improvements in recent months. One month of positive movement doesn't make a trend, he acknowledged, but he added that those key statistics are at least heading in the right direction.
Stephen Brown, director of the Center for Business and Economic Research at the University of Nevada, Las Vegas, also noted that hotel-casinos are taking advantage of a slumping construction industry by refurbishing their properties, and that's "an indication that they have a belief in the future," he said.
What's more, Nevada's total nonfarm employment grew by 2,900 jobs from August to September, adding positions inside public schools and universities, at manufacturing plants and among professional firms.
But the private sector slashed 4,600 positions from month to month, including 1,600 jobs in leisure and hospitality and 1,500 jobs in construction. And the work force grew in the same period, Brown noted, with 2,100 new workers locally making for a labor pool of 971,000 in Las Vegas. Statewide, the labor force expanded by 1,300 people, to 1.35 million. Job cuts combined with increasing numbers of workers will typically put upward pressure on jobless numbers.
There's also no indication that hours worked per week in the state's hardest-hit sectors are improving. Weekly hours worked in construction slumped from 34.2 to 34 between August and September, and from 32.2 to 32.1 in leisure and hospitality. That's an important trend because experts consider gains in hours worked per week an indication that employers might soon add staffers to accommodate noticeable gains in business. Falling hours mean they're probably nowhere near ready to increase hiring.
So on the whole, job markets both statewide and locally will likely grapple with sustained high unemployment for the foreseeable future. The employment department is projecting job losses to "subside significantly" in 2012, but the agency added that a weak economic climate will prevent "outright growth" next year. The state is unlikely to see broad employment growth until 2013, and even then, expectations call for "weak" job growth at best, the department said.
Gordon agreed that it'll probably be at least a year before the labor climate shows any signs of progress.
"Employers have to see sustained economic growth before they bring on staff in any material way, and we haven't seen that condition present itself yet," he said. "It will probably require several quarters of economic expansion before it translates into improved staffing levels. There just aren't a lot of indicators suggesting that employment will be picking up anytime soon."
That kind of job-creation timeline won't help Warnock.
The risk manager has begun looking outside construction, at industries including mining, agriculture and forestry, and he's taking classes at the College of Southern Nevada to earn an associate's degree in applied sciences, a credential that he said should help him in his job search. He'll continue to look in the local construction sector as well, and he even had a couple of prospects as of Friday.
But Warnock knows jobs are tight here, and he's prepared to look outside Nevada if he must. His wife would stay behind to care for her elderly mother, and his college-age son would remain here to finish school, but Warnock might have no choice but to leave them behind until the state's economy picks back up.
"A lot of jobs I'm seeing are out of state or even overseas, so I've had to accept moving as a notion," he said. "I just don't see anything happening here (in construction) for the next few years."
Contact reporter Jennifer Robison at jrobison@review journal.com or 702-380-4512.