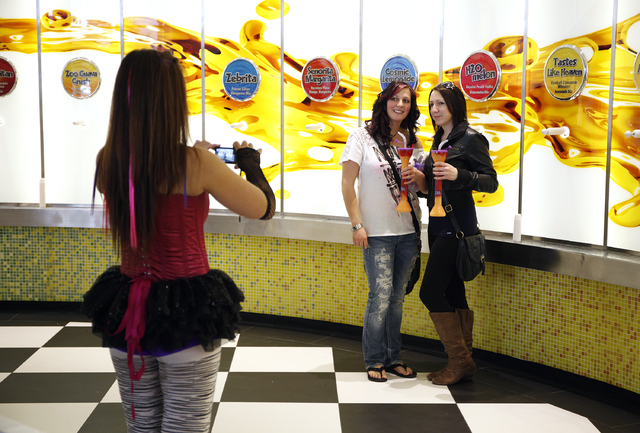 Look down the corridor between the Flamingo and The Quad, and get a glimpse of the newest adventure in Vegas, coming Feb. 28.
Once inside, you'll pass a Starbucks and The Haute Doggery, a 1,000-square-foot gourmet hotdog restaurant. Both already are open.
Next door, the Purple Zebra stocks uniquely shaped daiquiri glasses, including oversized, plastic champagne bottles in shades of lavender, mint and silver. A black strap secures the libation around the neck for safe keeping. If that doesn't suit you, maybe a zebra's leg or saxophone is more suitable. After making a choice, tutu-wearing cashiers will ring you up, and then you're free to pick your poison.
On Thursday afternoon, cashier Jane Acero said business has been slow since the self-serve daiquiri bar opened in late December. But she said she's hoping that will change once the rest of The Linq opens Feb. 28.
As the final tenants get ready at the Caesars Entertainment-owned Linq, construction crews are working to finish the open-air retail, dining and entertainment district at 3435 Las Vegas Blvd. South. With a project cost of $550 million, The Linq's piece de resistance is the High Roller observation wheel, which will open later than the rest, sometime in spring.
"We're very happy about the foot traffic thus far," said Jon Gray, vice president and general manager of The Linq.
Situated between The Quad and The Flamingo hotels, entry to The Linq from the properties requires passing by numerous restaurants and mazes of casino games to make it outside. This is decidedly a tourist spot meant for the walking traffic.
"The Linq is great example of how Las Vegas continues to offer visitors new world-class experiences found nowhere else," said Cathy Tull, senior vice president of marketing for the Las Vegas Convention and Visitors Authority. "This will be a big year for Las Vegas with the opening of many much anticipated resorts, attractions and amenities – all of which offer our visitors more reasons to plan their next Las Vegas trip."
BARS, RESTAURANTS DOMINATE
The Linq encompasses more than 300,000 square feet and is a mix of 70 percent restaurants and bars, and 30 percent retail and entertainment. It was designed by Washington, D.C.-based David M. Schwarz Architects; however, the architect of record is Las Vegas-based Klai Juba Architects. Las Vegas-based W.A. Richardson Builders was the project's general contractor. Caruso Affiliated is the Linq's exclusive leasing agent.
As the next and final round of retailers, restaurants and venues open, would-be customers will have their choice of places to shop.
One of the new stores is Brazilian sunglass brand Chilli Beans, which is hedging its bets on the sun-drenched city and its newest tourist retail center. With more than 550 stores worldwide, the Nevada Chilli Beans is the first permanent U.S. location outside of California, where there are 12 company stores or kiosks.
The 1,200-square-foot Chilli Beans will be located on the east end of Linq, close to the High Roller. Anywhere from eight to 10 people will work at the local store.
"Vegas is a natural fit in terms of the energy and the ethos of the brand," said spokeswoman Marisa Brickman.
Already open, Koto sells gifts such as iPhone accessories and mason jar shot glasses. Los Angeles tourists Anna Roder and friend Stephanie Grove bought kitschy iPhone cases there Thursday that looked like cassette tapes.
"I freaking love it," Roder said.
The two came to check out The Linq and stopped in Koto to see its array of inexpensive items that include wallets and sunglasses.
Just outside the shop, groups of people already are taking their photos with the High Roller in the background.
"It truly is a new icon on the Las Vegas Strip," Gray said.
GOOD RESPONSE TO FIRST PHASE
Beyond the chain link construction fence blocking phase two awaits Yard House, opening its third Las Vegas location this month. Other food and beverage tenants to open are The Tilted Kilt Pub & Eatery, Sprinkles Cupcakes and Ice Cream, Flour & Barley, Ghirardelli Ice Cream and Chocolate Shop and F.A.M.E.
Already open is Chayo Mexican Kitchen + Tequila Bar where executive chef Ernesto Zendejas created the menu that includes items such as bass ceviche, pork torta, filet mignon and grownup horchata.
The Linq's targeted demographic is 21-46, one whose market share is estimated to grow to 52 percent of Las Vegas visitor spending by 2015, according to Caesars Entertainment.
Gray said people have been responding well to the first phase, posting online about the new retail center and contacting him via social media.
"It's a great indicator that we hit the mark as far as who we wanted to talk to," Gray said.
On the entertainment side, Brooklyn Bowl will host its first concert at The Linq March 6. The venue features a 2,000 person performance area, food by Blue Ribbon and 32 bowling lanes. Shows already booked for the Vegas incarnation include The Roots, Cake, Primus and the Tedeschi Trucks Band.
Still to come on the retail side is Polaroid Fotobar, a two-level, 8,500-square-foot store and Polaroid Museum, as is Ruby Blue, a women's accessories store that will sell costume jewelry, novelty legwear, hats, lingerie, novelty games and toys.
Co-owned by hip-hop artist Nas, 12A.M. Run will offer limited edition sneakers. Another footwear store, Bella Scarpa, will stock platforms and heels, wedges and ballet flats, boots and sneakers. At Goorin Bros., men and women will have their choice of selections from the hat shop. Finally, Kitson's 12,000 square-foot, two-level store will feature clothing, accessories, gifts, apothecary, books and novelties.
As for services, Vanity Style Lounge will offer a full menu for hair, nails and spray tans.
Not all of the new tenants will open Feb. 28, but will begin phasing in as they're ready to open after that date.
The first big event at The Linq is planned for April 4 and 5, when the district will host the ACM Festival featuring Rascal Flatts and Keith Urban as headliners. Gray said he's expecting 25,000 people to attend.
Contact reporter Laura Carroll at lcarroll@reviewjournal.com or 702-380-4588. Follow @lscvegas on Twitter.