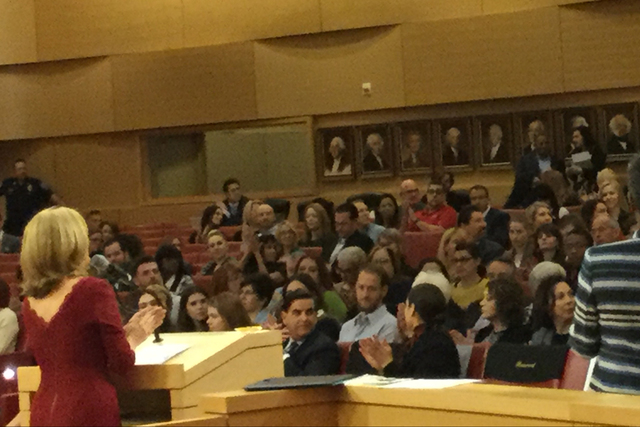 The conversation surrounding philanthropy is taking on a new tone in Nevada.
"Back in 2013 there was almost a stigma to it (philanthropy)," said Jeremy Aguero, principal analyst at Las Vegas-based Applied Analysis.
Back then, he said, he had a hard time getting information from companies about their volunteer programs and charitable giving efforts — but not anymore.
"Now we get unsolicited calls from companies who want to tell us about their programs," Aguero said. "It's heartening."
Local companies stepped up their philanthropic giving in 2016 by over 8 percent over last year, Aguero said, according to a new report he co-authored for the Moonridge Group, a philanthropy consulting firm based in Las Vegas.
Moonridge hosted its sixth annual Philanthropy Leaders Summit Friday at Las Vegas City Hall.
Since Moonridge and Aguero began gathering and analyzing data about local philanthropy in 2013, giving trends have changed to reflect a strengthening economy and a workforce in transition, as millennials — people currently in their 20s and early 30s — enter and impact the workforce.
"In our early reports, so much about giving was about basic needs, like food and shelter. Then we got into a transition to where it was more about things like education and health care-related activities, and now we are seeing things shift over to the arts," Aguero said.
Moonridge's 2016 Corporate Philanthropy report, released Friday, shows companies' top reason for philanthropic efforts, on average, is community wellness for their employees, which translates into workforce retention.
Julie Murray, principal and CEO of Moonridge Group, said corporations locally now have "an eye on strategic return on investment," when it comes to philanthropy.
"When corporations engage in corporate social responsibility, not only are they doing good for the nonprofits in the community but they are creating a work environment that inspires millennials, improves morale and really recruits them to stay once they've been with the company for a period of time."
A 2014 report by the national Millennial Impact Project found that over half of millennials, 55 percent, were influenced to accept a job based on that company's involvement with causes.
Contact Nicole Raz at nraz@reviewjournal.com or 702-380-4512. Follow @JournalistNikki on Twitter.