Medical marijuana shops get neon-sign waiver
August 27, 2014 - 6:01 pm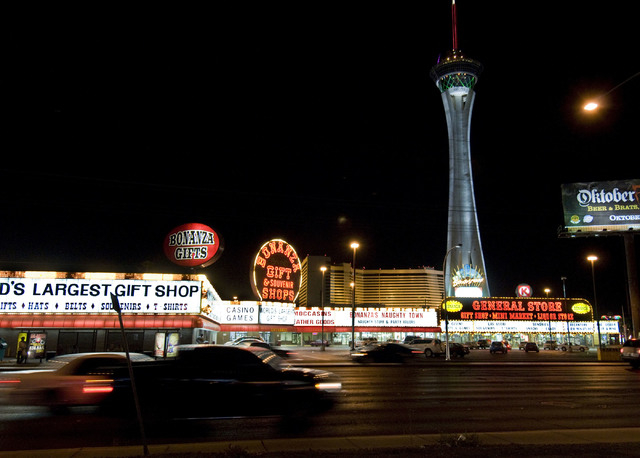 If you want to set up a business on Las Vegas Boulevard between Washington and Sahara avenues, one thing's for certain: you'll need a neon sign.
Unless you're in the medical marijuana industry.
Though the city's Scenic Byway Plan requires all establishments in that part of the boulevard to have signs with 75 percent neon to preserve the road's storied history as a glowing desert landmark, the city of Las Vegas is making an exception for owners of the medical marijuana dispensaries rapidly spreading across the Las Vegas Valley.
At a Downtown Design and Review Committee meeting Tuesday, planning officials announced they will offer waivers to medical pot dispensaries in the Scenic Byway, exempting them from hanging any neon at all.
"In the case that we have dispensary applications that are located in the Scenic Byway, staff is recommending approval of waivers from the requirement for neon and animated signage, based on the unique character of the use," said Flinn Fagg, the city's retiring director of planning. "In this particular application, and also in any subsequent applications that may be in the scenic byway, you'll notice that we do recommend approval of the waiver from the scenic byway environment."
City officials say the waivers are needed to resolve a conflict with a ban on use of neon signs by medical marijuana dispensaries, which must maintain a "professional" and "medical" appearance rather than a "Las Vegas appearance," as one planning consultant described it.
Why?
"So they don't look like Colorado," the consultant said. "You wouldn't expect a doctor's office to [have neon]."
The law says a dispensary's sign cannot exceed 30 square feet and must be "internally illuminated, with the use of neon prohibited." It's a requirement listed in the fine print of special-use permits for medical marijuana dispensaries in most states.
Fagg said neon-free marijuana dispensaries are acceptable because there are so few that dimly lit shops would not affect the city's scenic atmosphere.
For other businesses, the neon approval process is often difficult.
At the previous Downtown Design meeting, the city denied a Sahara Development, LLC request to have a "simulated" neon sign at a new Walgreen's store near the recently opened SLS Las Vegas. The sign was not made of 75 percent neon, officials said
Jonathan Stern, of Albuquerque-based Modulus Architects, would not comment on the city's decision to hold Walgreen's to the neon requirement while waiving it for medical marijuana businesses.
City officials say the waivers do not represent a lopsided advantage for businessmen in the medical marijuana industry. It's too early to tell how business owners still bound by the law will react.
"It's not an exception to medical marijuana. It's because the requirements are very strict," said Tom Perrigo, the city's chief sustainability officer. "They've been placed in that position of conflict by the code. We have to grant them a waiver… It's just the timing of everything. It all happened at once and we didn't have time to get it all aligned."
In 2009, the city of Las Vegas announced that Las Vegas Boulevard from Washington to Sahara avenues would be named a National Scenic Byway. A surplus of neon signage there qualified the area as a Scenic Byway, a designation aimed at preserving an area's cultural history.
Today, the Las Vegas Scenic Byway is one of the nation's most-traveled.
"Neon signs are important to us because they're our cultural icons," said Nancy Deaner, director of the city's Office of Cultural Affairs.
The designation allows the city to apply for federal grants to pay for new neon signs that would enhance the street's glowing aesthetic. After the designation landed in Las Vegas, the city imposed its own rules, requiring at least 75 percent exposed neon or animation on new signs.
After the city announced it would offer waivers to medical marijuana dispensaries in the Scenic Byway, planning officials routinely approved company's applications, including plans from Boulevard Medical LLC and GB Sciences Nevada LLC.
During the approval process, planning officials pay close attention to everything from the color or paint an applicant plans to use on the outside of a dispensary to the amount of rehabilitation work the building requires before a grand opening.
Contact reporter Ed Komenda at ekomenda@reviewjournal.com or 702-383-0270. Follow him on Twitter @ejkomenda.
Who wants in the game? See our map showing the sites that could be selling medical marijuana.