Mesquite casino rolls the dice with employee ownership
November 3, 2015 - 6:17 am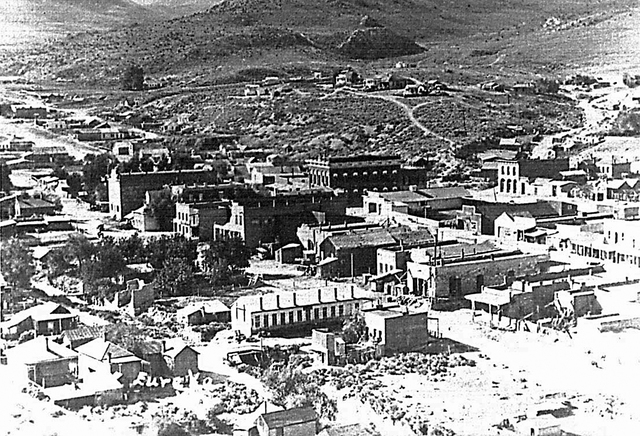 The business pages are filled with the high-rolling decisions of Nevada's corporate casino giants, but it's a strategy emerging from the diminutive Eureka Casino Resort in Mesquite that has me intrigued.
With its 214 rooms and 1,000 slots, the family-owned Eureka is no threat to the Strip's mega-resort behemoths. But it's a full-service facility with a spa and poker room and has carved out a niche in the competitive gaming business near the Nevada-Utah state line.
The Lee family obviously takes great pride in being a good partner in Mesquite, as evidenced by the creation of its Eureka Community Initiative. The company sponsors everything from elementary school reading programs to the Nevada Pops Orchestra's annual July 4 concert.
The privately held company also boasts a workforce of 550, which makes it a major employer in Mesquite. It also owns the Eureka Casino on Sahara Avenue.
That makes its decision to convert the casino-resort's retirement account into an Employee Stock Ownership Plan (ESOP) even more interesting. Employee-owned gaming companies, even relatively small ones such as the Eureka, are far from the norm. Just one other ESOP exists in the casino business, by my count.
The Gaming Control Board is scheduled to review the Eureka's ESOP application Wednesday, with a final vote by the Nevada Gaming Commission set Nov. 19. The company hopes to have the conversion completed by year's end.
The family ownership makes the business strategy noteworthy. It's simplistic to call it a "mom and pop" operation, but family-held casinos aren't common in the era of the corporate giants. It makes it easy to want to root for their success.
Longtime Las Vegans may remember Doris and Ted Lee as the owners of the National Dollar Stores here after they moved to Southern Nevada from San Francisco. The National Dollar story is itself one of the great American business successes. Started by Joe Shoong, an immigrant from Guangdong, China, early in the last century, National Dollar grew into a nationwide discount chain led by Chinese managers. Shoong also was a generous philanthropist, and in Southern Nevada a park at 1503 Wesley St. is named in his honor.
For its part, the Lee family has continued the tradition of business success — philanthropic generosity as well. In 2011, it endowed the Lee School of Business at UNLV. Son Greg Lee, the Eureka's chairman and CEO, is a UNLV Foundation Board member as well as a member of the Las Vegas Convention and Visitors Authority board.
Clearly the Lee family has invested in Southern Nevada for the long haul. But as gifted and successful business operators, the Lees also know that ESOPs can challenge even the best managers.
But by their nature, ESOPs are an act of faith between managers and employees. One without the other is a recipe for trouble. ESOPs can free up funds for corporate expansion, and that can pay everyone dividends. If things go bad, however, employees are hit hardest.
"Of course, an ESOP is only as good as the company's stock, and the worst-case scenario is the ESOP of a company going into bankruptcy," according to materials provided by Wells Fargo. "In this situation, not only do employees lose their jobs, but their ESOP accounts are worthless."
The banking giant recommends ESOP companies also offer employees a 401(k) plan.
When they opened in 1997 out off Interstate 15 a long way from the lights of Las Vegas, Ted Lee recalled to an interviewer, "Mesquite was a very different town in those days, and our success was far less certain."
They rode out the roughest part of the economic cycle and collected loyal employees along the way. They developed a trust throughout the workforce that's not considered common in modern business culture.
They have a lot riding on the success of the ESOP. The plans have shown plenty of success under dedicated leadership and an informed corporate culture. When employees feel they have a stake in the success of a company, they can infuse uncommon energy into the daily operations.
Their two-year analysis of ESOPs tells them their family-style ownership model with hands-on operators, combined with an expansion and diversification strategy, will succeed in Mesquite's locals casinos market, where employees and customers often know each other by first name. The enormous tax savings associated with an employee-owned company will enable it to expand and strengthen its place in the market.
"We're betting this is a good one, long term," Eureka President and COO Andre Carrier says.
Some families have used an ESOP as an exit strategy, but Lee sees it as a way to double down and grow the family brand. "Families look at it as a part of their legacy," he says, " … and if anything they have more skin in the game than they had before."
It appears the Lee family business in Mesquite is about to add hundreds of members.
John L. Smith's column appears Sunday, Tuesday, Wednesday, Friday and Saturday. He can be reached at 702-383-0295 or jsmith@reviewjournal.com. Follow him: @jlnevadasmith