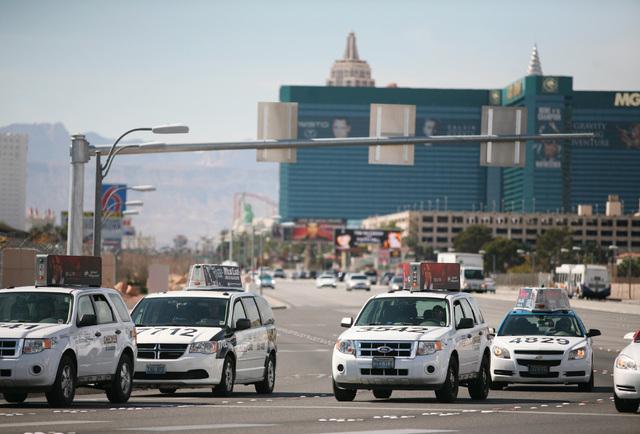 Less than 24 hours after calling a special meeting to consider taking a stance on the regulation of Uber, the Nevada Taxicab Authority has canceled the session it had scheduled for Tuesday afternoon.
Ileana Drobkin, who chairs the five-member board that regulates Clark County's 16 taxi companies, said the board's legal counsel reconsidered scheduling a meeting to discuss Uber because of the state's role in seeking an injunction that ultimately led to the company ceasing operations in November.
"Our legal counsel took another look at it later in the day and determined the best course would be not to take it on for now because of pending litigation," Drobkin said.
When Uber shut itself down in November the day before Thanksgiving, company officials vowed they'd find a way to operate legally in the state and return.
The state Attorney General's Office, representing the Nevada Transportation Authority, took Uber to court, calling Uber operations unlicensed and unsafe. Washoe County Judge Scott Freeman issued a temporary injunction preventing Uber from operating statewide on Nov. 25 and the company ceased operations the next day.
The Nevada Legislature, closing in on adjournment June 1, is plowing through dozens of bills en route to the end of the legislative session. Assembly Bill 175, amended to incorporate the regulation of transportation network companies by the Public Utilities Commission, is one of those bills pending action by the Assembly. The lower house also hasn't considered Senate Bill 440, which would require transportation network companies to be insured.
When the Taxicab Authority agreed to meet next week, it had a single item on the agenda: "discussion and possible decision regarding (a) board position on the regulation of Uber and designation of (a) board spokesperson before the Legislature."
Contact reporter Richard N. Velotta at rvelotta@reviewjournal.com or 702-477-3893. Follow @RickVelotta on Twitter.