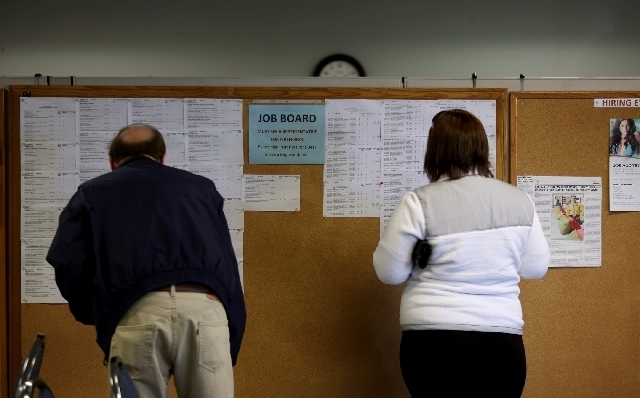 It doesn't take much to move unemployment numbers in Nevada.
Just 1,700 people left the state's work force or joined the ranks of the jobless from May to June, and the state's small labor pool of 1.4 million means the changes were enough to push up the state's unemployment rate.
Joblessness came in at 9.6 percent in June, up from 9.5 percent in May but down from 11.4 percent in June 2012, the state Department of Employment, Training and Rehabilitation reported Thursday. The Las Vegas rate surged back into double digits, at 10.1 percent. That was up from 9.3 percent in May, but down from 11.8 percent in June 2012. Because the employment department doesn't seasonally adjust jobless levels in cities, local rates can swing more widely.
Despite the step backward, experts said the state is still on a path of recovery, and it's not unusual for unemployment stats to tick up or down unexpectedly in any given month during a comeback. What's more, the state added 23,600 jobs in the first half of 2013, for an expansion rate of 2.1 percent. That easily beat a national growth rate of 1.6 percent. Employers in Las Vegas added 18,800 jobs, for an improvement of 2.3 percent.
"This report does nothing to change our overall view," said Bill Anderson, the employment department's chief economist. "If you look at the first six months of the year, our unemployment rate is, on average, down just under 2 percentage points. That underlying trend is more important than month-to-month comparisons, which can be quite volatile."
Added Steve Brown, director of the Center for Business and Economic Research at UNLV: "I find data like these discouraging, but I think you need to see a little more persistence in the data before you draw a strong conclusion. If we see the same thing in July's numbers, I would say it's negative."
Despite higher unemployment, Nevada turned in strong job growth. Its year-to-year gains ranked ninth in the nation, the employment department reported. As through most of the recovery, the leisure and hospitality sector drove improvements, adding a third of Nevada's new jobs in the first half of 2013.
Other big gainers year over year in June included education and health services, up 3.7 percent, and trade, transportation and utilities, up 2.3 percent. Construction employment added 2.3 percent, while government jobs grew 2 percent. The Las Vegas Valley's construction jobs base grew 4.3 percent, though its June core of 38,500 jobs was still well below a 2006 peak of 110,000.
Still, new jobs haven't pushed down Nevada's jobless rate to anything near the national average of 7.6 percent.
Brown said the problem could be in the way federal officials collect numbers. Jobless figures come from a combination of first-time claims for unemployment benefits and phone polls of households and businesses.
"Because this is done by survey, it does have some noise in it," Brown said. "We might just be seeing some statistical errors."
Big improvements in taxable sales, construction permits and visitor volumes hint that unemployment is being overcounted, Brown said. Federal and state officials revise figures each spring, and when that revision happened in March, it showed much better growth in the prior year than original numbers reported, Brown said.
"I think what we're looking at is the possibility of pretty big revisions sometime in the future," Brown said.
Revised or not, those jobless numbers have to start coming down more significantly in coming months, Anderson said. Job gains are just too solid for rates to stay near double digits.
"As long as we maintain those relatively healthy job growth numbers, the unemployment rate is going to catch up with that, and we will see it start to decline at a more noticeable clip," he said.
Nevada ranked No. 1 for joblessness in June, a position it's held in all but one month since May 2010. Illinois ranked No. 2, at 9.2 percent, while Mississippi was No. 3, at 9 percent. Unemployment in California, the state's most important feeder market for tourists and new residents, slipped to 8.5 percent.
Include discouraged workers who have quit looking for jobs and underemployed part-timers who'd rather have full-time work, and Nevada's jobless rate was 19.6 percent in the first quarter, according to the U.S. Bureau of Labor Statistics.
Contact reporter Jennifer Robison at jrobison@reviewjournal.com or 702-380-4512. Follow @J_Robison1 on Twitter.