NHL season-ticket deposit drive reaches 6,950
February 23, 2015 - 6:10 pm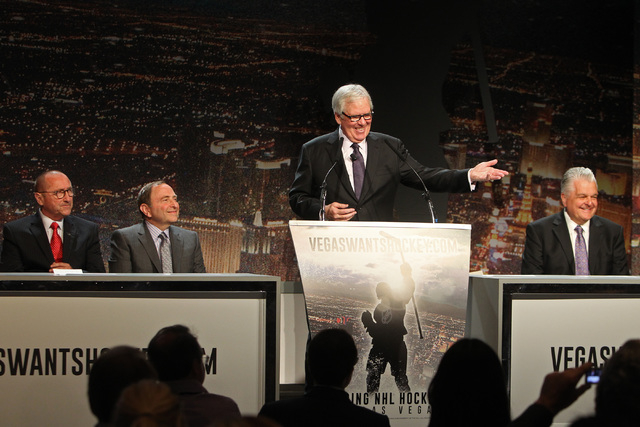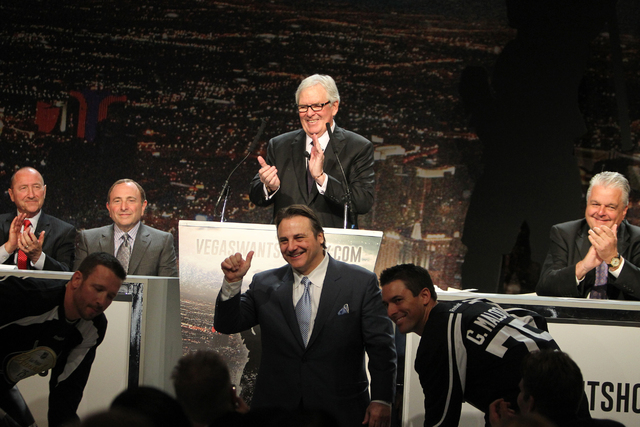 After exploding out of the box with about 5,000 season ticket deposits in the first 36 hours two weeks ago, the ownership group seeking a National Hockey League team for Las Vegas reported Monday that the number has reached 6,950.
Lead investor Bill Foley, chairman of Jacksonville, Fla.-based Fidelity National Financial, said the "Hockey Vision Las Vegas" initiative signs up about 100 to 150 ticket deposits a day, with the low at about 50 a day to a high of 200 daily deposits.
The goal of the ticket drive is at least 10,000 commitments.
"I need 1,500 good men and women to make deposits on two seats," Foley said. "We're not going to casinos or the Strip (asking for deposits). We're asking local people that they put their hard-earned money down for a deposit."
The minimum ticket deposit is $150, about 10 percent down. The most expensive seat requires a $900 deposit. Foley said the cheapest seats in the upper bowl and the costliest ones at center ice are selling the quickest.
He noted that some casino companies have approached him about buying blocks of season ticket deposits in the hundreds, but those are being declined.
Foley is partnering with the Maloof brothers of Las Vegas, former owners of the NBA Sacramento Kings, on a ticket drive to show NHL officials that the Las Vegas market is worthy of a big-league hockey club.
Foley said NHL Commissioner Gary Bettman is monitoring the Las Vegas ticket campaign daily. Bettman attended the ticket drive launch announcement in Las Vegas on Feb. 10. In December, the NHL commissioner gave Foley the OK to launch the ticket drive but said this month that Las Vegas is not promised a franchise.
Foley, who plans to close on a Summerlin house March 31, will spend close to $2 million on the multimedia campaign to ask people to plunk down money for season tickets. Hockey Vision Las Vegas is tweaking TV spots to make them longer and more exciting, while drawing success from social media spots on Facebook. Print ads are also being purchased.
He's also relying on a core group of 85 Las Vegas area business leaders to sell at least 60 deposits each. About 20 to 25 of them have reached that threshold, Foley said.
"If they all do their 60 tickets each, we're there," Foley said.
Foley-Maloof wants to have a team for the 2016-17 season playing in the $375 million arena being built by MGM Resorts International and Anschutz Entertainment Group on the Strip behind New York-New York. The arena holds 17,500 fans for hockey and has a lease agreement with Foley if Las Vegas is awarded an NHL club.
There is no deadline to hit the 10,000. But Foley is pushing to reach the mark as soon as possible while understanding the challenge of signing people up for ticket deposits in a nontraditional hockey market.
"I want to be at the 10,000 right now. But we're asking people to make a deposit for a team we don't have," he said. "Now it's time for the salesmanship."
A sales manager with a staff of eight is recruiting fans to make ticket deposits and take orders. Foley said he expects to own about 80 percent of the team, with the Maloofs owning the balance.
Contact reporter Alan Snel at asnel@reviewjournal.com or 702-387-5273. Follow @BicycleManSnel on Twitter.

The AEG-MGM arena project
More coverage
Complete coverage of the various stadium and arena proposals.