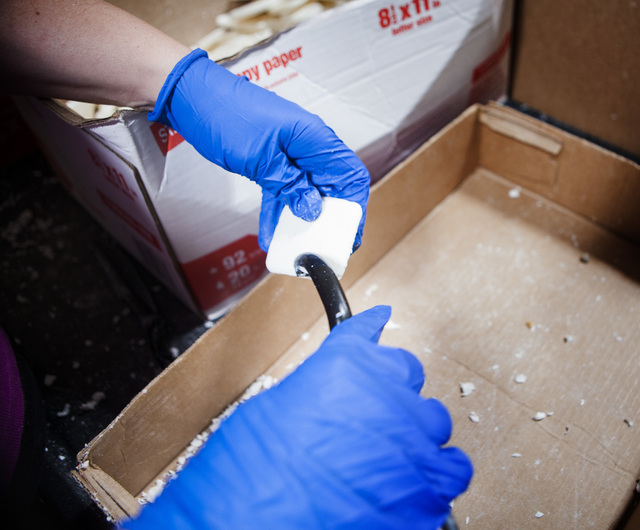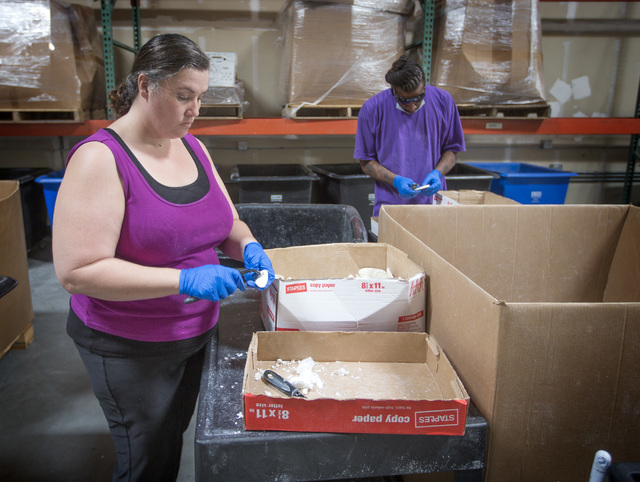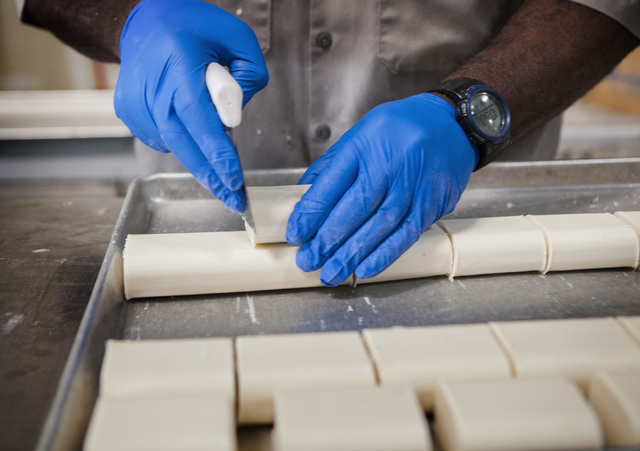 Every day, hotels in Las Vegas throw away tons of partially used bars of soap despite the large need for hygiene-related products around the world. In order to improve the health of vulnerable populations, a nonprofit moved to North Las Vegas to recycle soap from Sin City's most popular hotels.
The Global Soap Project recently relocated from Atlanta to a 7,000-square-foot manufacturing plant at 3917 E. Lone Mountain Road.
"For us, it was about achieving the highest concentration of hotel rooms in the country," said Sam Stephens, executive director of the nonprofit. "We work with 150,000 hotel rooms throughout the country, and 25 percent are in Las Vegas."
By relocating to Southern Nevada, Stephens expects production to increase from 1 million to 4 million bars a year.
Derreck Kayongo, a Uganda refugee, founded the program in 2009 after witnessing the large amount of soap that is wasted in hotel rooms. He became inspired to recycle the soap and send it to impoverished countries.
Stephens said hotels waste approximately 2.6 million bars of soap every day.
"The No. 1 cause of death for children globally is diarrheal diseases and pneumonia, which take more than 1.7 million lives a year," Stephens said. "Just by hand washing with soap, the death rate can be cut almost in half, and we can save millions of lives each year."
Since the nonprofit started, it has been active in 32 countries on four continents — Africa, Asia and North and South America.
The organization partners with global health organizations such as the Centers for Disease Control and Prevention to identify and reach people who do not have access to soap or who lack an understanding of how and why to use it, said Lilly Dimling, director of programs and communication for the nonprofit.
They also focus on short-term relief efforts, such as refugees, disaster victims and people living in extreme poverty.
The recycling process is simple.
First, the nonprofit sorts the soap by texture and color and scrapes debris with a vegetable peeler.
The soap is then ground and mixed with water. Once it's the consistency of feta cheese, the soap filaments are run through a screen to remove particulates and molded into soap.
Then the bars are cut and visually inspected before being packaged into boxes for shipment.
For extra security, a sample is also removed from each production batch and tested by Q laboratories.
A box holds 120 4-ounce bars and weighs 30 pounds, according to plant manager Aaron Weatherly.
The new facility requires 6,000 volunteers each year to assist the full-time staff in sorting and packaging the soap, Stephens said. The organization is also looking for hotels to partner with.
There is no fee to participate in the program. Hotels are asked only to cover the cost of shipping soap to the nearest recycling center, which is tax-deductible. Arrangements can also be made to pick up soaps from hotels in the area.
The plant will accept plastic amenity bottles for recycling.
In addition, the international nonprofit Clean the World is seeking volunteers Sept. 20 and 21 to build 100,000 ONE Project hygiene kits. Kits will consist of recycled soap from Las Vegas hospitality companies, shampoo, conditioner, a toothbrush and toothpaste.
They will be distributed through the American Red Cross for disaster relief efforts in the Las Vegas area, as well as for major disasters in the United States.
"We're in the business of saving lives," Weatherly said. "Everything we ship from here goes towards helping someone in need."
For more information or volunteer opportunities with the Global Soap Project, contact lilly@globalsoap.org or 678-235-8095.
For more information or to volunteer with similar nonprofit Clean the World, contact Shae Hagen at 702-221-8777 or shagen@cleantheworld.org.
Contact North View reporter Sandy Lopez at slopez@viewnews.com or 702-383-4686. Find her on Twitter: @JournalismSandy.