Observers watching strict new construction-defect rules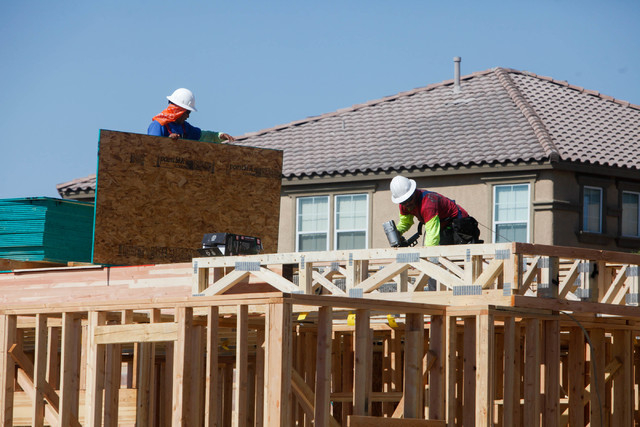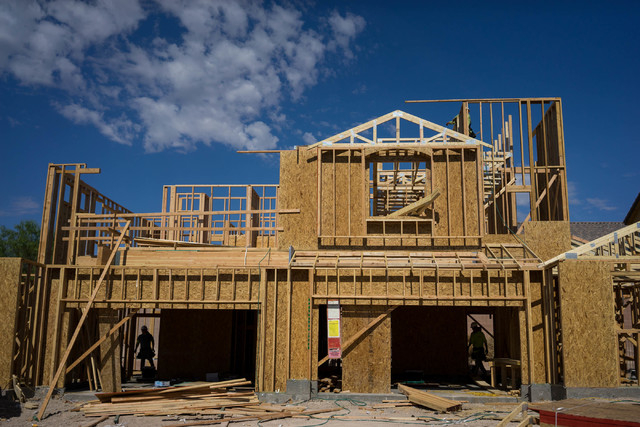 A trial attorney's loss could be a first-time homebuyer's gain.
Real estate observers said they're watching how strict construction-defect rules that took effect in February will shape the market for condominiums and town houses — a segment whose share of local new-home sales has dropped from a 1990s average of 25 percent to 8 percent today, according to the Southern Nevada Home Builders Association.
That downward trend is a problem because condominiums and town houses are typically more affordable than single-family homes, industry experts said. They're a key part of the entry-level and empty-nester markets.
"If you lose that entry point, you're losing the first-time buyers who become move-up buyers, and you lose that move-down buyer who wants to get rid of a house and buy a condo," said Dave Tina, managing broker and owner of Urban Nest Realty in Las Vegas. "We can't afford to give up those markets if Las Vegas wants to grow."
Some experts said the new law will help those markets, while others countered that even the best reforms won't overcome new economic realities and demographic shifts. The market is markedly different today from two decades ago, when Nevada began tweaking its construction-defect laws.
DEFECT CLAIMS EXTRAPOLATED
Nevada's defect laws saw their first big modification in 1996, when rules changed to guarantee plaintiffs and their attorneys not just actual damages, but also attorneys' fees, the costs of expert witnesses and interest on those expenses. That's how a homeowner facing $500 in repair costs might reap a total award of $1,500, said Scott Rasmussen, a construction defect attorney and managing partner of the Las Vegas law firm of Hansen Rasmussen.
"There was no gamble on the part of the homeowner, so it became very lucrative," Rasmussen said.
Condos and town houses were especially vulnerable to defect claims, because common areas and shared walls meant a flaw in one unit could be extrapolated to most or all units.
In one 2008 case involving a condominium community in northwest Las Vegas, plaintiffs' attorneys won $6.7 million in fees — a number that ballooned to nearly $10 million once costs and interest were factored in. Homeowners received $585,000 in damages for repairs.
Local plaintiffs' attorney Terry Riedy told the Nevada Legislature in February that his Las Vegas firm, Canepa Riedy Rubino, has reaped more than $200 million in fees on construction-defect cases.
The potential for cash hauls even inspired a $7.2 million homeowners association scam involving fraud, bribes, a yearslong FBI investigation and the suspicious deaths of multiple witnesses.
With big paydays, it was no wonder that construction-defect lawsuits spiked 355 percent and builders' settlement costs soared 80 percent from 2006 to 2012, even as new-home construction fell 86 percent, according to a 2013 study from UNLV's Center for Business and Economic Research.
As claims and costs mounted, liability insurance expenses skyrocketed for contractors and subcontractors on condo projects, Rasmussen said. Premiums tripled or more. The dozen insurers who covered local construction of attached homes in the late 1990s had dwindled to none by the early 2000s. To avoid liability altogether, builders quit building attached homes for sale.
"There was a chilling effect in the 1990s when people just stopped building condos," Greater Las Vegas Association of Realtors President Keith Lynam said.
Excluding pricey, high-rise condos in and around resort areas, the number of new condos and town houses in Southern Nevada has dropped 93 percent in the past decade, homebuilders' association numbers showed.
It's hard to pin down how much of the decline has come from construction-defect lawsuits, and how much of it traces to the recession and housing bust, Rasmussen said.
But the homebuilders' association noted that condo construction is healthy in every state surrounding Nevada. By 2013, multifamily housing permits in neighboring states had either returned to 2008 levels, or increased by double- or triple-digit percentages. In Nevada, multifamily permits were still 75 percent below 2008 numbers.
Real estate watchers said they're hopeful Nevada's lawsuit reform will reverse that deficit.
TIDE SHIFTS BACK TO BUILDERS
It's not the first time builders have sought legal fixes from lawmakers. The most notable prior attempt was in 2003, with a "right to repair" law meant to give builders a chance to fix problems before lawsuits were filed.
But the law gave builders just five months to patch issues, and it continued to guarantee trial attorneys their fees, even if repairs were completed ahead of a lawsuit.
Today's statute, with its requirements to more clearly define defects and its removal of guaranteed fees, will definitely swing the pendulum back toward builders, Rasmussen said.
But does the market really need more new homes — even affordable ones?
Thousands of local homes have yet to go through foreclosure. When they hit the market, they'll sell at a discount: The median closing price of a bank-owned home was $152,038 in March, compared with a median of $185,500 among nondistressed homes, local housing research firm SalesTraq reports.
Sales have also slowed. The number of available resales without offers was up 8 percent year over year in May, as the number of units sold dipped 2.6 percent, the Greater Las Vegas Association of Realtors said.
"Condos do fill a need, but we already have so many vacant and abandoned homes," Lynam said. "It's tough for me or anyone to say we need more new projects when we have so many empty homes."
Still, few homes on the market today are truly affordable for first-time buyers.
The Southern Nevada market had just 16 new-home floor plans priced below $200,000 in April, according to local analysis firm Home Builders Research. Closings below $200,000 made up 2.7 percent of all new-home sales in May.
In that kind of market, condos could bridge a pricing gap. The median price of a condo or town home on the local resale market was $112,000 in May, compared with a single-family median of $211,250, according to the Realtors' association.
But vast tracts of resale condominium communities are unavailable to first-time and moderate-income buyers, Tina said. That's because the Federal Housing Authority in 2008 stopped backing loans on existing condo communities that had high numbers of investors and dues delinquencies. By 2011, 90 percent of local condo communities were ineligible for federally backed mortgages, and tough regulations have kept many of them from even trying to renew federal certification.
New condo communities are developed under current rules and are open to buyers using federally backed mortgages.
POTENTIAL FOR HUGE PAYDAYS GONE
The jury is out on whether those new developments will happen in large numbers.
Tina said he expects gains in condo construction, given the "more sensible rules" now in place.
Rasmussen agreed building will pick up. Attorneys' fees are no longer guaranteed, so the potential for huge paydays is gone. Also, today's attached-home construction insurance policies limit total damages to $1 million, leaving little incentive to file.
Rasmussen said he expects only a "modest" increase in condo development, though, because of "underlying problems" in the economy. The Las Vegas Valley's unemployment rate, at 6.6 percent in May, remains more than a full percentage point above the national rate of 5.5 percent. Builders also must grapple with a continuing land shortage and broad changes in attitudes toward homeownership. Census Bureau numbers show the local homeownership rate dropped from a 2006 high of 64.8 percent to 53 percent in the fourth quarter, as millennials have delayed forming households and consumers burned in the housing bust have decided it's easier to rent, Rasmussen said.
"Until those issues go away, I don't think we'll ever return to a boom," he said.
Contact Jennifer Robison at jrobison@reviewjournal.com. Find @J_Robison1 on Twitter.