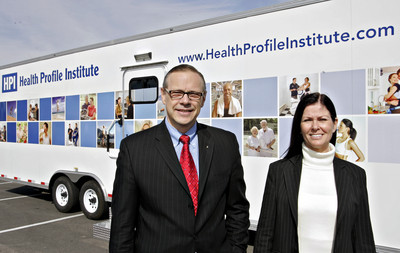 If you've always credited those few extra pounds to your "big bones," a new Las Vegas company wants to show you how you might be onto something.
Stop in for an appointment with the Health Profile Institute, and the first thing the company's technicians will do is measure your wrists and knees. They'll use the numbers to determine how much your skeleton weighs. And from that little detail, they'll suggest an ideal weight range that gives clients a 15- or 20-pound latitude for good health. No strict, stern, absolute targets here; rather, the Health Profile Institute emphasizes smaller, more-achievable steps toward fitness.
The institute, which is based in Sweden, just opened its U.S. headquarters in Las Vegas, with plans to focus on providing preventive health counseling in the workplace. The company's executives want to show people their current health status, educate them about the connection between lifestyle and health and help them set goals toward better health, Chief Executive Officer Gunilla Mjardsjo said. And if there's one overriding message at the institute, it's this: Grand goals — drop 50 pounds, walk four miles a day, eschew all junk food — require huge investments of time and effort that can overwhelm the best intentions.
"We help them find the time to make changes by giving them things they can improve a little bit at a time," Mjardsjo said — say, starting an exercise regimen with 10-minute daily walks.
It's a message increasingly in vogue among business managers, who've watched the cost of insurance premiums for employees jump 87 percent since 2000, according to the National Coalition on Health Care. Two-thirds of Americans are overweight and 25 percent smoke. No longer content to leave staffers to their devices after hours, companies are taking action in the office, holding weight-loss contests, charging overweight workers higher insurance premiums and refusing to hire smokers.
Iris Sokol, president of Massachusetts-based Fitness Works at Work, said she's noticed a major spike in demand for her 25-year-old company's services in the last 18 months to two years.
"Years and years ago, we really had to make a case for companies to offer on-site programs and fitness opportunities," Sokol said. "It was something that you had to convince the powers-that-be to do. Today, we're finding that companies already understand the importance of preventive programs. We've seen a huge surge in companies contacting us to learn how they can put a program together, and what kind of program best suits employees' needs and the company's culture and budget."
Sokol said sales at Fitness Works at Work are up 25 percent in the last year alone.
It's a growing national niche the Health Profile Institute wants to help fill.
The company started in the 1970s as part of Swedish car maker Saab, after the manufacturer asked two doctors to develop cardiovascular tests to determine employees' fitness for factory work. Along the way, the doctors found, employees had additional questions about how to improve their general health. Thus was born the company's health profile assessment, a 45-minute analysis that includes skeletal weight measurements, a six-minute cardiovascular test on a stationary bicycle and a 15-question survey that asks about everything from commuting and exercising to stress levels and tobacco use.
From the details mined during the assessment, counselors work with clients to develop a current health profile and form an improved target profile they'll aim for in the next six months to a year. It's put together a network of corporate partners who help clients reach their goals through smoking cessation, nutritional consulting, stress management and even laser acupuncture. Companies can track overall health among employees, and follow changes over time. Results are confidential; names are stripped out of statistical results to make employees more comfortable giving honest answers on the questionnaire.
Clients can receive an assessment inside the institute's Henderson offices, but the company also has a 300-square-foot mobile unit it can bring to local businesses. The trailer, which cost about $60,000 to buy and outfit, includes a magazine-stocked waiting room and two private testing suites.
The profile costs $69 a person. For $99, clients can buy two health profile assessments over one year. The company will also negotiate lower rates on bigger volumes of employees.
If the price sounds steep, think about the long-term potential for savings, said Susanne Ocasic, the institute's operating director. Every $1 spent on preventive health care can save a company $3 to $9, she said.
"Businesses are willing to spend money in the beginning if they know they will save a lot of money in the long run through healthier employees," Ocasic said.
The Health Profile Institute is marketing its message through its mobile unit at health fairs and other community events. It performed more than 100 skeletal evaluations at a recent women's fair at South Point, and it set up its trailer outside the Galleria at Sunset mall. Company officials are discussing appearances outside area grocery stores. They hope to negotiate coverage through local insurers later this year, so that clients can use insurance to help pay for assessments. They expect corporate accounts to make up roughly 80 percent of their business, with the remainder going to individuals.
The Health Profile Institute's program is Europe's most-used assessment plan, Mjardsjo said, and company executives aim to dominate the market in the United States, too. They plan to enter the California market by year's end, and expect to offer assessments in most U.S. states within half a decade.
Consumers who've taken the assessment say it's directed them toward better health.
Las Vegan Ingrid Englund, a part-time marketing representative, went through the profiling process in December, when the company was preparing to open to the public.
Englund, who found out about the company through a local Swedish association, found the analysis of her skeletal weight especially useful. She fell within the healthy weight range her profile called for — a marked difference from the body-mass index results that say she needs to lose a few pounds.
But Englund also found that she wasn't quite as heart-healthy as she thought. Her bicycle test revealed her cardiovascular fitness as average, whereas she would have ranked herself as above-average before the assessment. The process showed Englund that she needs to rein in stress, slow down and focus on her health, with more exercise and less chocolate.
"I would definitely recommend a health profile assessment, because it just seems like it hit the spot," Englund said. "It seemed to be so accurate somehow. It wasn't exaggerated in any way. It was just to the point: 'This is how you are right now and this is what you should improve on.'"
Contact reporter Jennifer Robison at jrobison@reviewjournal.com or (702) 380-4512.