Porn pros put out what's new at Las Vegas convention
January 22, 2016 - 5:49 pm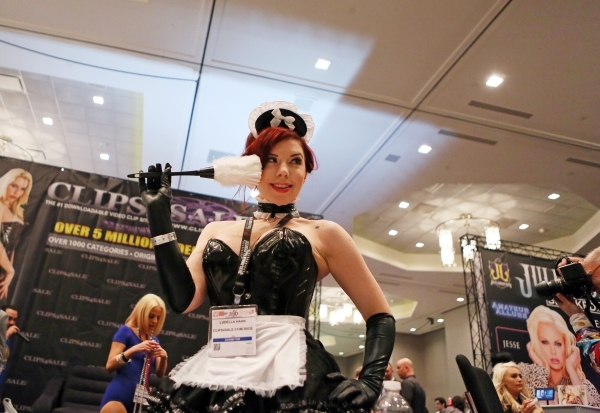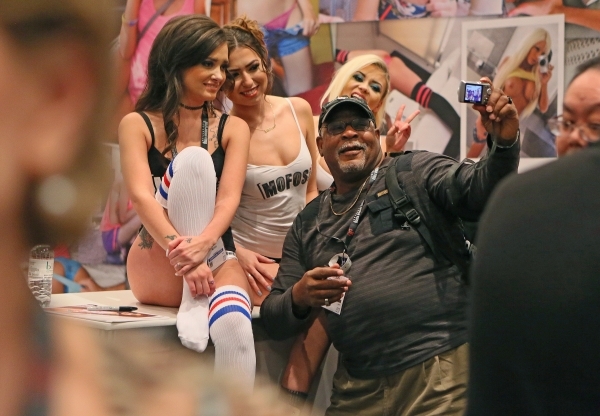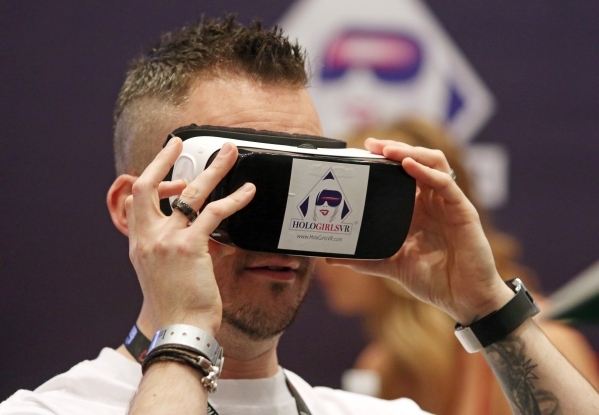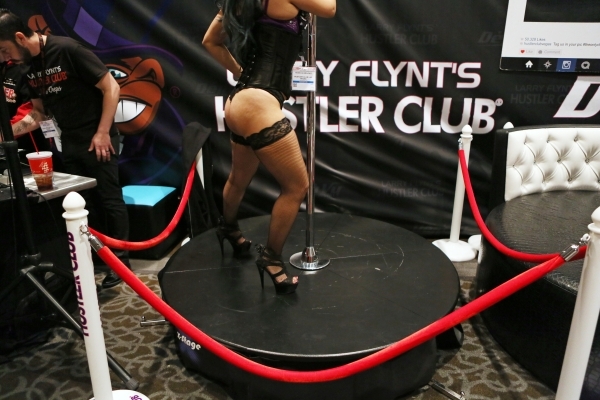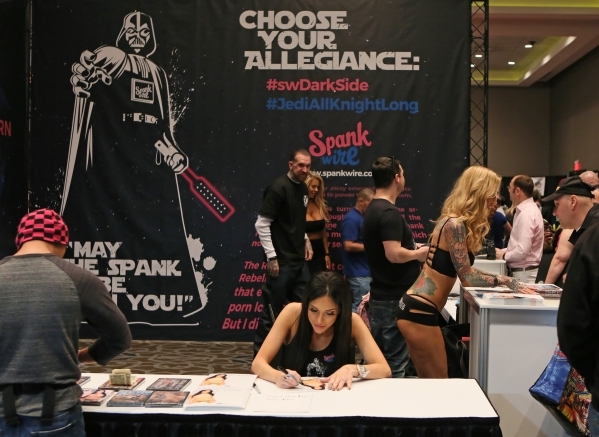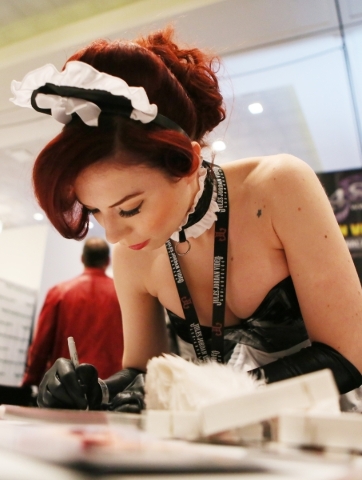 The words once uttered by Stevie Ray Vaughn written above the entrance of the Hard Rock Cafe had little to do with rock 'n' roll and a lot to do with sex on Friday when day three of the AVN Adult Entertainment Expo took over the Strip hotel-casino.
"When the house is rocking, don't bother knocking, come on in," greeted the men and women attending the expo.
Thousands of people came into the casino, 4455 Paradise Road, to see displays of pornographic technology, lingerie and sex toys put on by hundreds of adult entertainment industry professionals.
Scantly-clad women, some dressed as animals, others dressed in fetish costumes, and men browsed the aisles of companies touting innovations such as 3D pornography, virtual reality pornography, live-stream services and chat starters.
CamSoda, a company claiming to have launched the first interactive virtual reality porn in December 2015, displayed its headsets, which "mix nerdiness with the appeal of interactive porn," according to employee Chris McLucas.
The company has a mansion in Florida where women live and perform for their weekly live-streams, McLucas said.
It wasn't all fun and games, though.
Education is on the forefront of the agenda, with topis such as, "Which Candidate Is the Best Bet for the Adult Industry?"; "Consent Degrees: Yes, No and Everything in Between"; and "Case Studies: Keeping Tabs on Changing Laws and Regulations" being covered in daily seminars running from Wednesday to Saturday.
Two churches set up shop in the convention, hoping to educate as well.
Just a few feet away from a black cage in the center of the room, featuring Japanese adult film stars in barely there kimono robes, "The Naked Truth" booth offered faith-based literature from the Valley Bible Fellowship.
Instead of waiting for people they believe are troubled to walk through their church doors, pastor and founder Ron Vietti said, "we'd come out here where people are hurting."
Members of his congregation have attended the porn convention for a decade with the goal of showing people that the Christian church is not here to judge.
"Hate the sin, not the sinner," Vietti said.
Boasting a similar message, Matthew Ferrer stood smiling, handing out fluorescent "Jesus loves porn stars" stickers to passers-by.
"We're a group of Christians who believe Jesus loves everybody," he said.
Ferrer's group, XXX Church, ministers to porn stars and those dealing with sex addiction by supplying food and drinks, hoping to make a connection.
Adult film stars weren't the only ones whose faces were shown at the convention.
One sex toy company uses the likeness of athletes and actors to create their products — for those who are into that sort of thing.
For those who are not, a trip upstairs to "The Lair, An Interactive Kinky Playspace," could have something, particularly to meet any "50 Shades of Grey"-inspired needs.
Shelves holding floggers, whips, chains and handcuffs stopped many onlookers in their tracks.
"Come on in, take a closer look," one model said, inviting looky-loos to shop thigh-highs and costumes.
The show, which continues at noon Saturday, is open to anyone over the age of 18 with a valid ID. Tickets start at $80.
Contact Kimberly De La Cruz at kdelacruz@reviewjournal.com or 702-383-0381. Find her on Twitter:@KimberlyinLV.