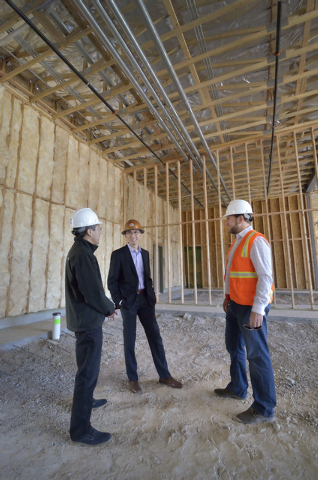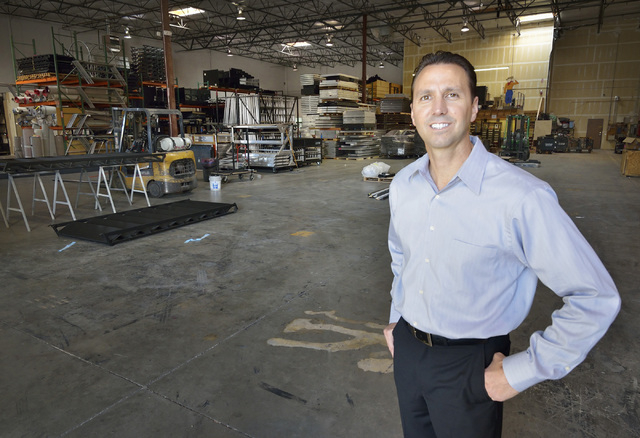 Bigger may not always be better when it comes to the size of a business park and its effect on the market. But the demand for large spaces is helping to fuel the steady recovery of the local commercial real estate market.
Beltway access, sparkling new amenities, and the rebranding of what it means to go to work are also helping some business parks reshape their fates postrecession.
For some inner-city business parks that couldn't keep up with renovations during the recession, and even some that were built close to the start of the recession, a fairy tale transformation might not be on the horizon just yet.
"The properties that are doing well in this market are those that are relatively new, and that were also built along the (215) Beltway," said Equity Office Properties Portfolio Manager John Woo, who is a creative mastermind behind the renovated Hughes Center, near Paradise and Flamingo roads.
"Many of the properties that are inland, located with no direct freeway access, if they haven't reinvented themselves, I think, they may languish," he added. Although "someone's eventually going to come up with an idea on how to reuse (those buildings)."
Those problem properties raise vacancy rates for the market, distorting the picture of Las Vegas' commercial real estate market. That can pull the focus off another storyline: big spaces in demand.
"You'll read the market reports that vacancy (rate) in office is 18 percent, industrial is 9 percent" said Jarrad Katz, senior vice president and principal of MDL Group. "We have plenty of small spaces. But a large user is going to bypass our market for another market that has an opportunity."
A building spurt may come soon.
"This is the point in the market where nothing's been built in the past six years or so," said Greg Pancirov, vice president of Colliers International's industrial department. "And everyone's clamoring to build some more industrial buildings as quick as they can."
A PARALLEL TO RESIDENTIAL
During the recession, the rise and fall of the fortunes of some business parks paralleled those of residential real estate, he said. Four and five years ago were a time of "bloodletting," when foreclosures were rampant, and vulture investors snagged properties at 50 cents on the dollar.
But the pendulum has swung in the other direction.
"In the past 24 months, we've probably seen the strongest absorption we've seen in the past six years," he said of leasing activity.
With the convention industry and associated businesses accelerating, many businesses that struggled to shed space seven years ago now need more space.
Colliers International's Las Vegas Quarterly for 2014 reported that the local industrial market had 3.5 million square feet of net absorption during the year — just a tad less than in 2013. Industrial vacancy decreased to 8.8 percent in the fourth quarter, and asking rental rates increased to 55 cents per square foot on a triple net basis.
Katz said 80 percent of his business is industrial. And, he lists nearly 2 million square feet within Black Mountain Business Park, all owned by Harsch Investment Properties.
"The market's up about 30 percent year over year," he noted. "Marketwide, but definitely in that specific area. One year ago, we were doing deals at 33 cents. Today, we're doing 47 cents."
One of his bigger deals, signed in July, was a 100,000-square-foot lease with Living Ecology, a health food bar maker that moved from California.
"We had a premium lease rate from them," he said. "That lease rate has spurred development marketwide."
Partly because of changes in lease rates, he added, there's now about 5 million square feet planned for industrial development today. Katz said 500,000 to 1 million square feet have already broken ground.
Nevertheless, the recession forced many businesses to try to get more done with fewer people crammed into less space.
And, e-commerce may be reshaping business parks, said John Stater, research manager for Colliers International Las Vegas, shifting demand from traditional, expensive retail store space to cheap industrial space.
"You don't need a storefront," he said. "You just need a warehouse to ship it from."
OFFICE-SPACE NEEDS SHIFT
Computers are shrinking. Data storage is moving to the cloud. And a full-time employee workforce is transforming into part time, with people sharing desks. Postrecession efficiency and caution are lessening demand for some types of office space.
This doesn't bother Charles W. Van Geel, vice president of leasing and sales for American Nevada Co., and president of the Southern Nevada chapter of the National Association of Industrial and Office Properties. American Nevada's "gems" include two 90-acre business parks, Green Valley Corporate Center and Green Valley Corporate Center South. That includes 1.5 million square feet stretched across St. Rose Parkway, Green Valley Parkway, and the 215 Beltway. Vacancy rate: 10 percent, soon to be lowered as a few deals finalize, Van Geel said.
High-quality, high-end office space in Green Valley Corporate Center is going for $2.50 to $2.60 per square foot per month, he said.
That may not match the "monster run-up" he remembers from 2004 through 2008. But, he adds, "Will we achieve those rental rates? Probably. I still think we're a few years away from that."
At the Hughes Center, high-end "spec" spaces are having a postrenovation heyday. The suites are small, ranging from 1,000 to 5,000 square feet and are designed to foster creative thinking, collaboration, and employee face-time. They cater to "gazellelike" smaller businesses that move fast and need space in a hurry, Woo said. He refers to the 68-acre, mixed-use, master-planned Hughes Center as a "campus," or a "community," that promotes interconnectivity, not only among the businesses in the space, but with the outside community.
Glass, rather than drywall, is the preference, with ambient lighting, and offices on the interior. Traditional high-sided cubicles are out. Onsite amenities, including an array of restaurants and a 3,500-square-foot, $500,000-plus 24-hour gym with showers (for use by the 3,000-plus people on campus) are in. So is a showcase for sleek, modular furniture designed to spark "accidental collision" among co-workers.
Since the property changed hands in late 2013 and began undergoing renovations, it has followed the direction of office space à la San Francisco and Los Angeles.
"It's happening all over the country," said Woo, who jets out to places such as Santa Monica, Calif., to catch the latest trend in creative spaces. "Traditionally, it was software, high technology. Now you see traditional firms using the creative space."
"See that logo there?" he said. " 'Redefining the Las Vegas office experience.' We're saying that, not only because we're doing all these amenities, but I think our interior space does change the way you work."
OCCUPANCY ON THE RISE
Numbers speak, he said. In 2013, occupancy was just less than 70 percent; it's now at 80 percent. Asking rents should go rise 3 percent to 4 percent in 2015, he said.
At the 115-acre UNLV Harry Reid Research and Technology Park off the 215 Beltway, by Durango Drive and Sunset Road, there's also good news, after years of recession dormancy. The park was intended to benefit UNLV, attracting business and industry with a specific link to university operations, whether in research and technology or training and job opportunities for students.
Two deals landed in 2014: One with American Preparatory Academy, a charter school that will cater to nearby housing development, and one with Catamaran, a pharmacy benefit management services company.
Gerry Bomotti, senior vice president for finance and business at UNLV, said the school broke ground in December.
"I don't think those are the type of businesses that were envisioned, but if they can help stimulate the park, and get other things in there, that would be a good thing," said Clark County Commission Chairman Steve Sisolak, whose district encompasses the park.
"We didn't see this as inconsistent with what we wanted to do with the park," said Bomotti about the charter school, adding that the deal provided revenue for marketing the park.
With Catamaran, he said, the hope is to provide internships for UNLV students with science-related backgrounds.
Business parks may undergo more change. Some complexes may cater to drone technology; the Federal Aviation Administration designated Nevada as one of six test sites for unmanned aircraft systems,
The possible legalization of recreational marijuana and may also boost demand for industrial space.
John Restrepo, principal of RCG Economics in Las Vegas, surmised that marijuana could join e-commerce in having a greater near-term effect. That could depend on whether the next president of the United States perceives recreational use as a states' rights issue — and whether those businesses can get financing.
In the meantime, "a lot of these properties in older neighborhoods will be repositioned into other uses," he said. "The market has a tendency to take care of itself over time."