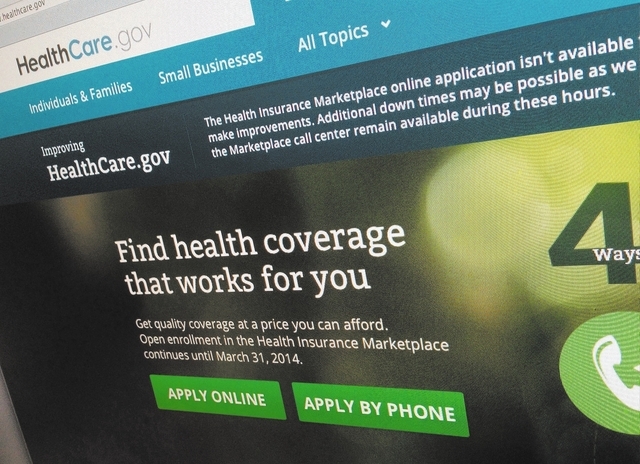 State officials approved a contract Tuesday with Deloitte Consulting for advice on how to make Nevada Health Link's website work better.
But maybe all they needed to do was talk to George Kovarik of Henderson.
Kovarik called Tuesday, the day the Las Vegas Review-Journal reported on a $407,000 insurance mix-up involving a Las Vegas man, to talk about his own "nightmare" experience trying to sign up his daughter for coverage through the site. He said he saw some simple fixes that he believes would go a long way toward boosting enrollment in the state exchange.
First, some background. Nevada Health Link has had more than 1 million unique visitors, but as of March 15, just 33,053 consumers had chosen a plan, and 22,533 had paid for their coverage and officially enrolled. Exchange board members and state officials say a chunk of that low enrollment comes directly from technical issues with the site, which is the portal through which consumers can sign up for coverage and premium tax credits under the Affordable Care Act.
One of those consumers with trouble enrolling was Kovarik's daughter, a single mom in her mid-30s. Kovarik has experience in insurance sales, so he stepped in to help her buy a plan. Father and daughter had what have become routine enrollment issues — think error screens and confusion about plan designs. Kovarik's daughter finally enlisted the help of a licensed insurance broker and got through the system.
It was worth the effort, Kovarik said: Her premium dropped from $550 a month for her pre-Affordable Care Act plan to $280 for her new coverage, for which she's receiving a federal subsidy.
So here's the first problem Kovarik spotted at Nevada Health Link: You have to start an account to browse plans and check your subsidy eligibility. That's frustrating, and even "threatening," to someone who's not insurance-savvy, Kovarik said.
A better alternative would be to copy online mortgage calculators, which ask for basic information such as income, down payment and house price, and spit out a quick answer on what exactly the consumer will pay per month, no account required. Consumers should be able to enter wages, number of dependents, age and gender, and get an idea of their federal premium tax credit without having to create an account, Kovarik suggested.
That way, people could budget.
"If someone saw in January that a plan will cost $198, they might decide to come back March 1 after they could save some money for the first payment," he said.
Once you've created your account at Nevada Health Link, understanding plans doesn't get any easier. There's a short description that doesn't say much about the plan. You can get better information on deductibles and copays if you click on the plan, but nowhere does the website say that, Kovarik said.
"You're just giving a very brief snapshot and asking people to make a decision, and that generates a lot of phone calls" to the exchange's Henderson call center, he said.
Perhaps the biggest problem is the website's continuing browser issue. Kovarik pointed to a disclaimer on the site that says it works only with the latest versions of specific Internet browsers.
"Most people are on a PC at home. They're probably still using Windows XP or Windows 7. Ask a person with a PC what browser they use and they might give you a blank stare. So the system is designed for people who are insurance-savvy and Web-savvy," he said. "Xerox needs to sit down and look at their customer. These are working-class individuals, many of whom do not have insurance or really know insurance, and maybe they know how to run a computer, but they're not computer-literate. How can we make it easiest for them the minute they get on the website?"
Kovarik said he's called the exchange a couple of times offering his help and advice, but he never heard back.
Fixing the website would cut back on phone traffic into the call center, and it would also help fulfill the Affordable Care Act's mission, he said.
"My motivation for wanting to help is this: I believe we've been in a profit-motivated health-care system for a while, and the costs were just getting out of sight," he said. "Affordable health insurance for people is really necessary. My heart breaks for people who have to buy insurance and are now facing this nightmare in Nevada."
■ More about that Deloitte Consulting contract: We've received comments from consumers who say they're concerned that the deal's $1.5 million price tag will add to Nevada Health Link's existing budget, which includes a $72 million contract with Xerox. That's not the case: Exchange officials said in a March 6 meeting that funds for Deloitte can come from the project's existing budget, which is being funded with about $84 million in federal grants.
Any additional costs that come up, though, might force a second look at that budget, said Shawna DeRousse, the exchange's chief financial officer.
In case you missed it, the Review-Journal's Sean Whaley reported Tuesday that Deloitte has five weeks to identify Nevada Health Link's website issues and create a plan to fix them in time for the next open enrollment period, which begins Nov. 15.
Contact reporter Jennifer Robison at jrobison@reviewjournal.com or 702-380-4512. Follow @J_Robison1 on Twitter.