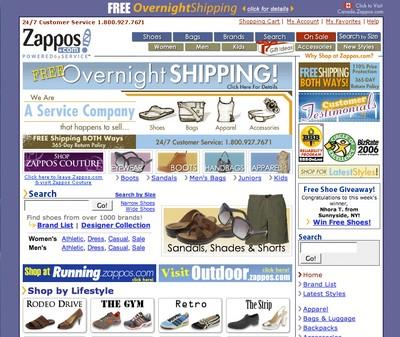 A major online shoe retailer is stepping into the world of bricks and mortar.
Zappos.com, a Las Vegas company that owns a significant chunk of the Internet shoe-sales segment, has opened outlet stores on Mall Ring Circle in Henderson and on Dean Martin Drive in Las Vegas. A third outlet store is scheduled to open in June near Flamingo Road and Maryland Parkway.
Keith Glynn, the Zappos.com project manager who's overseeing the outlet rollout, said the stores serve two purposes: They promote the Zappos name, and they provide a sales venue for overstocked items from the Web site.
"We want to get a lot of product out there," Glynn said. "Since our corporate office is located here in Las Vegas, we felt this was a good market to start (the stores) in. We also benefit from having both tourists and locals here."
Dory Dyer, manager of the Dean Martin Drive outlet, said the store will also eventually have a West Coast return center that will allow Zappos.com to process regional returns and refund money more quickly.
Moving from Internet sales into real-world stores is an unusual move for an e-tailer. But Heather Dougherty, a senior commerce analyst with Nielsen/NetRatings in New York, said the transition to bricks and mortar is increasingly common. Online clothing retailer Girlshop.com, for example, debuted on the Web eight years ago, and is now opening stores in New York. And nine-year-old Bluefly.com has unveiled real-world stores around the holidays as a promotional vehicle, Dougherty said.
"(Moving offline) is definitely an interesting strategy that can work if you stay true to your brand and what consumers expect of you," Dougherty said. "New York and Las Vegas are two good examples of places where you're going to have heavy consumer traffic from a wide variety of places. You're going to get a very wide swath of buyers."
To reach those buyers, Zappos.com is advertising on billboards and in tourist-oriented magazines. The company is also running shuttle buses from several Strip hotels to the Dean Martin Drive store — a service Zappos.com initiated after seeing Strip visitors take taxi cabs to the outlet and end up waiting for return rides, Glynn said.
Many of the stores' customers already know the Zappos.com name and experience, Glynn said. But the outlets also give the retailer an opportunity to reel in customers who aren't comfortable with shopping online, Dougherty noted.
The stores offer shoes, purses, belts and other accessories for 30 percent off the prices consumers will find online at Zappos.com. The merchandising emphasis is on brand-new items that have nearly sold out online. Once a specific style reaches a point where just one size is left, keeping it on the Web doesn't make sense, so the product will make its way into an outlet store, Glynn said.
The stores will also stock shoes from several brands exclusive to Zappos.com, including Lumiani of Italy and RSVP.
That product lineup should help Zappos.com distinguish its outlets from existing brick-and-mortar companies in the discount-shoe sector, Dougherty said.
"There's room for (Zappos.com)," she said. "The shoe market seems to be thriving, so there's certainly space for a solid player. It's going to come down to the products and prices they're able to offer."
Zappos.com started up in 1999 in San Francisco, and moved to Las Vegas in 2004. The company's sales grew from $1.6 million in 2000 to $597 million in 2006. Since it moved to Southern Nevada, Zappos.com has expanded from 60 employees to more than 600 employees, with Las Vegas-based functions ranging from corporate headquarters to call-center operations. The company has about 35 employees in its local brick-and-mortar stores, with 15 or so staffers planned for its Maryland Parkway location.
Zappos.com's success has scored the company some high-profile press. Time magazine cited Zappos.com in its August roster of 25 Sites We Can't Live Without, and the newsweekly gave a nod to the company in its 50 Coolest Web Sites 2005 list. Inc. magazine and Fast Company have profiled Zappos.com's growth, and the business has merited mentions in The Wall Street Journal and USA Today. And Zappos.com is drawing big-name venture-capital firms from California to Las Vegas, with Sequoia Capital plowing $35 million into the business between October 2004 and July 2005.
Executives of Zappos.com are forecasting additional growth in 2007, with projections of $800 million in sales through the end of the year.
But Glynn said the company isn't likely to open more outlet stores beyond the three it will have locally by June and the one store that adjoins its Kentucky warehouse.
Zappos.com officials also haven't decided if they'll expand their outlet stores to markets outside Las Vegas.
"We're going to open up these stores and evaluate how they do before we decide on more," Glynn said.