Robots are coming after Las Vegas jobs, experts say
September 12, 2017 - 4:50 pm
Updated September 13, 2017 - 11:23 am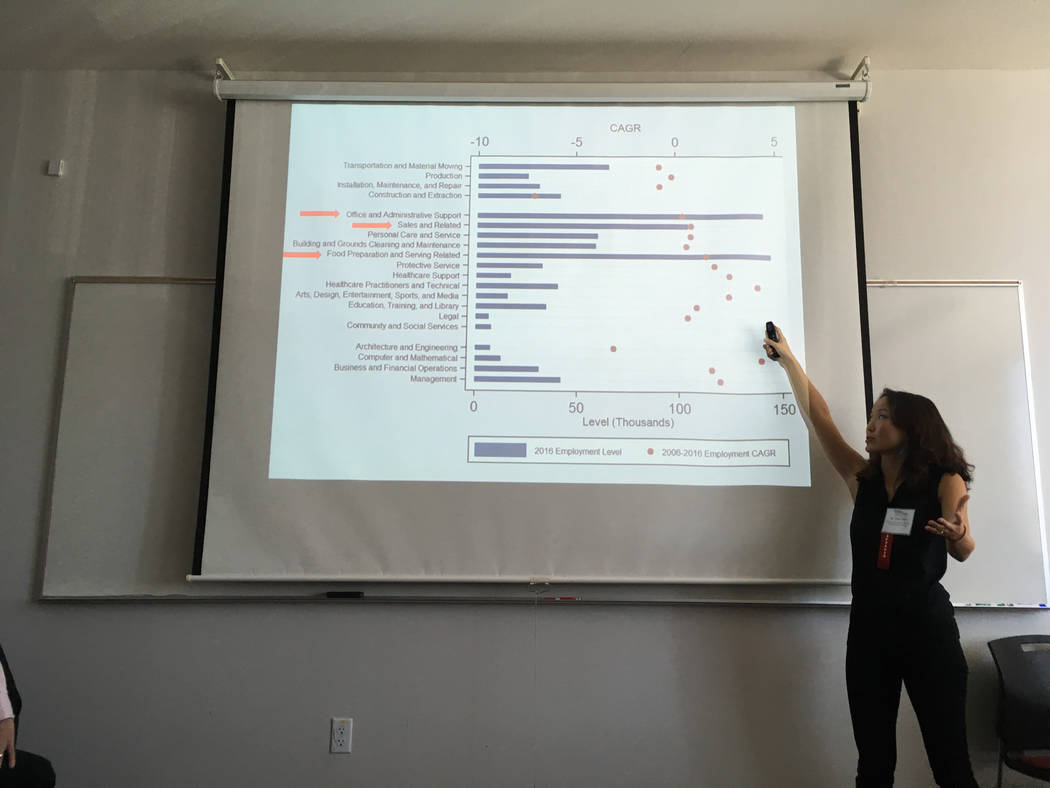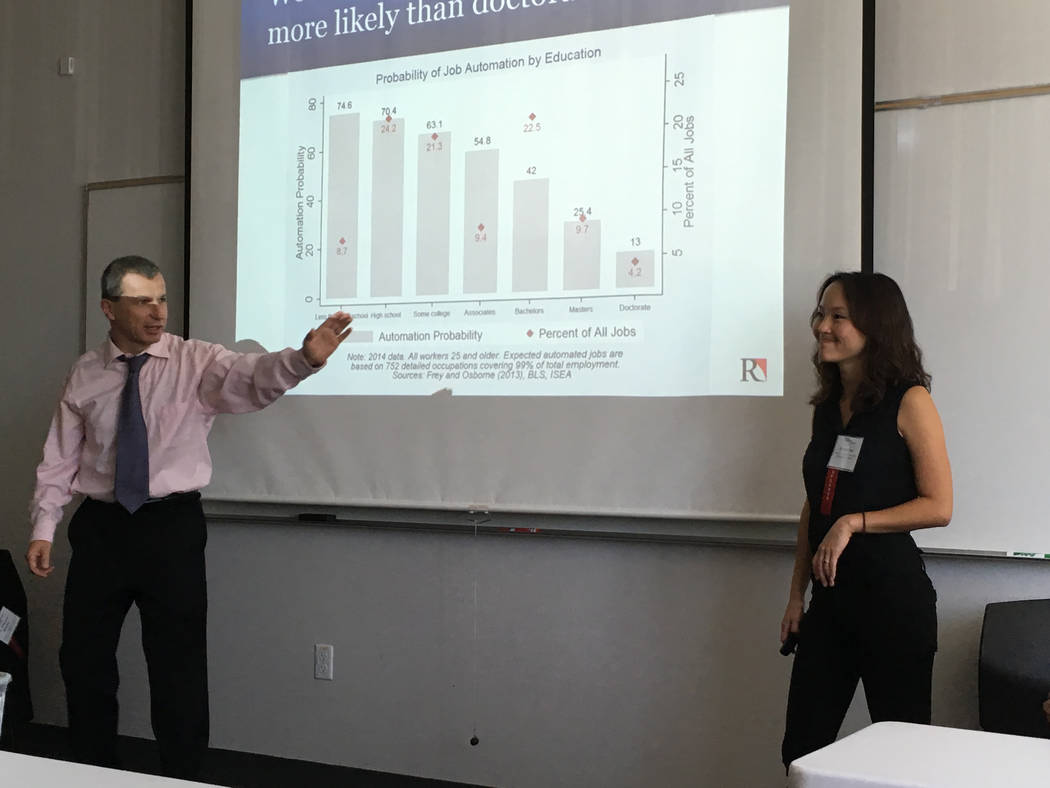 Robots are coming after Las Vegas jobs.
And more so than in all other major cities with a population of more than 250,000 people, according to research by the University of Redlands' Institute for Spatial Economic Analysis.
"Sixty-five percent of all jobs in Las Vegas can be automated in the next 15, 20 years," Johannes Moenius, a professor at University of Redlands and founding director of the institute, said Tuesday at the Nevada Economic Development Conference.
Though state and city officials have been working to diversify the economy, the majority of Nevada's workers are employed in legacy service sectors that are very susceptible to automation, Moenius said. Last year, over 135,000 Nevadans worked in office and administrative support, over 135,000 worked in food preparation and serving and over 96,000 worked in sales, according to institute data.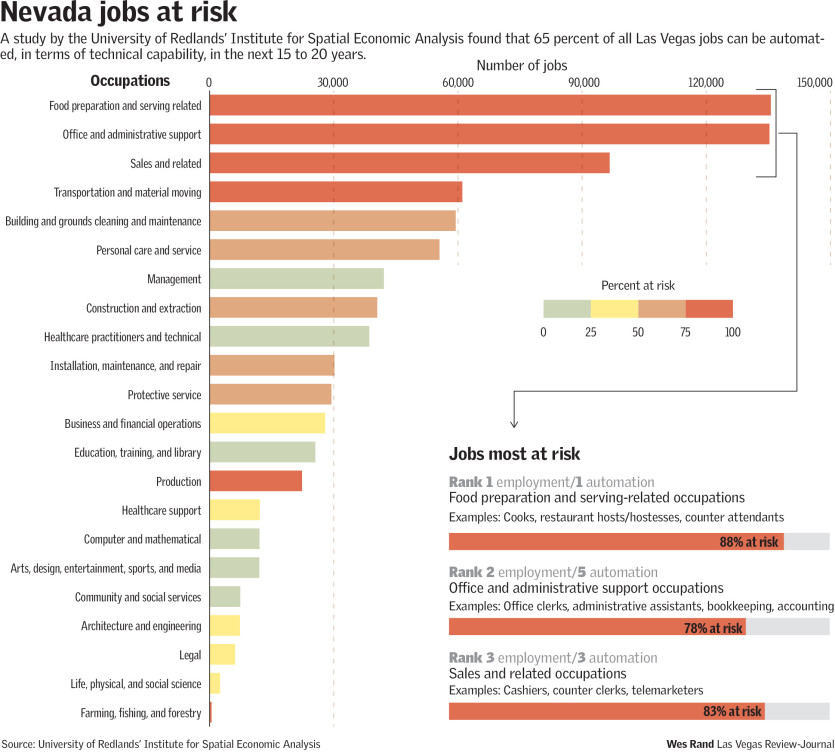 Just because robots will have the ability to take over these jobs, doesn't mean that will happen, Moenius said. The rate of technology does not account for the possible rate of implementation, social acceptance, policy action and market forces. But it is important to start preparing businesses, communities and future workers to compete with those robots now, Moenius said.
Jess Chen, a research fellow at the institute, presented with Moenius at the conference held at UNLV, and said automation presents more urgency than most people realize.
"It's easy to deal with the issues at hand, and not prepare for the future, but what we're seeing in the data is that job automation is going to be a critical issue," Chen told a crowd of about 50.
Automation will likely result in mass unemployment and underemployment, and exacerbate racial, gender and age inequality, she said.
Women working in the most at risk jobs are twice as likely as men to have their jobs taken over by robots, according to institute data. Meanwhile, Hispanic people are 25 percent more likely than white people to have their jobs taken over by robots, while black people are 13 percent more likely, according to institute data.
Preparation
Though automation can have a negative impact if communities are unprepared, automation also has benefits, they said.
For example, since robots don't need to be paid or provided with health insurance, automation will likely mean cheaper production costs, which results in more affordable products, they said.
That will have global repercussions, Moenius said.
"A lot of jobs will come back to the United States," he said. "That means there are new opportunities for companies to set up shop here."
Those new opportunities will be factories, with robots working in them, he said, which creates value but not new jobs.
"The real issue here is to consolidate city finances to be able to do workforce retraining and prepare infrastructure to make sure you have space for those companies to settle," he said.
Workforce training
There is a potential for very high unemployment, not because there won't be jobs open, but because there won't be enough people with the skills necessary to fill the jobs that are open, they said.
Moenius discussed the urgency of making sure students currently in the K-12 system understand that the entry level job is disappearing.
The education system needs to be focused more on skills that can't easily be replaced by robots, like creativity, people skills and the skills required to program and maintain the robots.
Contact Nicole Raz at nraz@reviewjournal.com or 702-380-4512. Follow @JournalistNikki on Twitter.
'Astounding'
Melissa Evans, senior economic development specialist at the city of Las Vegas said the 65 percent figure (of jobs that can be automated) is "astounding."
"I suspected, but I didn't know that number," she said.
While Evans said she is "all for" traditional education, she said the city needs to develop more educational programs with a short turnaround.
"If I were a young person looking back at myself, I would say, 'Figure out where your passion is, and really pursue that, and don't get so stuck on a four or six year path … there might be other options for you."