Sandoval upbeat on economy but sounds note of caution on margins tax
January 30, 2014 - 3:10 pm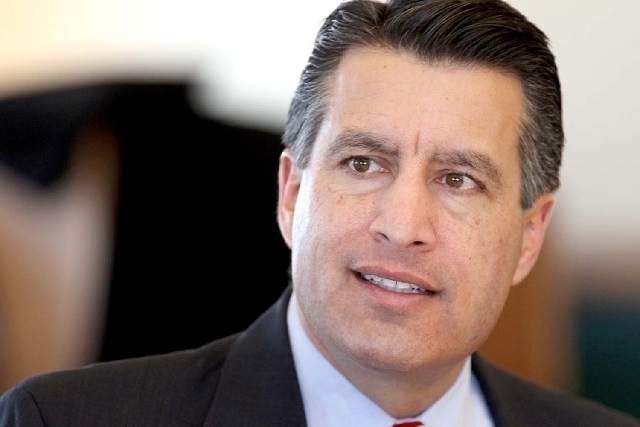 RENO – Gov. Brian Sandoval brought his optimistic message of Nevada's economic progress to the Directions 2014 event hosted by the chamber of commerce here on Thursday, but he also sounded a note of caution about the proposed margins tax on the November ballot.
"While we still need to keep our focus on job growth, we have made real progress over the past few years," Sandoval told several hundred attendees at the Reno-Sparks chamber event.
Sandoval said his goal of establishing 50,000 new private sector jobs in his first term will be achieved one year ahead of schedule — in three years instead of four.
The state's 8.8 percent unemployment rate announced Monday is the lowest level since 2008, and Nevada is tied for first in making the most progress in reducing the jobless rate over three years, he said.
"The bad news is this: we are still 49th in the country in unemployment," Sandoval said.
But Nevada's economic recovery is threatened by the 2 percent business margins tax, he said.
The tax, designed to raise $800 million a year for public schools, was placed on the ballot by the Nevada State Education Association.
"It's a bad idea, it will hurt Nevada businesses and stifle growth," Sandoval said. "And it will make it hard, if not impossible, for businesses already here to get by. And it will make it much harder to recruit new businesses to the state of Nevada."
Sandoval said he was on a Southwest Airlines flight talking to a fellow passenger who was considering bringing his business with its 50 to 100 jobs to Carson City.
A month later, Sandoval said the businessman learned of the potential of a margins tax being established in Nevada.
Sandoval said the businessman's reaction was: "I'll be dammed if I'm coming to come to a state where the sword of Damocles is hanging over my head."
The teachers association is pushing the measure because of concerns about Nevada's low spending on public education but will lose a major ally in the fight if the Nevada State AFL-CIO backs off its prior support of the proposal.
Jeremy Aguero, principal analyst for the Las Vegas firm Applied Analysis, also mentioned the margins tax in his remarks at the event.
"It will take us from below the national average in terms of business taxes to among the highest business tax states in the United States," he said. "And while to a group like the chamber and this group it seems pretty awful, it is also in response to an education system that has also been somewhat awful."
Aguero did not take a position on the ballot measure. But he said it is putting education and higher taxes on a collision course that will have major consequences for Nevada's long-term economic development.
Contact Capital Bureau reporter Sean Whaley at swhaley@reviewjournal.com or 775-687-3900. Follow him on Twitter @seanw801.