Several people are linked to purported Las Vegas sovereign citizen
November 26, 2016 - 10:34 pm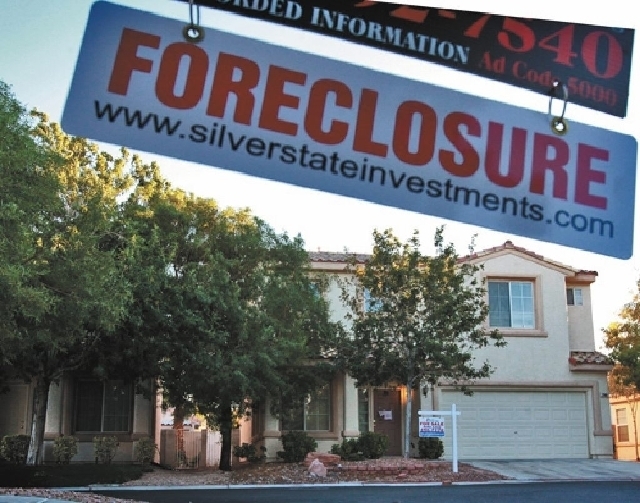 Thomas Benson doesn't work alone. Here are a few people linked to the purported sovereign citizen:
Nana I Am
When Benson teamed with Nana I Am this year to sue for a foreclosed Las Vegas house, they sought $15 million and claimed Nana was suing on behalf of the former owner.
The case was dismissed – but it wasn't the first time Nana went to court for a home that wasn't his.
A mysterious figure, Nana has filed dozens of lawsuits in recent years, often with people who lost their home to lenders. He has sought hundreds of millions, even billions, of dollars and laced his filings with nonsensical claims and pseudo-legal jargon. He writes his name countless ways, including as Nana-Amartey-Baidoobonso-IAM, and is connected to at least five homes in Southern Nevada, according to a Las Vegas Sun report in July. Among them:
He teamed with Miguel and Dinora Barraza this year to sue for a bank-owned house on Sierra Brook Court in the northwest valley. They sought more than $20 million and said they took possession of the house in 1900, 105 years before it was built.
They had teamed up before: The Barrazas lost a house to foreclosure in 2014 but, weeks later, filed papers with Clark County saying they gave it to Nana as a gift in 2009.
Las Vegas police raided the Sierra Brook house in May and arrested the Barrazas and others on squatting charges. Court records indicate the group was ordered to stay out of trouble for one year and to stay away from the home.
Their lawyer, Marilyn Caston, says Nana took a lot of money from her clients and claimed they'd get homes for free. Her clients haven't talked to him since their arrest, she says, and have "washed their hands of him completely."
Meanwhile, Benson and Nana have filed similar, strange court papers.
In February, Benson filed in Kansas federal court footprints and thumbprints in blue ink and a copy of the Declaration of Independence that appears to show his name at the bottom, not far from John Hancock's.
In June, Nana also filed in Kansas federal court footprints and thumbprints in blue ink and a copy of the Declaration, with the name "nana amartey baidoobonso- i am" in the spot where Benson's name appeared.
Perla Hernandez
Former owners of a Summerlin house said in 2014 that Benson had been "a co-resident" there with Perla Hernandez, who lost the property to foreclosure.
They also said Hernandez showed a "pattern of abuse" of bankruptcy court: She filed for bankruptcy five times between 2010 and 2014, records show.
In Benson's Kansas filing, he included a copy of a supposed bond for 21 one-ounce silver bullion coins. In May, one Perla Hernandez of Las Vegas filed a nearly identical-looking and -worded document in Kansas federal court.
Kinga Gorna
Benson's court papers often make little sense but sometimes have at least one thing in common: the notary.
Kinga Gorna's stamp is included in, among other things, Benson and Nana's lawsuit; Benson's lawsuit this year against Las Vegas police over a traffic stop; and the supposed silver-bullion bonds, which say Gorna declared to witness and physically count the coins.
According to the Nevada Secretary of State's office, Gorna's current notary commission started in September 2015 and expires in September 2019.
Gorna could not be reached for comment.
David Lopez, head of real estate fraud prosecution at the Los Angeles County District Attorney's Office, said sovereigns often use a notary's stamp and signature without permission: they'll cut and paste from a legitimately stamped document and use them "over and over again."
But it's not uncommon for notaries to be in cahoots with sovereigns, according to Lopez. And if notaries are "dirty," his office would "absolutely" prosecute them, he said.
Contact Review-Journal writer Eli Segall at (702) 383-0342. On Twitter at @eli_segall