Cordish Cos. sending in exec to lobby for stadium
September 19, 2014 - 5:02 pm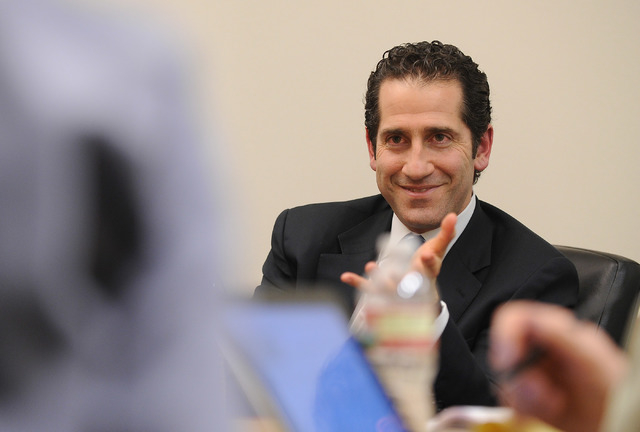 The Cordish Cos. is sending one of its big guns to Las Vegas next week — company Vice President Blake Cordish — to drum up support for its publicly subsidized soccer stadium proposal in downtown Symphony Park.
With a City Council vote on a nonbinding stadium finance plan only 12 days away, Cordish plans to meet with city officials amid choppy political waters surrounding the plan for the $200 million stadium.
A fourth and deciding council member, Lois Tarkanian, said this week she opposes the proposed finance plan because it uses too much public money to build the 24,000-seat venue. She is the swing vote on a seven-member City Council that leans toward killing the stadium finance deal on Oct. 1 at a council meeting.
The Cordish Cos. is teaming with Findlay Sports &Entertainment as the private development team trying to attract a Major League Soccer expansion franchise to Las Vegas. Cordish/Findlay has cut a tentative finance deal with the city, which is holding informational meetings next week on the proposal. Three sessions have already been held.
"I don't know if it will make a difference. Having Blake here does show their seriousness. It's good he's coming. Bringing in the big gun is not a bad thing," Council member Steve Ross said Friday.
Blake Cordish is one of three sons of David Cordish, the family-owned company's CEO. Blake Cordish was scheduled to address the City Council at its Sept. 3 meeting, but could not attend because of health reasons. Cordish Development Director Port Telles out of Davis, Calif., represents the company at local meetings.
Cordish/Findlay is committed to spending $102 million to acquire and start the team, and $44.25 million toward the stadium. The public is paying $155.75 million toward the stadium, but Cordish/Findlay would cover 59 percent of the stadium costs through annual rent and payments at the end of the 30 years. The city would use $3 million in annual hotel room taxes and sales tax revenue from a special tax district near the stadium to help cover its share.
To make the deal more palatable to Las Vegas, Justin Findlay, managing partner of Findlay Sports, said Friday the private partnership is studying financing alternatives. "We are exploring multiple options to reduce the risk for the city of Las Vegas with regard to our project," he said.
The Cordish Cos. released a statement Friday which said, in part, "We have and will continue to listen to any questions pertaining to the deal and will work hard to address them. For example, we are actively working with the city to come up with a structure that will lessen the city's public funding in the stadium and still retain a viable business model."
Major League Soccer is considering Las Vegas among at least a half-dozen cities vying for the final expansion team slot at MLS expands to 24 teams.
MLS officials were in Sacramento, Calif., on Thursday and Friday. A Sacramento soccer group is proposing a privately financed stadium, which is expected to cost more than $100 million.
Contact reporter Alan Snel at 702-387-5273 or asnel@reviewjournal.com. Follow @BicycleManSnel on Twitter.