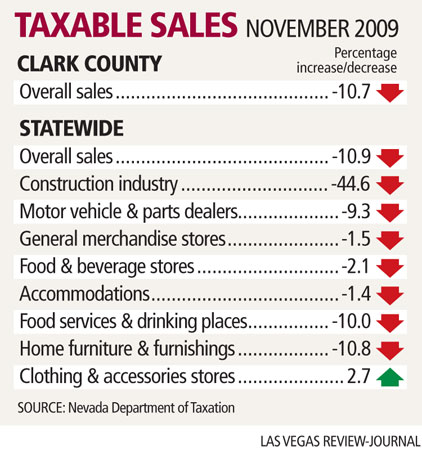 Nevada's budget woes grew Tuesday with the release of new sales numbers in the state.
Taxable sales of tangible goods sold in Nevada tumbled to $3 billion in November, down 10.9 percent from $3.4 billion in November 2008, according to a report from the state Department of Taxation. Sales in Clark County slid to $2.3 billion, a 10.7 percent drop from $2.5 billion a year earlier.
The latest numbers show Nevada has yet to see any relief from the recession, which just closed out its second year. The sales figures also complicate state officials' efforts to close a widening gap between the state's budget and its tax revenue. Gov. Jim Gibbons has already said he'll call for a special session of the Nevada Legislature to address the difference, which a forecasting group said Friday could amount to $580 million on the state's $6.9 billion, two-year budget. Taxable sales in particular help finance the Silver State's schools and prisons.
November's sales drop is smaller than the 15 percent to 20 percent declines that characterized much of 2009, but the latest numbers offer little evidence that the state's economic downturn has reversed.
Experts have long said that declines in taxable sales should flatten out once year-over-year comparisons begin to include the especially bleak months of late 2008 and 2009. In this first comparison, at least, that moderation hasn't happened: Taxable sales were also down 10.9 percent in November 2008, when the state's double-digit decline streak kicked off.
"Clearly, things are not improving in absolute terms," said Brian Gordon, a principal in local research firm Applied Analysis. "We have yet to see any real stabilization in consumer spending patterns."
High unemployment is partly to blame for the sustained spending slump. With 13 percent joblessness in Nevada and 10 percent unemployment nationwide, fewer consumers have the financial wherewithal to visit or spend here.
But consumer spending seems to have overcorrected when compared with historic contractions in other recessions, Gordon said. Consumers used credit and home equity to spend more money than they had in the boom from 2004 to 2006. Today, though, even Nevadans with jobs and discretionary dollars have slashed spending so they can pay down credit balances and bolster savings.
Construction sales continued to see the biggest slump, with spending in that category off 44.6 percent year over year in November. Car sales were down 9.3 percent, while furniture sales fell 10.8 percent, although both categories had especially bad months in November 2008, with sales declines of nearly 35 percent each. Taxable sales declined 10 percent inside bars and restaurants, and 1.5 percent inside department stores and other general-merchandise shops.
A few spending sectors experienced sales improvements. Sales of clothing and accessories rose 2.7 percent. Utilities sales increased 64.8 percent. And management of companies and enterprises jumped 70.7 percent.
But overall taxable sales in the first five months of fiscal 2010, which began July 1, have fallen 18.1 percent when compared with the same period of fiscal 2009.
The general-fund share of sales and use taxes is 3.1 percent below budget forecasts in the first five months of fiscal 2010. In November alone, the state collected $235.1 million in sales revenue, a 6.6 percent drop year over year.
Gibbons released a statement noting the smaller drop in sales but urging a tighter budget nonetheless.
"The release of taxable sales and collection data for the month of November indicates that, although revenues continue to decline in light of the sustained weakness in the housing and job markets, the pace has slowed," Gibbons stated.
"The administration continues to search for ways to save money, reduce spending and promote efficiencies in government," he also stated.
Contact reporter Jennifer Robison at jrobison @reviewjournal.com or 702-380-4512.