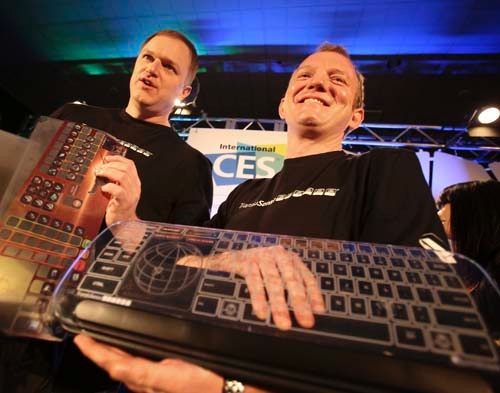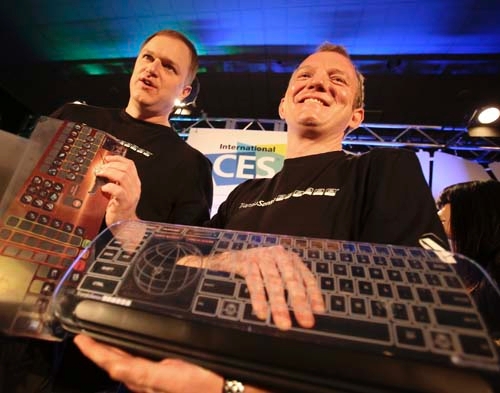 At the Last Gadget Standing competition at CES, it's unclear why most people attend.
Some seemingly come to see the latest and greatest gadgets being exhibited at the consumer electronics show, while many others seem to have come to see Bababooey. And Jon Hein.
The duo from the Howard Stern Show attracted a large crowd on Thursday, with people shouting "Bababooey!" to Stern Show producer Gary Dell'Abate (his nickname) before the session started. Others went up to the pair and asked for photos before and after the competition.
But ultimately, it was all about the gadgets.
"This is one of those events that's a must stop at CES," Dell'Abate said.
The 2013 International CES runs through today, with about 156,000 people looking at devices from more than 3,000 companies.
Among the gadgets competing for the ultimate bragging rights were Currie Technologies' eFlow Nitro Electric Bike, which has been described as combining design and engineering with function. The bike reaches a top speed of 25 miles-per-hour.
A sleek black, much of the electrical was hidden, making the bike look more sexy than nerdy.
Representing phones, Droid DNA by HTC and Samsung Galaxy Note 11 were presented. HTC's model features a 5-inch, 1080p screen and Samsung's has a 5.5-inch screen. Other finalists in the Last Gadget Standing competition were SecuraPatch by SecuraTrac; the Luminae keyboard by TransluSense; Telcare's wireless blood glucose monitoring system; the Samsung Galaxy Camera; Lenovo's IdeaCentre Horizon; Misfit Shine from Misfit Wearables; and Looxcie HD's wearable video camera.
The SecuraPatch links with an app and tracks vital statistics that you can store in an online database for up to 90 days online. The product launches in April.
"It's like a tracking device for Grandma," Dell'Abate said.
When all was said and done, the Luminae keyboard won the competition, by rousing applause.
The Luminae keyboard by Translu Sense originated on Kickstarter where it achieved three times its fundraising goal of $50,000.
The clear keyboard features type and swipe technology, but here's the thing: Users can design their own keyboard layouts using an online tool, which has obvious gaming and commercial applications.
And it's just crazy cool.
The keyboard also can easily be sterilized with alcohol, making it appealing to the scientific and medical community, said Mark Collins, a general manager at the firm.
Aside from crowning a new victor in the world of gadgets, Dell'Abate and Hein know their public comes to the show each year for yet another reason.
"By the way, we know another reason everyone comes here is that we give away a lot of great prizes," Hein told the crowd.
Every year, the duo hosts a round of trivia midway through the competition, and this year, Justin Beiber got around. With every question that was asked, a tech gift set that included a Justin Beiber singing toothbrush was given to the winner.
After about the fifth was given away, Hein and Dell'Abate couldn't control themselves.
"Now these are limited edition Justin Beiber toothbrushes, just so you know," Hein said.
Then, at the next giveaway, he said, "We actually found another Justin Beiber toothbrush."
We should all be so lucky.
Contact reporter Laura Carroll at lcarroll@reviewjournal.com or 702-380-4588. Follow @lscvegas on Twitter.