330,000 visitors expected in Las Vegas over holiday weekend
Updated May 24, 2018 - 1:00 pm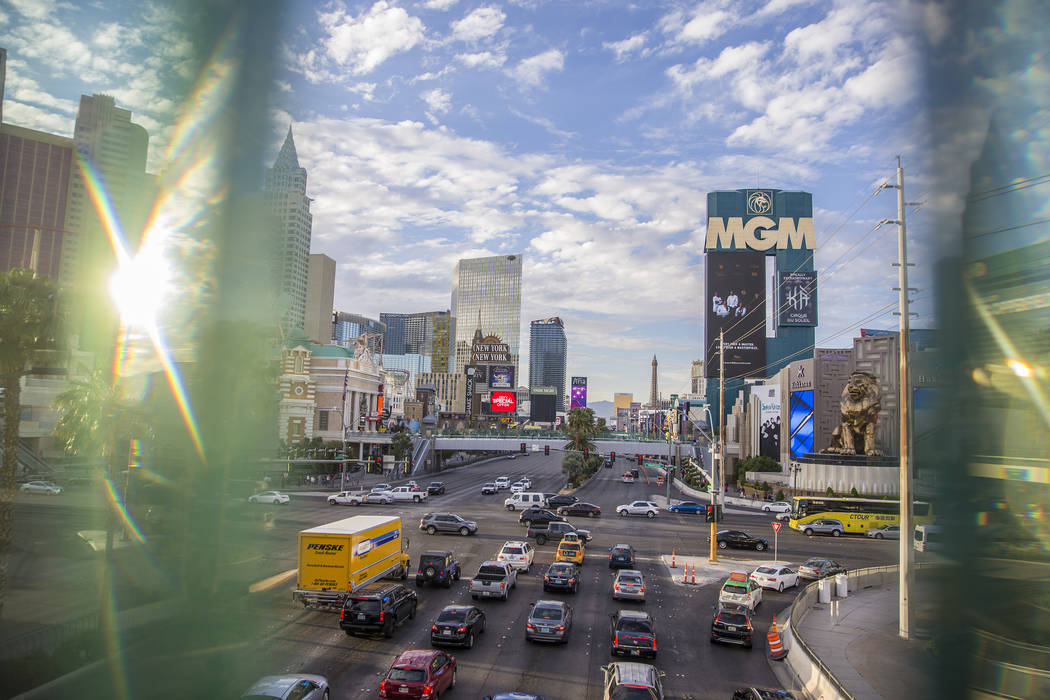 Rising gas prices won't stop visitors from coming to Las Vegas for Memorial Day, following a national trend of more people who plan to hit the road during the long holiday weekend that starts Friday.
About 320,000 people will descend on Las Vegas from Friday to Tuesday, making it the fourth most popular destination to kick-off the summer travel season, according to projections from AAA and the Las Vegas Convention and Visitors Authority.
Out-of-town visitors are expected to spend about $244.4 million on food, hotels and gambling during the Memorial Day weekend, roughly 2.3 percent more than the same time last year, according to LVCVA figures.
Of the 147,508 total available hotel rooms in the region, 96.5 percent will be occupied for the weekend, the authority said.
Roughly 198,000 visitors will drive to Las Vegas, with the heaviest traffic concentrated along the Strip and in downtown Las Vegas, NDOT spokesman said Tony Illia said.
That's a significant jump from the 104,000 vehicles that typically travel on Southern Nevada's streets and highways on an average day.
Southbound Interstate 15 will be particularly congested from Las Vegas to Primm starting at 8 a.m. Monday, with the heaviest traffic anticipated from noon to 2 p.m. as out-of-town drivers head home, according to the Regional Transportation Commission of Southern Nevada.
Additionally, buses will operate on a Sunday schedule on Monday, RTC spokesman Brad Seidel said.
From Friday to Monday, more than 527,000 airline passengers are expected to depart or arrive at McCarran International Airport, up 1.6 percent from the same period last year, airport spokeswoman Christine Crews said.
Nationally, AAA forecasts about 41.5 million people will take a trip this weekend, a five percent jump and the highest Memorial Day travel volume since 2005.
About 36.6 million of those travelers will drive to their destinations this year, even though gas prices continue to rise. The average price for a gallon of gasoline in the Las Vegas Valley was $3.29 on Wednesday, up 33 cents from a year ago.
Following the holiday weekend, a record 246 million airline passengers worldwide will take to the skies on U.S. carriers between June 1 and Aug. 31, a 3.7 percent jump from last summer, according to Airlines for America.
A few low-cost options will be available to tourists and locals wanting to avoid the traffic-clogged streets this weekend. The Las Vegas Monorail will get a $5 discount for two-day and three-day multiride passes through May 31 by visiting https://tix.lvmonorail.com/5off. Local residents can purchase a single ride fare for $1.
New and existing Lyft users can enter the cost "MEMORIAL 18" for a $5 discount on two rides between Friday and Monday.
Contact Art Marroquin at amarroquin@reviewjournal.com or 702-383-0336. Follow @AMarroquin_LV on Twitter.
Top Memorial Day travel destinations
1. Orlando, Florida
2. Seattle
3. Honolulu
4. Las Vegas
5. Anchorage, Alaska
Source: AAA domestic travel bookings