$375K is recommended salary for new LVCVA CEO Steve Hill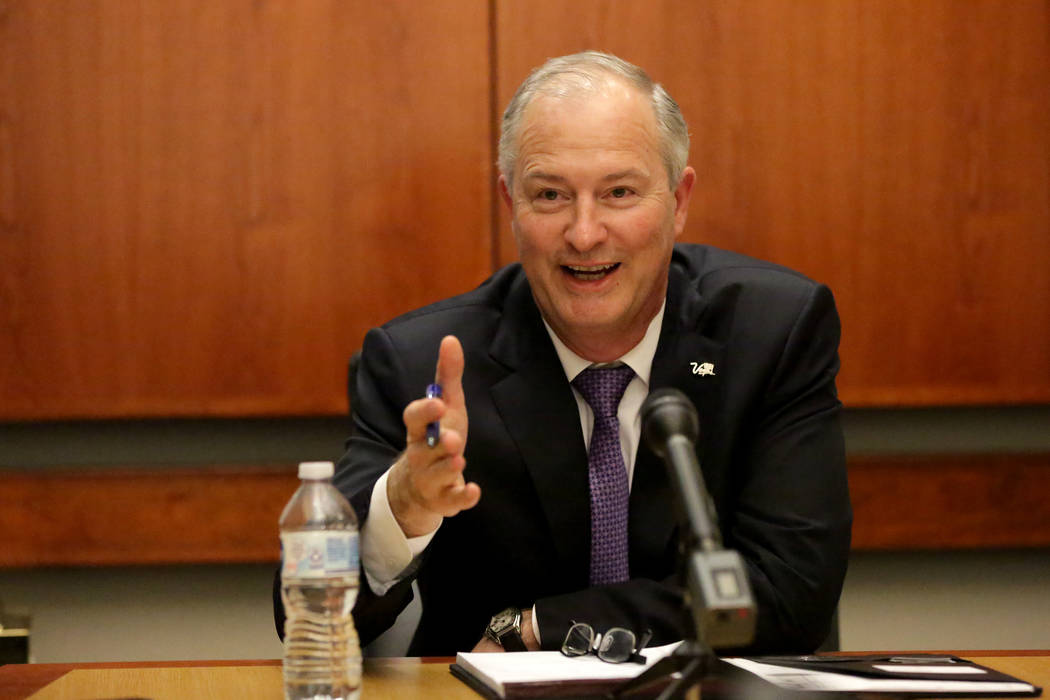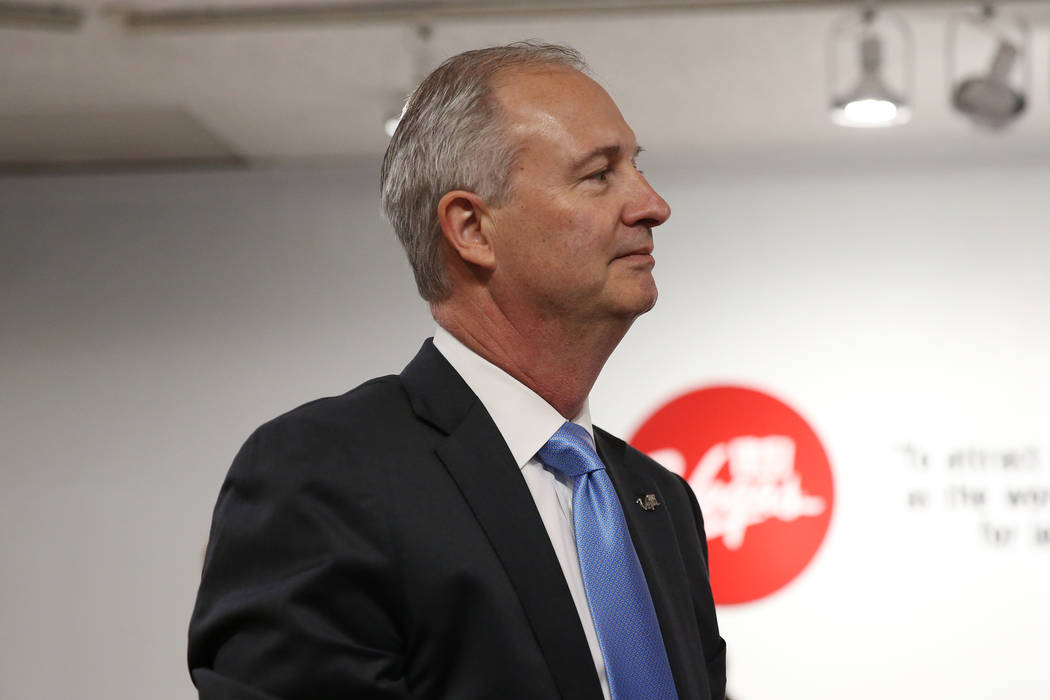 Going into Tuesday's Las Vegas Convention and Visitors Authority board of directors meeting, Steve Hill said he had no idea how much he was going to be paid as president and CEO of the organization.
On Tuesday, he got the answer: $375,000 a year with the possibility of getting a 40 percent performance bonus.
The board, in a unanimous vote, approved a three-year employment agreement with two one-year extensions with annual reviews for raises and bonuses, effective Sept. 1.
Hill's predecessor, Rossi Ralenkotter, didn't have an employment agreement with the board.
A year ago, Hill headed the Governor's Office of Economic Development. Gov. Brian Sandoval liked his work and appointed him to lead the Southern Nevada Tourism Infrastructure Committee, a group tasked to prioritize capital works projects that could benefit Southern Nevada's biggest industry.
Among the ideas to come out of the committee was a plan to develop an indoor football stadium suitable for housing a National Football League team and an expansion of the Las Vegas Convention Center to help Las Vegas maintain its lead as the nation's dominant trade show host.
Sandoval again liked Hill's style and appointed him to chair the Las Vegas Stadium Authority.
Meanwhile, Ralenkotter, with an eye toward someday retiring, invited Hill to breakfast to gauge his interest in taking the position of chief operating officer. After a review of several potential applicants, Hill took the chief operating officer job at the LVCVA in January seeing his annual salary jump from $132,875 a year at GOED, according to Transparent Nevada, to $315,000.
Sept. 1 starting day
When Ralenkotter left the LVCVA on Aug. 31, Hill took over the next day. On Monday, Hill, in an interview with the Las Vegas Review-Journal editorial board, was asked how much he thought he was going to be paid.
"I don't know the answer to that," he said.
"I think it's important for the destination that the position be compensated competitively, regardless of the structure," he said. "It's an important organization and I think the entire industry and the board feel that the position needs to be able to be filled with someone who can perform at that level and be compensated at that level."
Hill's compensation came up at two meetings Tuesday, the first with a seven-member compensation committee, the second before the full 14-member board.
With little debate, the committee agreed on $375,000 a year. Committee members noted that the median salary for similar positions nationwide was between $440,000 and $450,000. When Ralenkotter left, his base salary was $440,400.
Compensation committee member Chuck Bowling, an MGM Resorts International executive, said the LVCVA's CEO is unique in that it oversees both the marketing efforts of the organization and management of the Las Vegas Convention Center.
The full board concurred in a unanimous vote with all members congratulating Hill for his successful transition.
Hill's goals
At the LVCVA's October meeting, Hill has been asked to outline his goals as CEO. He has stated that he hopes to guide innovation and mobility into and around Las Vegas through technology and good collaborative planning.
He also said he will work to keep Las Vegas the top trade-show destination in the country, a designation bestowed on the city by Trade Show Weekly, which ranks destinations by the amount of trade-show space sold.
The board said it would "touch base" with Hill on his goals in six months. He'd be eligible for an up to 40 percent bonus when the board evaluates his performance in about a year.
Hill's eight-page employment agreement also stipulates participation in the Public Employees' Retirement System of Nevada, receiving health-care benefits and getting a monthly car allowance of $600 and a telecommunication allowance of $140.
The three-year contract includes two additional one-year extension terms. It also includes a clause stating that his compensation can't be reduced unless across-the-board reductions are ordered for all executives.
Contact Richard N. Velotta at rvelotta@reviewjournal.com or 702-477-3893. Follow @RickVelotta on Twitter.