Area15 expansion plans include hotel, nightclub
Updated October 5, 2023 - 7:03 pm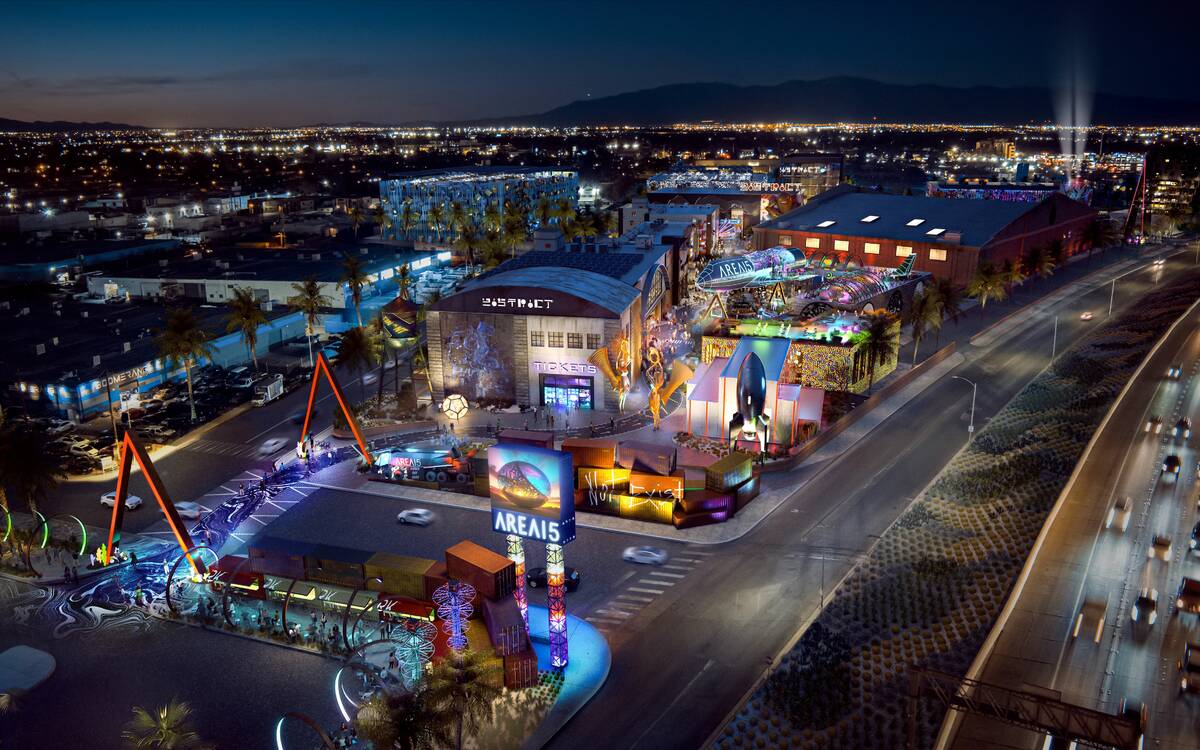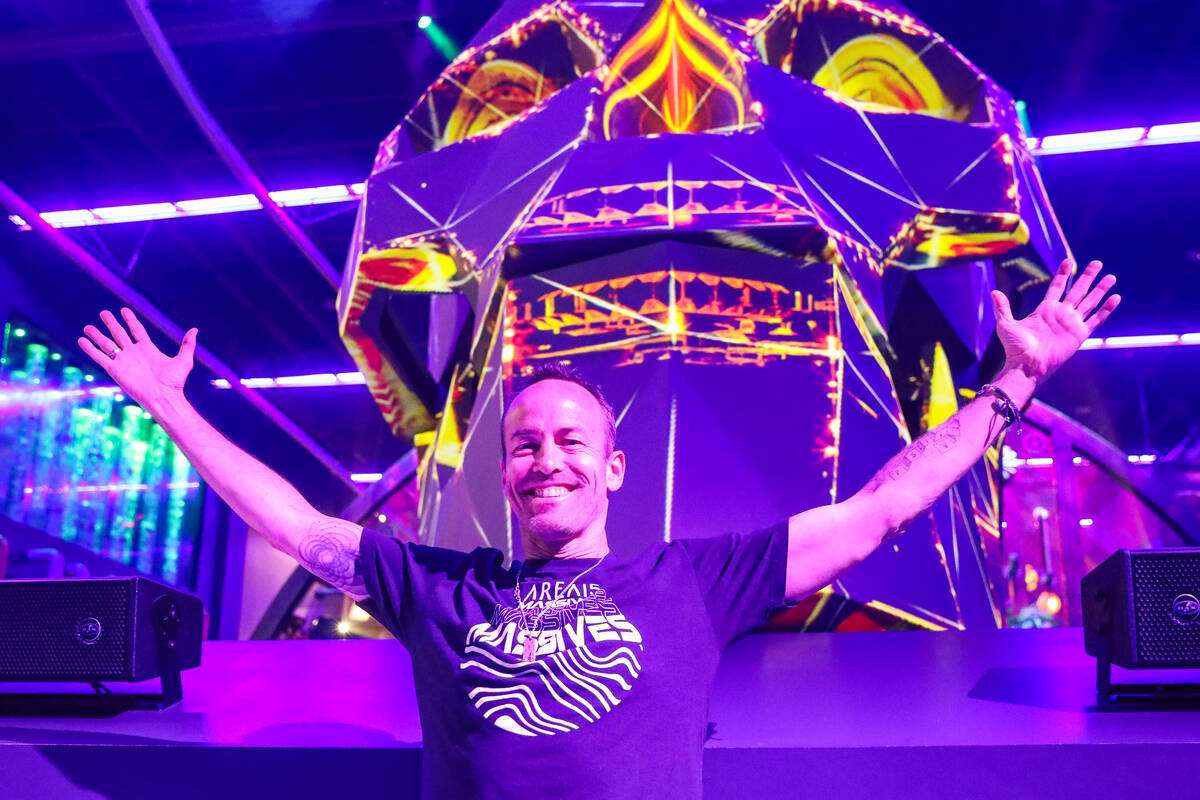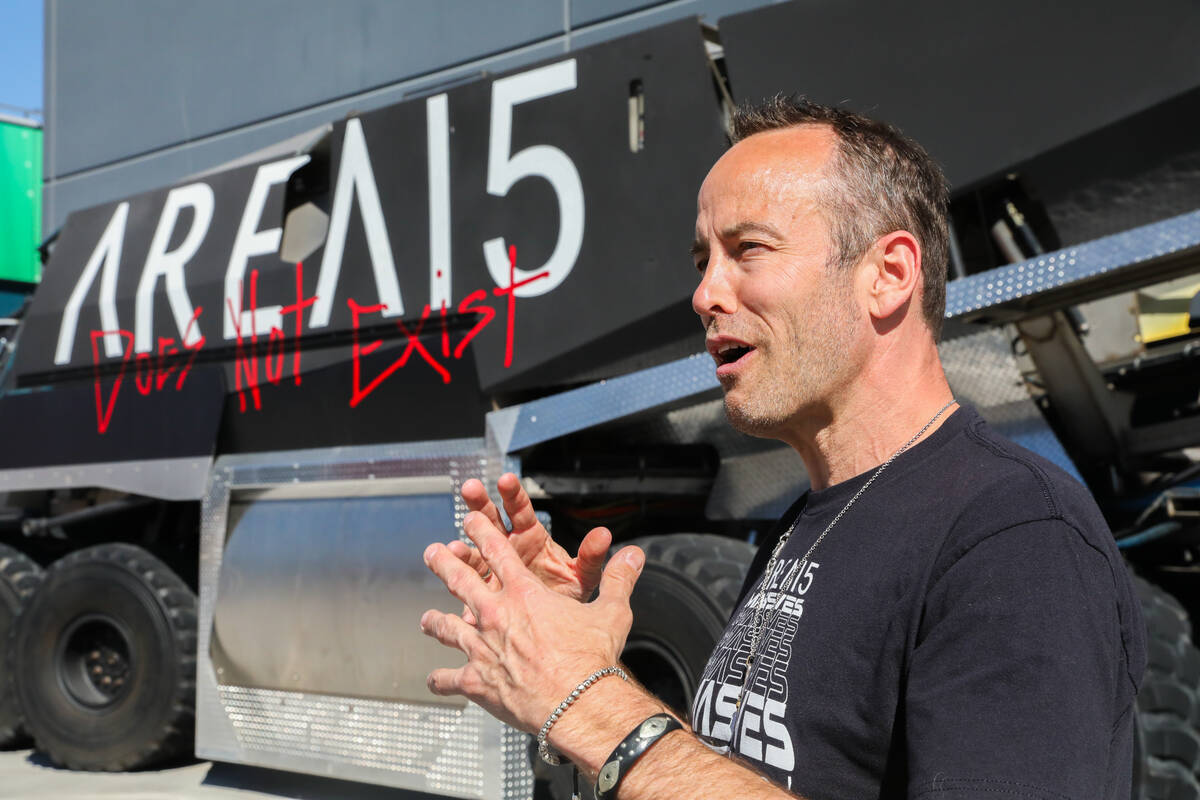 Winston Fisher understands part of the allure of Area15 is that it offers something completely unique to Las Vegas' traditional gambling sector, and in a lot of ways, defies explanation altogether.
"People are coming over here for a different form of entertainment that cannot be had over (on the Strip)," said Fisher, chief executive officer of Area15. "And what (the Strip) does is amazing, and our goal is to be additive to all of that, but different at the same time."
The immersive art-entertainment district, which first opened in January 2020, has everything from art installations and zip lining to an arcade and virtual golf, all housed within a retrofuturistic, neon-styled warehouse complex.
And it is growing. Work has started on its second expansion, and plans for its third phase, Vegas Rising, was approved by Las Vegas last year.
In January, Area15's 20-acre expansion became official, featuring 85,000 square feet of space dedicated to pop-ups and outdoor experiences. A decommissioned Boeing 747 aircraft will be repurposed for events.
Universal Parks & Resorts will anchor the new territory with its year-round horror experience, inspired by its Halloween Horror Nights-themed event at Universal Studios. Construction has started north of the original site along the westside of Interstate 15.
Next up is an even more ambitious expansion, according to land developer Fisher Brothers: a mixed-use residential development with 1,341 apartment or townhouse units, office space, dining and retail, and a proposed 118,174-square-foot hotel and nightclub, with 9,060 square feet of outdoor dining and plaza.
New York-based Fisher Brothers are planning to tear down the building south of the Illuminarium to build multiple buildings, including a nongaming hotel with 123 rooms, according to Las Vegas Planning Commission meeting minutes from last year. The entire property is considered a nightclub, so it can host large events and festivals.
The residential units will include townhomes and mid-rise and high-rise buildings. The community is proposed for an area north of Meade Avenue, with Milo Way to the south, Wyandotte Street to the east, Wilmington Way to the north and Richfield Boulevard to the west.
No timeline for construction or completion for Vegas Rising was provided by Fisher Brothers. But Fisher, who is a partner in the development company, said they are hoping to finish the second phase by third quarter of 2025.
Fisher said leasing for the second phase is ongoing, and they are seeking unique partners that fit into the artistic vision of Area15 such as existing tenants Meow Wolf's Omega Mart, Dueling Axes, Five Iron Golf and Museum Fiasco.
"Sometimes you try something and it doesn't work, and that's actually really important for creativity. I actually think not playing it safe creatively is actually the least risky thing you can do," he said as to one of Area15's mantras.
Area15 recently announced iFly Indoor Skydiving as one of the tenants for the expansion, expanding on the idea of picking unique tenants who can offer people an experience.
Attracting younger tourists
Visitor volume to Las Vegas is up 4 percent in 2023 from last year, according to the Las Vegas Convention and Visitor Authority, and tourists are trending younger and Area15 is leaning into that market.
Marta Soligo, the director of tourism research at UNLV's Office of Economic Development and a visiting professor with the William F. Harrah College of Hospitality, said Area15 has two things playing into its favor.
"Revenge tourism" got kicked into overdrive after the pandemic, and a younger demographic of tourists are changing traditional norms when it comes to what companies are offering in "experience," she said.
"I think the term reinvention is kind of part of Las Vegas' DNA," said Soligo, when talking about how Area15 became such a success within the scope of Las Vegas' traditional gaming and tourism sector. "So this is also a time where it's important to diversify because COVID literally showed us that it's very tricky for single economic destinations. So diversification is really the key term for tourism in general moving forward."
Areeba Moten, a senior associate in the Retail Division for Colliers International, said there has been an undeniable shift in the shopping experience, as owners of commercial real estate want experiential retail because they help draw bodies to centers and can also fill large vacancies in the process.
"Experience-based retail will continue to grow in the city as more companies begin to think about how they can provide unique experiences and stay on top of trends for their consumers, both tourists and Vegas locals."
Fisher said this is the idea behind Area15 — which has attract more than 4 million visitors, created more than 1,000 jobs and hosted more than 200 events and performances — be unique and complement the Strip in the process.
"We're not trying to copy (the Strip), we like to dance loud, that's our thing. What I am proud of is we invented a land area that is completely authentic in Las Vegas."
This article has been updated to say the project was approved by city of Las Vegas.
Contact Patrick Blennerhassett at pblennerhassett@reviewjournal.com.