Couple helps county set milestone for same-sex marriage licenses
January 20, 2017 - 7:01 pm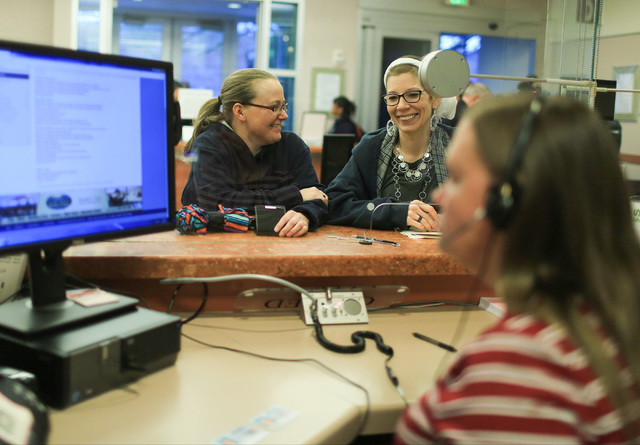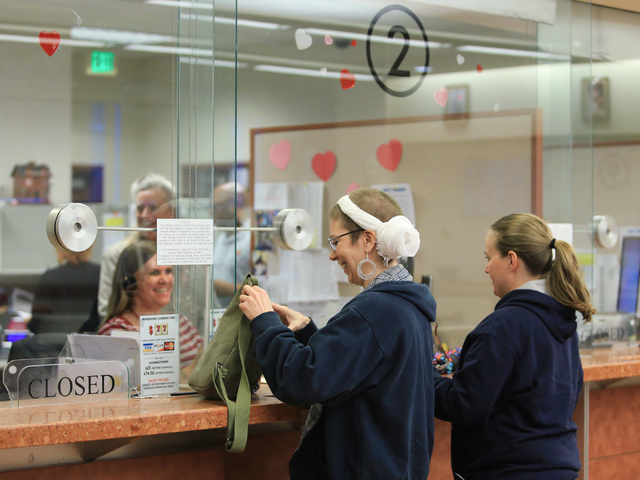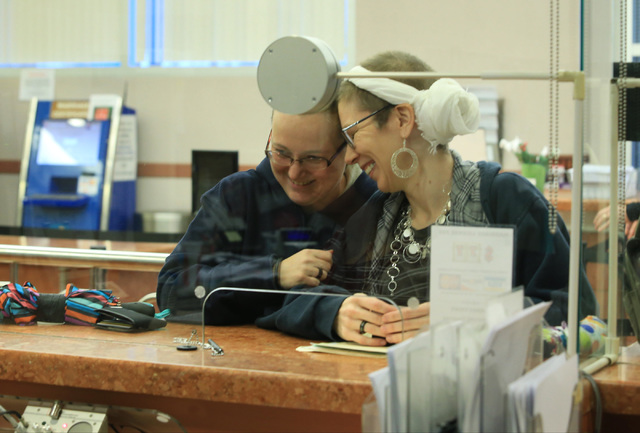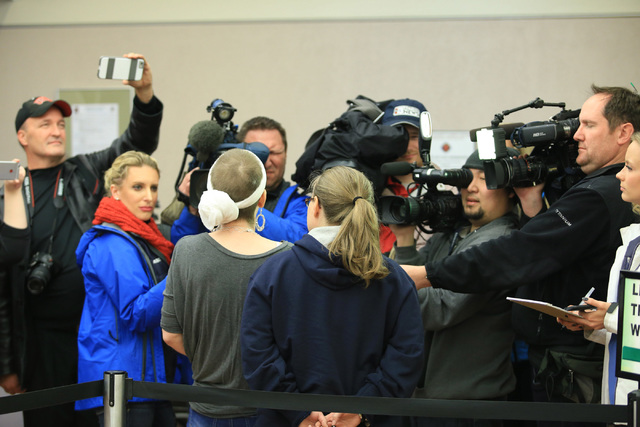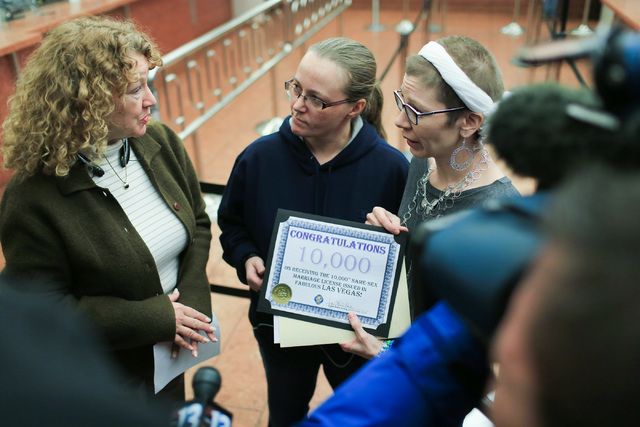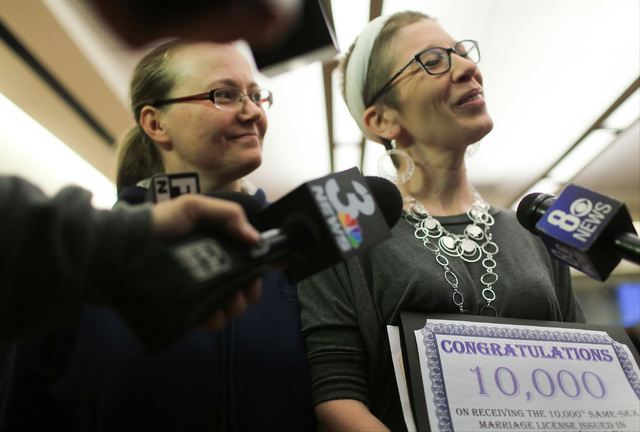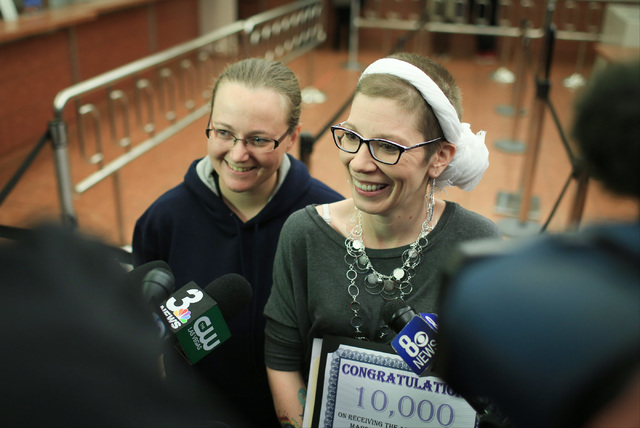 Jennifer Dickerson's divorce from her husband of seven years was finalized on Thursday. The next morning, Dickerson's ex-husband drove her and fiancée Amanda Falzone, 34, to the airport.
The women flew from Colorado Springs to Las Vegas, where they became the 10,000th same-sex couple to obtain a marriage license in Clark County.
"Being in love is awesome," Dickerson gushed to gathered media on Friday afternoon. "And being able to share it with everybody, and now, all of Las Vegas, is awesome!"
Local wedding tourism industry experts hope many, many others will share her sentiment this year.
Friday may have marked a historic milestone for the "wedding capital of the world," but the number of marriage licenses issued annually in Clark County has dropped substantially over the last decade.
Only about 81,000 were issued in 2016, down from a peak of 128,000 in 2004.
While the annual number of licenses issued has stabilized over the last four years, the fall has been a wake-up call to those working in the wedding tourism industry. Close to 80 percent of marriage licenses issued in the county are for tourists, according to the County Clerk's office.
It has become apparent that professionals can no longer rely on Las Vegas's international reputation to sell itself, said Kristen LaBuda, president of the Las Vegas Wedding Chamber of Commerce, an organization that formed last year to unite the industry and give it a collective voice.
"Las Vegas had been dominant on the destination wedding scene, but we never really managed it. We didn't promote it," Labuda said. "We were just given this gift, and we didn't protect it."
The wedding tourism industry's economic impact in Las Vegas is about $2 billion a year and extends far beyond the altar to a web of professionals ranging from jewelers to hair stylists, DJs to photographers, and limo drivers to web designers.
"What happens in Las Vegas, lasts forever"
This week the Las Vegas Convention and Visitors Authority launched a weddings promotion campaign aimed at attracting more visitors to tie the knot here.
The efforts are funded by a new $14 marriage license fee enacted by the Nevada Legislature in 2015. It raised about $1.14 million last year, all of which will be used to promote wedding tourism. In addition to advertising, the campaign will focus on centralizing online resources for those considering destination weddings.
"Part of our goal is to generate awareness for the breadth of wedding experiences you can have in Las Vegas," said Kevin Bagger, executive director of the LVCVA Research Center. "We can have very large scale, elaborate weddings on the Strip, outdoor weddings at Red Rock and everything in between."
Labuda said the industry is trying to do away with the stigma that getting married in Sin City is a sign of flippancy to the commitment of marriage.
"For us, 'What happens in Las Vegas, lasts forever,'" she said.
The Wedding Chamber of Commerce aims to restore the annual number of wedding licenses issued to 100,000 in 2019.
County Clerk Lynn Goya called the goal's timeline "ambitious," but said she believed it was obtainable sometime in the near future.
"Now that we've recognized that there's something we need to do, I think we'll pull together and be able to get up to 100,000 again, or more," she said.
Cliff Evarts, founder and CEO of the 15-year-old Vegas Weddings chapel company, said re-branding the city is the way to go.
"If Vegas were to create an image that it was a romance capital of the world, a place for both weddings and vow renewals," he said. "It would give a reason for people to come to Vegas that wouldn't normally come here."
Contact Brooke Wanser at bwanser@reviewjournal.com. Follow @Bwanser_LVRJ on Twitter. Contact Michael Scott Davidson at sdavidson@reviewjournal.com or 702-477- 3861. Follow @davidsonlvrj on Twitter.