Entrepreneur plans camel tours near Mesquite
August 1, 2016 - 10:08 pm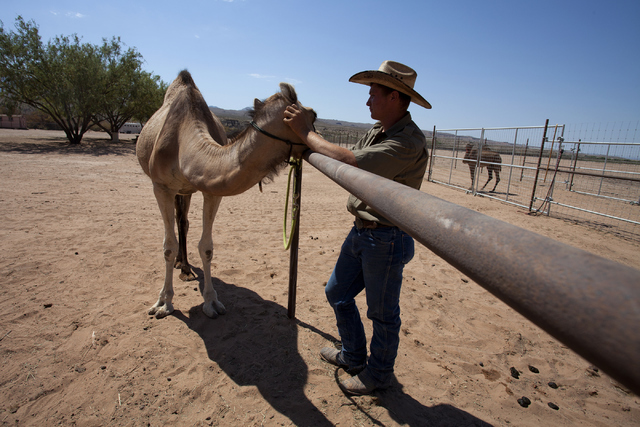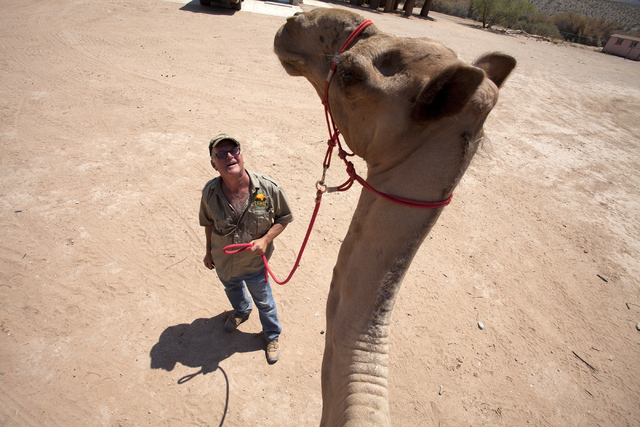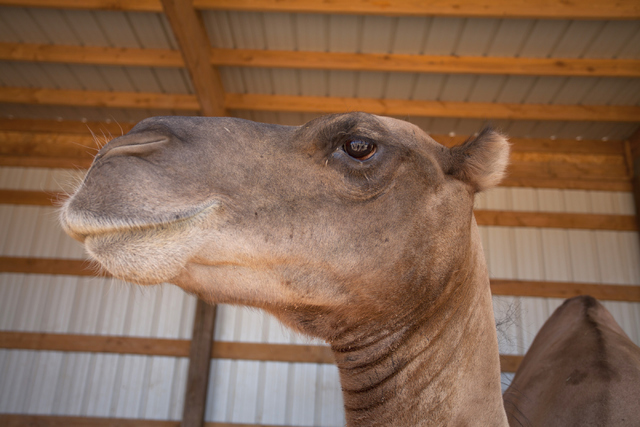 Guy Seeklus calls it his "camel habit."
All told, he owns nearly 30 camels. About half of those live on his new ranch in Bunkerville, where he operates the recently opened Camel Safari. Seeklus thinks the environment and novelty of his new attraction will pull in tourists.
"It's a great fit for this area," Seeklus said.
For about $150 per person, an employee will pick up groups of four or more from the Strip or the Eureka casino in Mesquite and give them a ride to the ranch in a new Mercedes-Benz passenger van.
Once you go down the gravel road to his ranch, you'll get a crash course on camel history. Before you saddle up, you have to start small and get acquainted with the animals.
"Sometimes if you walk people up to the bigger ones, they get afraid," Seeklus said.
So customers have to meet the babies, Bessie and Fabio, before they can meet Lodi, the 16-year-old male who measures 7½ feet from ground to hump.
Each camel ride takes about 30 minutes, and follows a dusty trail around the property. You might get to take the extended trail to the Virgin River or you might not. After the saddles come off, customers get to congratulate the camels on a job well done with an apple.
Having the opportunity to work with camels on a daily basis has been a unique and rewarding experience for the staff at the ranch.
"They're not just normal animals like cattle," said tour guide Nathan Witter. "You know each one personally."
For an extra $50 per person, visitors can tack on a Segway tour. The tours go along the same trail on an all-terrain Segway. Standalone Segway tours are also available for $100.
For $40 per adult and $20 for children under 12, visitors can get the camel encounter package, which includes the lesson and meet and greet.
But you're on your own for transportation to the ranch. There's no street address to the place, so customers will have to get directions from staff when they make reservations online. Walk-ins are not allowed.
Seeklus accidentally stumbled into his camel obsession. He did well for himself after developing a new way of conducting background checks. He also owns an e-commerce company in Washington.
His teenage daughter wanted a llama for their farm, but he ended up buying an alpaca. Further research showed that alpacas were related to camels. Naturally, he had to buy one. And then he bought more. And more.
Seeklus wanted to share his love of camels with the public, so he opened the first Camel Safari in Bellingham, Washington, in 2011.
He purchased the land he's operating on in Bunkerville last August, and has been moving animals and preparing the property since then. The property sits on 176 acres, just next door to Cliven Bundy's ranch.
Camel Safari has been giving tours in Nevada for the past few weeks, but Seeklus wants to wait until October for an official grand opening. He said proceeds from that grand opening would go to a local animal-related nonprofit.
Seeklus gives his camels the kind of love and attention most people give their house pets. He kisses them, hugs them and talks to them affectionately. He feeds them fruits and vegetables, gives them an unlimited supply of water, provides shade for them at all hours of the day. He's even planning to install a cooling station so they can escape the heat.
"Yes, they can handle it, but why should they?" Seeklus said.
Colton Teerlink, whom Seeklus calls his lead camel wrangler, will soon manage the Nevada location. Teerlink joined Camel Safari during its formative stages in November, and has watched the business develop.
"I've been there from the beginning, as far as seeing it all come together," Teerlink said.
Seeklus said his intentions when opening the ranch were equal parts wanting to create the next great Las Vegas tourist attraction and being able to have space to expand his camel habit.
Overall, it's a cushy life on the camel ranch with very few drawbacks.
"Well, it gets hot in the afternoon," he said.
Reservations can be made online at camelsafari.com.
Contact Blake Apgar at bapgar@reviewjournal.com or 702-383-0342. Find @BlakeApgarLV on Twitter.