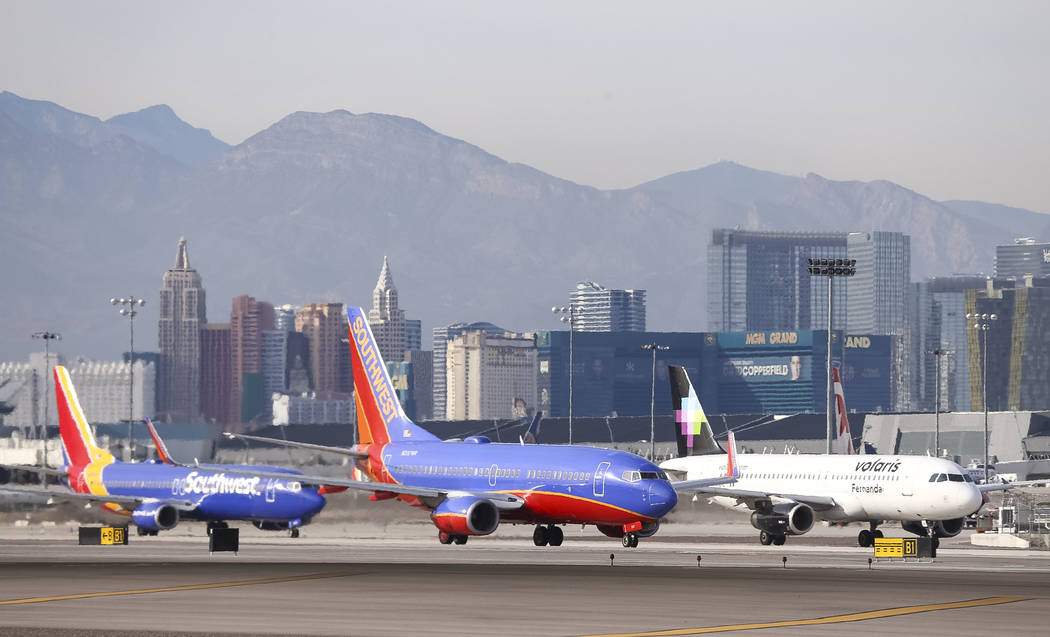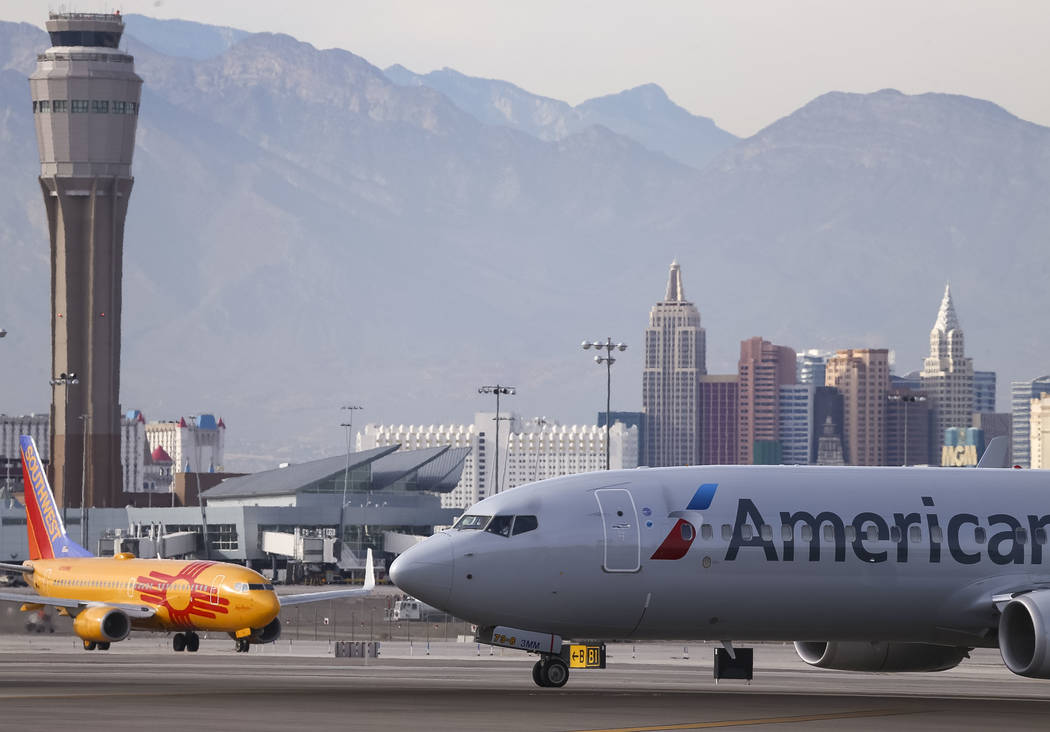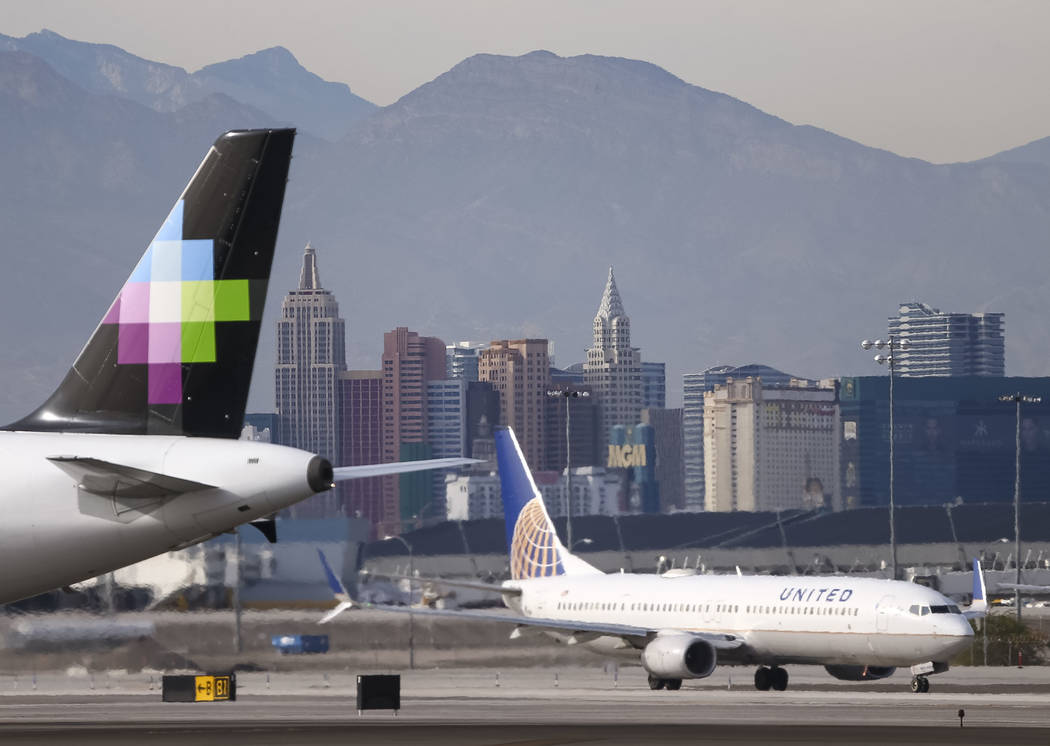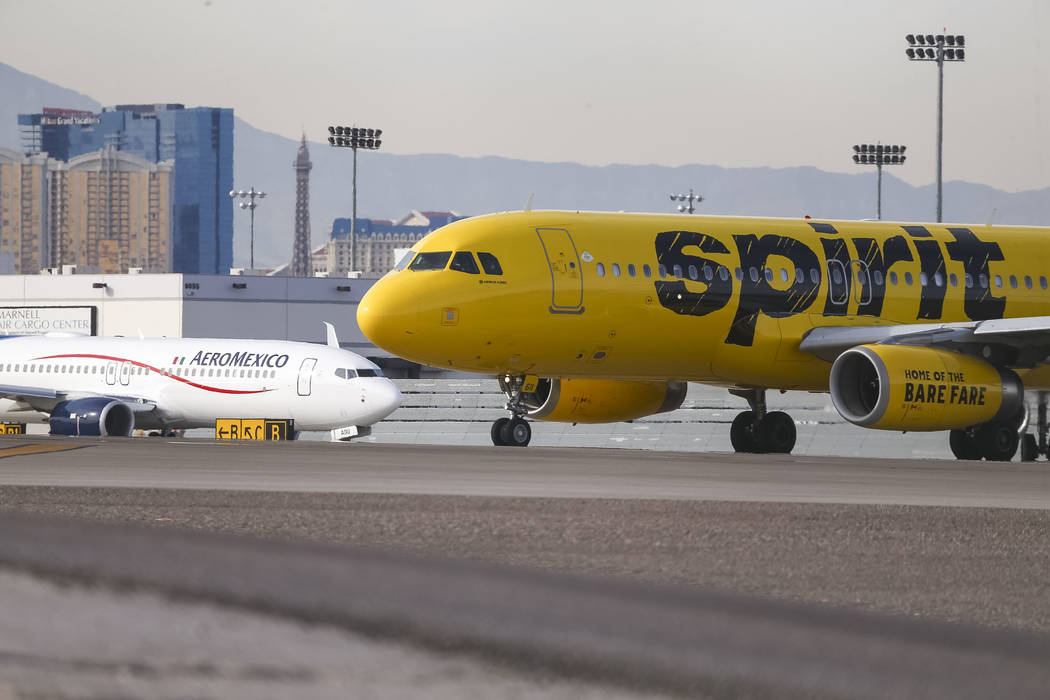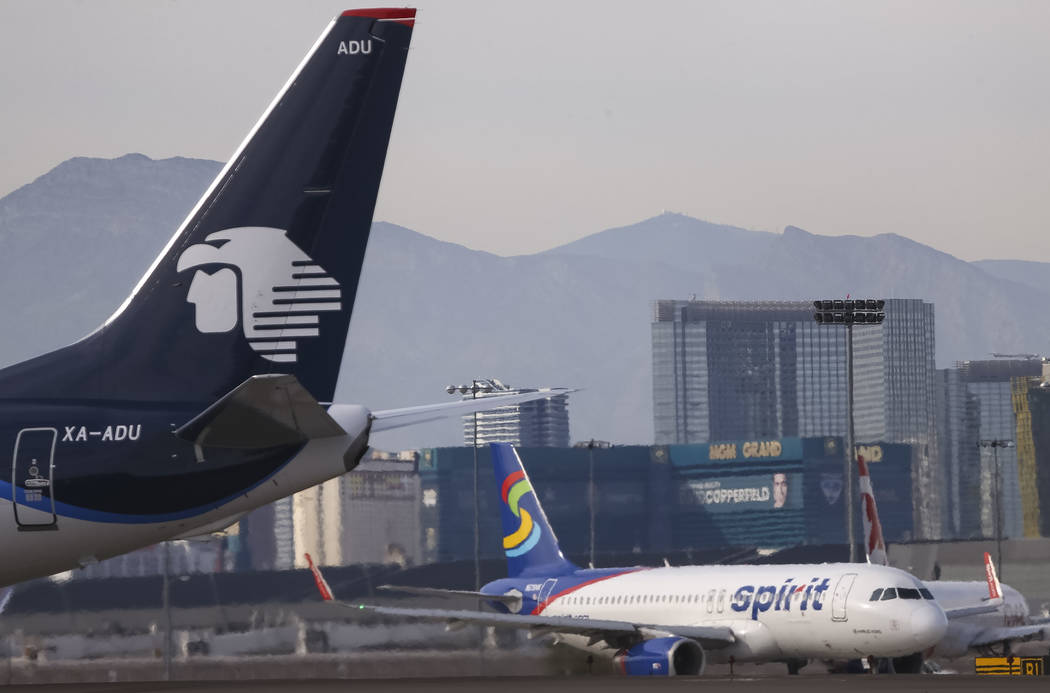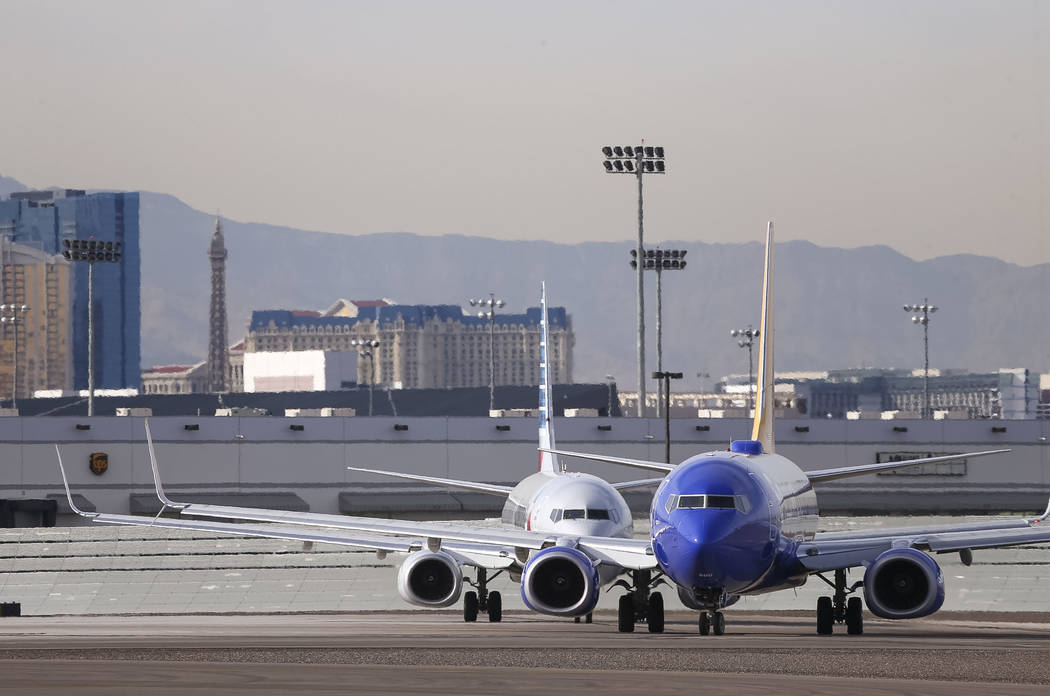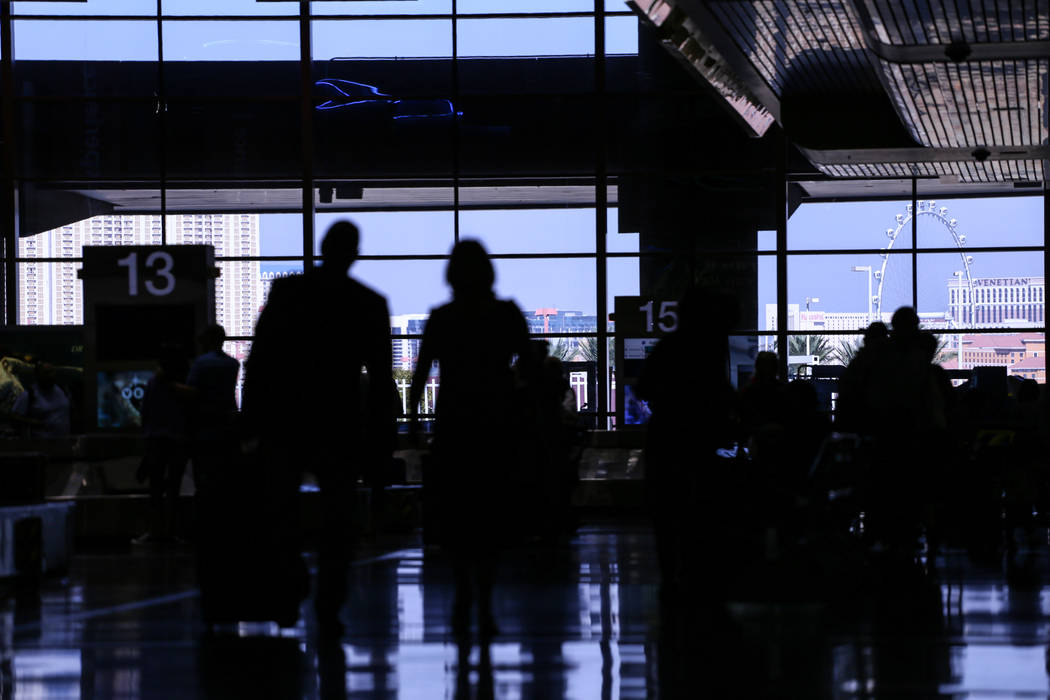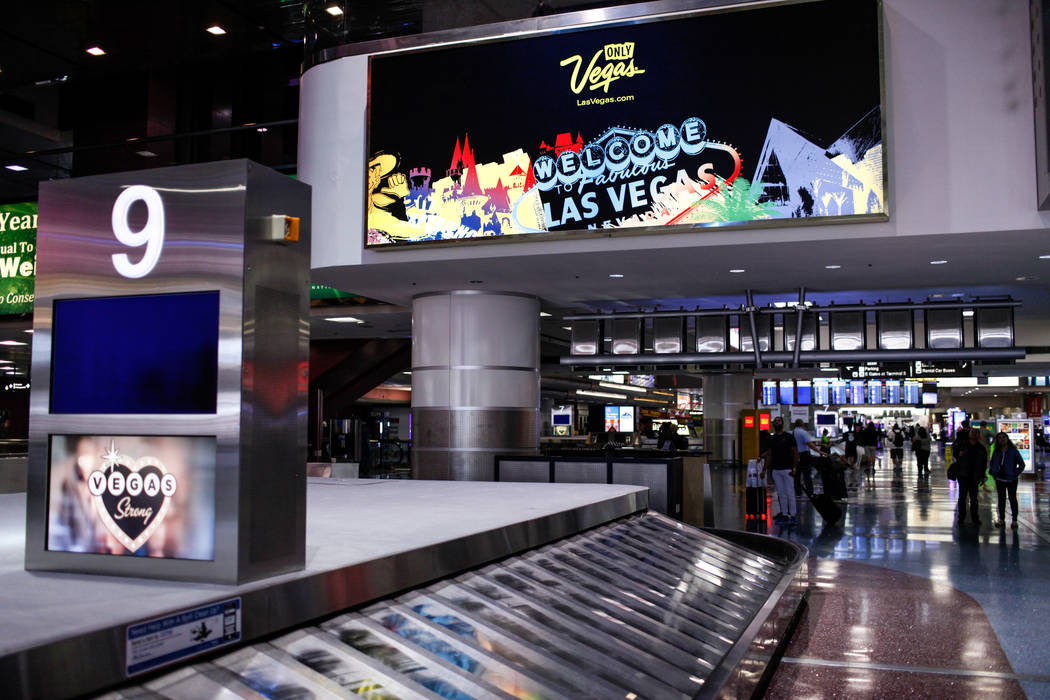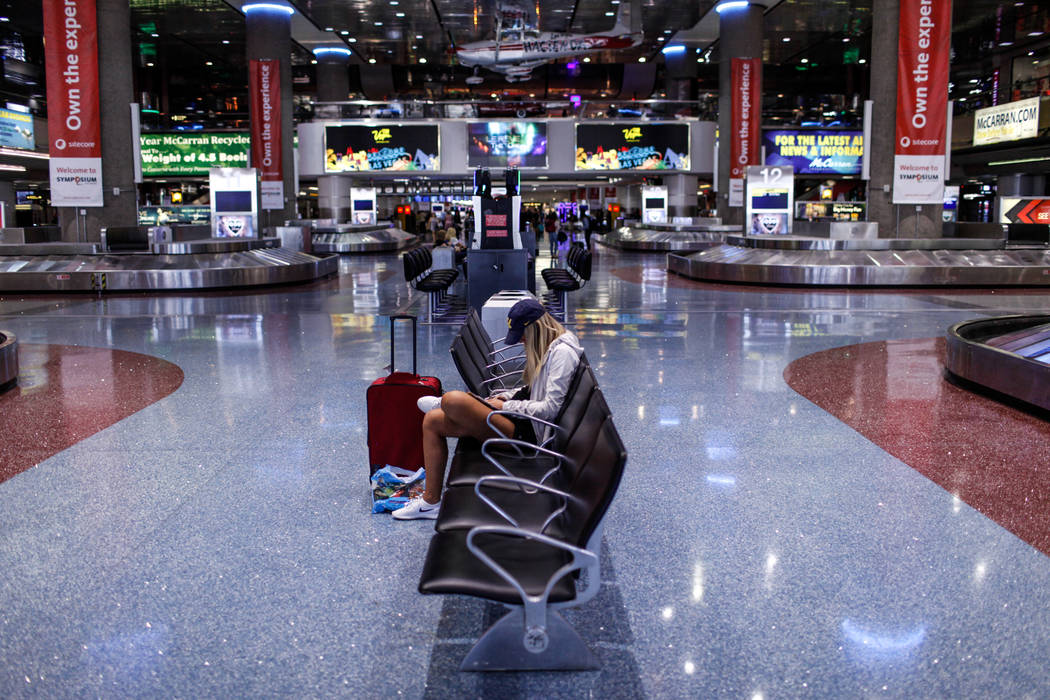 The mass shooting on Oct. 1 apparently had little effect on travelers flying to Las Vegas.
October marked the busiest month in McCarran International Airport's history, with 4.33 million airline passengers, topping the previous record set three months ago, the Clark County Aviation Department reported Monday.
The previous single-month record was 4.32 million passengers, set in July.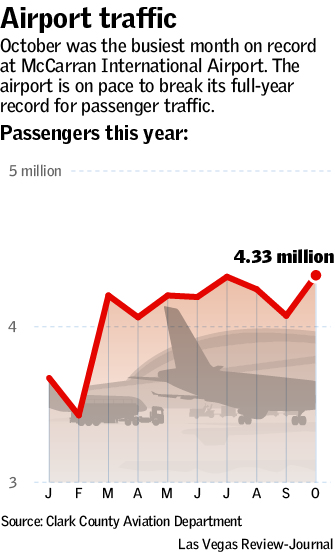 October also marked the eighth consecutive month that the nation's eighth-busiest airport logged more than 4 million passengers, with traffic growing 1.5 percent compared with that of October 2016.
"What happened on the Strip was such a terrible tragedy, but everyone focused more on the tragedy itself and not on the city where it happened," said aviation consultant Mike Boyd, president and CEO of Boyd Group International in Colorado.
"In this case, Las Vegas was just a bystander," Boyd said. "McCarran is probably going to keep breaking records because Las Vegas is the premier place to spend your money."
For the year to date, 40.75 million passengers flew in or out of the Las Vegas airport, a 2.2 percent increase from the same period last year.
Annual record may fall
County aviation director Rosemary Vassiliadis said this year that she believes McCarran is on track to break its annual record of 47.8 million passengers, set in 2007.
"It's always exciting to see record numbers, but I feel this one is rather special for our entire community," Vassiliadis said in a statement.
"The October 2017 numbers reflect a continuation of the trend of year-over-year increases we have seen from our air carrier partners for more than six years now," she said. "But moreover, it shows that despite the tragedy that rocked our city, the appeal of Las Vegas remains strong."
Located near where the Route 91 Harvest festival was held, McCarran became a safe haven for concertgoers fleeing a gunman firing from Mandalay Bay on Oct. 1.
About 300 people breached the airport's security fence, ran onto the tarmac and eventually brought takeoffs and landings to a halt for more than two hours, forcing the diversion of 25 flights into Las Vegas.
Some people scaled the fence. Others crawled through holes punctured in the barrier. The razor wire atop the fence ripped their clothing and left some of them with minor abrasions.
About what Vegas has to offer
Boyd said he does not believe that the increase in passenger traffic came from families of victims who flew into Las Vegas in the days following the shooting or from the onslaught of national media.
"I can guarantee that the families or reporters didn't move the needle at all," Boyd said. "It's more about what Las Vegas has to offer."
More than 3.91 million travelers boarded or arrived on domestic flights last month, a 2.1 percent increase from a year earlier. International flights arriving or departing McCarran carried 335,025 travelers, a 3.9 percent decrease from October 2016.
Despite declines reported by market leader Southwest, Delta, United and American airlines, domestic passenger traffic into McCarran was bolstered by significant increases coming from Spirit, Frontier, JetBlue and Sun Country, according to the aviation department.
The majority of international carriers reported declines in October. Air Canada had a 6.9 percent decrease in traffic, with 85,566 passengers last month, while Canadian carrier WestJet was down 1.5 percent, with 86,527 passengers.
Virgin Atlantic Airways reported a 13.6 percent decline in traffic with 28,705 passengers. British Airways carried 29,326 passengers in October, a 4.7 percent decrease from last year, while British competitor Thomas Cook Airlines was down 0.3 percent, with 20,480 passengers.
Korean Air was up 11.8 percent, with 10,008 passengers. Chinese budget carrier Hainan, which launched service in December, reported 4,105 passengers.
Mexican carrier Interjet reported a 58.1 percent jump to 11,569 passengers in October, while Aeromexico had a 30.8 percent decline to 15,327 passengers. Volaris reported a 24.3 percent drop in October to 12,713 passengers compared with the same period a year earlier.
Contact Art Marroquin at amarroquin@reviewjournal.com or 702-383-0336. Follow @AMarroquin_LV on Twitter.
McCarran domestic carrier performance in October
Southwest Airlines: 1.58 million passengers, down 2 percent from October 2016.
American Airlines: 390,239 passengers, down 0.1 percent
United Airlines: 363,595 passengers, down 0.3 percent
Delta Air Lines: 347,243 passengers, down 2.9 percent
Spirit Airlines: 313,446 passengers, up 13 percent
Las Vegas-based Allegiant Air: 186,971 passengers, down 8.3 percent
Source: Clark County Department of Aviation