International traffic helps propel McCarran to ninth straight month of growth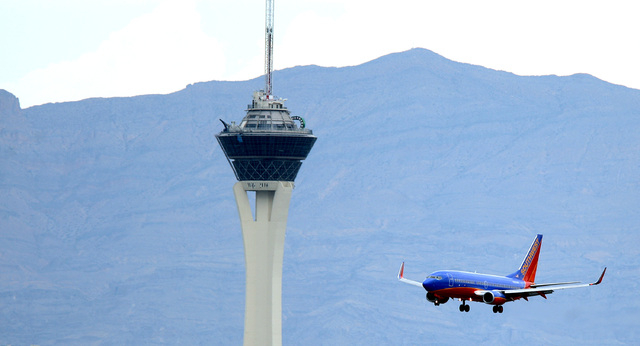 A double-digit percentage increase in international passenger traffic assured McCarran International Airport of its ninth straight month of growth in May.
The Clark County Aviation Department on Thursday announced that 3.8 million people used the airport last month, a 0.3 percent increase over May 2013.
Four of the top five domestic air carriers serving the airport showed declines for the month, but international traffic, paced by strong performances by Air Canada and Latin American carriers Interjet, Aeromexico and Copa Airlines, resulted in an overall increase.
The airport also welcomed a new international carrier, Switzerland-based Edelweiss Airlines.
For the first five months of 2014, passenger traffic is up 2.4 percent to 17.5 million people compared with the first five months of 2013.
Domestic passenger counts dipped, mostly as a result of seasonal schedule changes.
Spirit Airlines, the No. 5 carrier at McCarran by passenger volume, had a 14.8 percent increase in traffic to 192,087 in May over last year after adding six weekly flights. For the year, Spirit's count is up 22.1 percent to 904,176 passengers.
US Airways, American and United reduced the number of flights to Las Vegas while Delta Air Lines had more flights with reduced numbers of seats on smaller planes. Market leader Southwest Airlines added flights and seats, but saw its passenger counts drop 0.7 percent to 1.48 million people.
International passenger counts increased despite one carrier leaving the market and another reducing its schedule.
Dutch carrier Arkefly ended its service to McCarran to and from Amsterdam and XL France recently brought back its weekly flights to and from Paris after a season hiatus.
The biggest increase in passenger count came from Aeromexico, up 59.7 percent to 23,298 passengers with two additional weekly flights since last year. It was closely followed by Panama-based Copa, which saw traffic pick up by 58.8 percent to 11,853 passengers after increasing its schedule from seven to 12 flights a week.
Air Canada's count was up 31.5 percent over last year to 53,273 passengers. The airline reduced the number of weekly flights to Las Vegas by one, but introduced its Rouge discount brand to the market.
Canadian discount carrier WestJet, the busiest international operator at McCarran, had an 8.8 percent increase in traffic to 96,227 passengers.
McCarran officials said charter tour and helicopter traffic was down 9 percent in May to 87,160 passengers and for the first five months of 2014, traffic is off 0.2 percent.
Airport officials said much of the downturn was because of discontinued operations by Heli USA in March.
Contact reporter Richard N. Velotta at rvelotta@reviewjournal.com or 702-477-3893. Follow him on Twitter @RickVelotta.