Las Vegas airport on track for another record-breaking year
April 27, 2018 - 11:27 am
Updated April 27, 2018 - 12:27 pm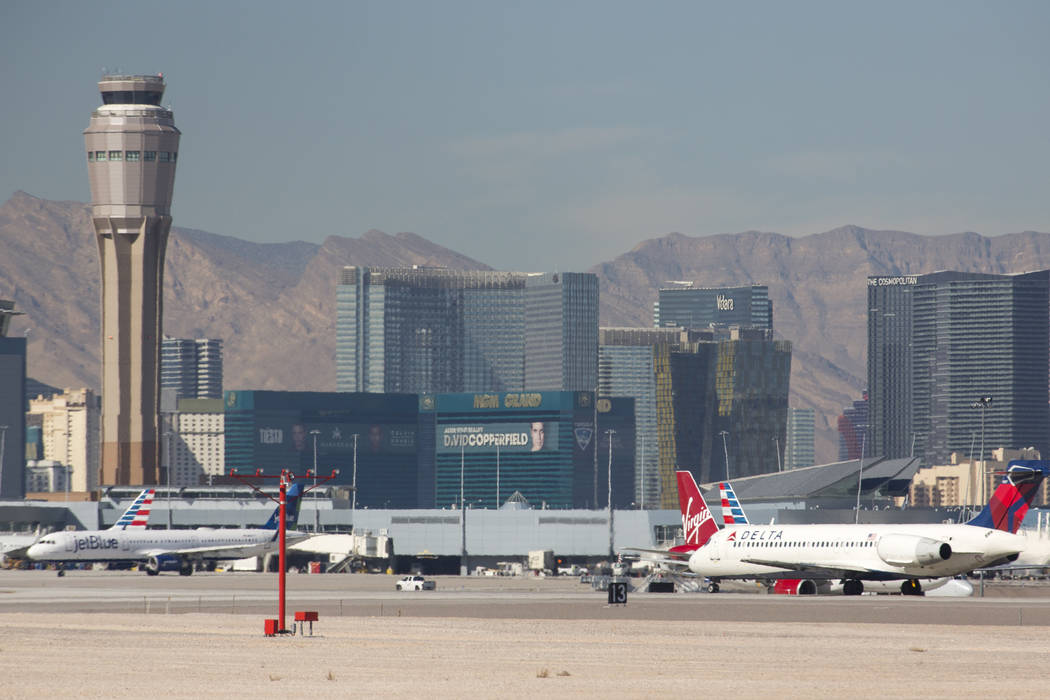 It's still early, but the head of McCarran International Airport said she believes the airport could have another record-setting year.
A combination of rising gasoline prices, a growing economy and airlines cramming additional seats into jetliners likely will help push the nation's eighth-busiest airport past the all-time high of 48.5 million airline passengers set in 2017, Clark County Aviation Director Rosemary Vassiliadis said.
"If the trends stay the same as today, I do believe we will see another record," Vassiliadis told the Review-Journal this month. "We feel like we're in a really good place."
More airlines are adding seats to their planes, which means higher passenger counts, less legroom and, most likely, the same number of operations at McCarran, Vassiliadis said.
Additionally, a combination of hotel parking fees and projections that gas prices will continue rising through the summer travel season might push tourists to ditch their vehicles and fly into Las Vegas.
"Driving here at the last minute is more expensive with gas, traffic, parking fees and other elements that people have to put into the equation," Vassiliadis said. "I think people are starting to do the math and realize it's not worth their time in traffic and all the other add-ins of driving here, so they hop on a flight."
Vassiliadis' prediction comes as McCarran logged its all-time busiest March with nearly 4.3 million airline passengers, topping a record set last year by roughly 92,000 travelers — an increase of 2.2 percent over March 2017, the county's aviation department reported Friday.
Of that, more than 3.92 million boarded or arrived on domestic flights at McCarran last month, a 2.2 percent jump from a year earlier. International flights arriving or departing Las Vegas carried 293,512 travelers, up 2.8 percent from a year earlier.
Year-to-date, more than 11.64 million passengers have flown in or out of the airport during the first quarter of 2018, a 2.9 percent increase from the same period last year.
Among the airport's five busiest carriers, small dips were reported by market-leader Southwest and American, while increases were logged by Delta, Spirit and United, according to the aviation department.
Traffic increases were also reported by Alaska, Allegiant, Frontier and Sun Country.
Among international carriers, Canadian carrier WestJet saw a 7.4 percent increase with 81,759 passengers last month, while Air Canada reported a slim .3 percent decrease with 77,162 passengers.
Virgin Atlantic Airways reported a 11.3 percent jump in traffic with 19,288 passengers. Norwegian Air Shuttle logged a 7.5 percent increase with 9,927 passengers.
British Airways carried 27,724 passengers in March, a 1.4 percent increase from last year, while British competitor Thomas Cook Airlines reported a 67.6 percent drop to 2,697 passengers.
Korean Air was up 3.6 percent with 9,558 passengers. Chinese carrier Hainan reported a 47.1 percent leap in traffic with 4,488 passengers.
Mexican carrier Interjet reported a 4.7 percent increase to 12,678 passengers in March, while Aeromexico had an 18.2 percent drop to 12,369 passengers. Volaris reported a relatively flat .1 percent decline in March to 12,860 passengers.
Contact Art Marroquin at amarroquin@reviewjournal.com or 702-383-0336. Follow @AMarroquin_LV on Twitter.