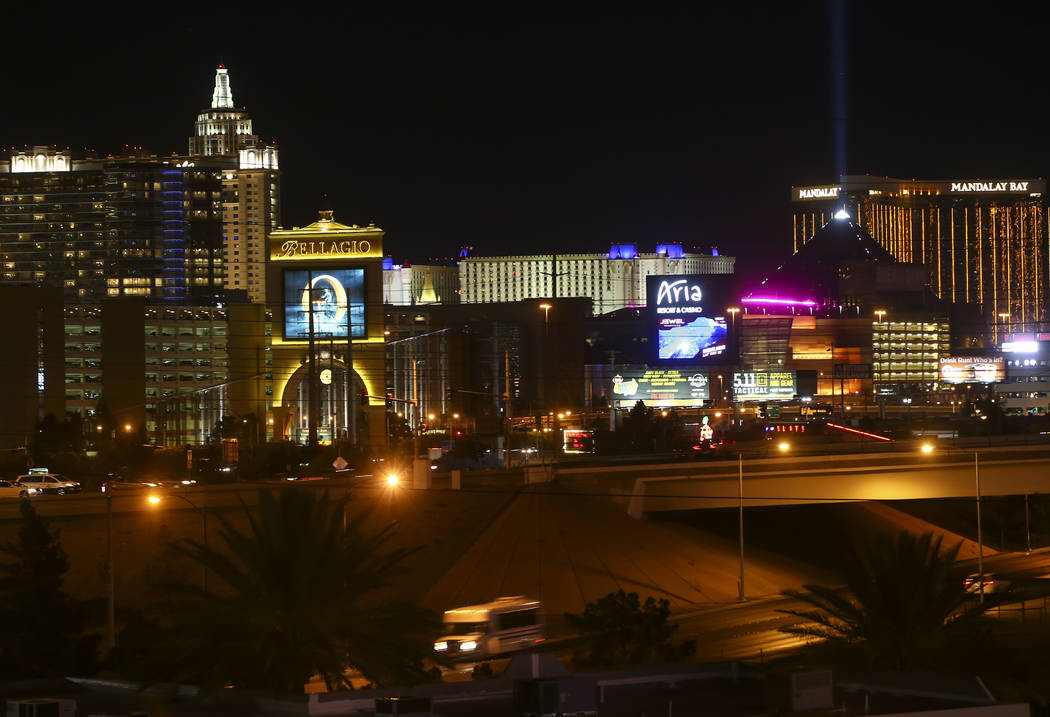 Las Vegas has come a long way since the peak of the great recession.
Now, the city will be tested again.
"We are going to be judged (going forward) not by our ability to survive a recession, but on our ability to sustain our prosperity," Jeremy Aguero, a principal at Las Vegas-based Applied Analysis told a crowd of about 525 business and area leaders Wednesday.
Las Vegas has about $15 billion in construction projects that are planned, proposed or under construction, he said, speaking at an annual event sponsored by the Las Vegas Global Economic Alliance at the Four Seasons.

"This community has gone through a remarkable period in a decade: arguably the highest growth peak and the lowest decline in two generations happened in the same 10 years. That is a remarkable thing," Aguero said, adding that now Southern Nevada is growing again — and not just in terms of new buildings.
Population growth
Aguero projects that Southern Nevada's population will grow this year at a rate of 2.4 percent.
"Today we have a community of 2.2 million people," Aguero said. He subsequently joked about Las Vegas' small-town feel, saying, "it may feel like the same 500 people you see everywhere you go, but there really are 2.2 million people that live in this community."
The demographics of Southern Nevada are growing increasingly diverse, which is "what makes our community great," Aguero said.
The transplants making Las Vegas their home today are also younger and bringing in higher median household incomes.
Economic diversification, development
As the state economy continues to diversify, transplants will continue to move to Las Vegas for employment, he said.
Doug Geinzer, CEO of the health association Las Vegas HEALS, said during the event's panel on healthcare that UNLV's new medical school will play a major role in continuing to attract new employment to the city.
Geinzer said company executives look at what type of healthcare they can offer their employees when looking at moving or expanding to a new city.
"Both healthcare and education are the foundation that allows us to diversify our economy, and attract the types of companies that we want to attract to Nevada — both to move here and to expand and grow," Geinzer elaborated to the Review-Journal.
Also speaking on the panel, Barbara Atkinson, dean of the UNLV School of Medicine, said her team has worked to secure local residency programs and other programming to ensure that students develop an investment in the community and stay in Nevada after they graduate.
She said the school received 900 applications, more than 300 of which came from Nevada. The school has secured the school's 60 first students who are "either from Nevada, or have strong ties to Nevada," she said.
Contact Nicole Raz at nraz@reviewjournal.com or 702-380-4512. Follow @JournalistNikki on Twitter.