LVCVA officials make vigorous defense of agency spending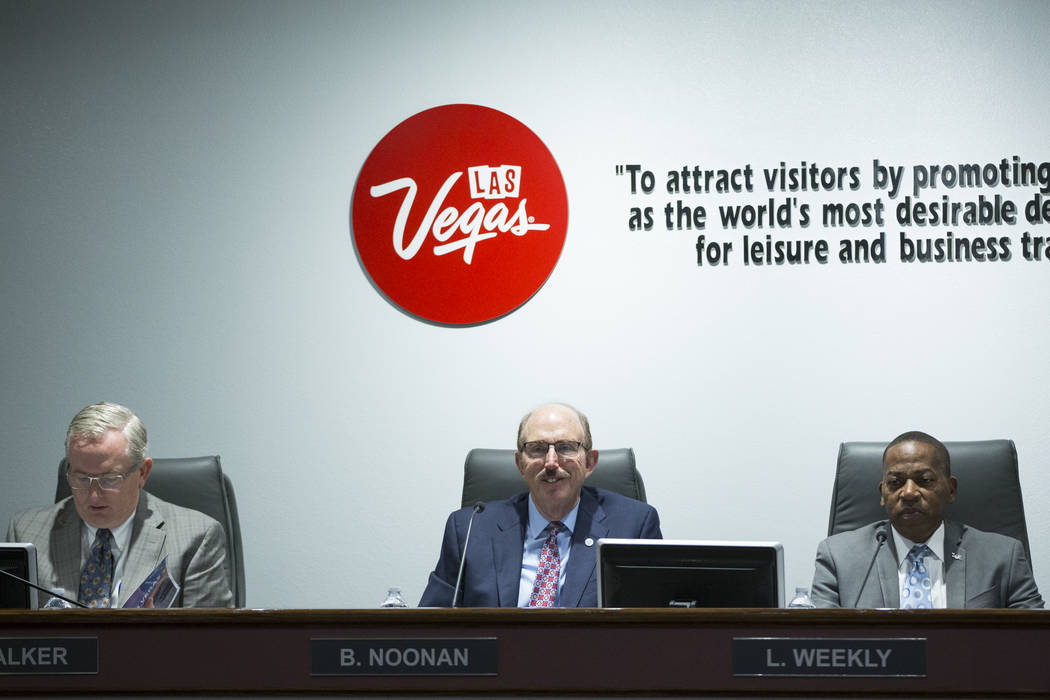 The vice chairman of the Las Vegas Convention and Visitors Authority board of directors on Tuesday defended the agency's spending to attract visitors to Southern Nevada.
Vice Chairman Chuck Bowling, an executive at MGM Resorts International's Mandalay Bay, criticized an investigative story that appeared in the Las Vegas Review-Journal on April 2 that reported extravagant spending on sales and relationship-building trips by board members and LVCVA staff.
At an LVCVA board meeting dominated by a series of reports and few action items, Bowling and LVCVA President and CEO Rossi Ralenkotter spent about 20 minutes explaining the importance of face-to-face sessions with decision-makers who plan initiatives such as attracting new airline routes. He cited the recently announced Beijing-to-Las Vegas nonstop flights on Hainan Airlines as an example.
Bowling said board members are required to attend at least one LVCVA tourism development event a year as part of their board responsibilities and said travel and expenses are closely monitored by internal and external auditors.
Spending millions
The story by staff writers Jeff German, Arthur Kane and Brian Joseph reported that the LVCVA over the past three years spent millions of dollars generated by hotel room taxes and convention lease agreements on entertainment, gifts for employees and first-class trips for its board members.
The report said the purchases at times had little or no business purpose and routinely violated the authority's own vague expense policies.
Editor-in-Chief Keith Moyer said Tuesday afternoon Review-Journal stands by its story.
"The facts in our story speak for themselves," Moyer said.
The story was criticized in emails and letters to the newspaper by industry leaders who say the authority's tactics are the gold standard of destination marketing.
Bowling and Ralenkotter elaborated on those criticisms.
'A negative picture'
"The authors went out of their way to ignore certain important facts to try to paint a negative picture of the LVCVA," said Bowling, reading from a statement. "Any cursory review of the facts show the LVCVA is by far the most successful destination management organization in the country."
Bowling said the c0nvention authority attracts $12 for every dollar it spends and tourism provides a $60 billion economic impact and thousands of jobs for Clark County residents. Those figures were included in the story.
"Regarding the subject of travel, the article seems to paint a negative light of the board members' traveling as if this is some type of irresponsible boondoggle," Bowling said. "Let's be clear: As a member of the policy committee, we put into place a requirement that board members must attend or travel to a trade show at least once a year to better understand the business of travel and promoting Las Vegas.
"You cannot be an effective board member making decisions about promoting our city by sitting behind a desk in City Hall," he said. "It's important to get on a plane and get in front of customers to say thank you for the business."
Authority board Chairman Lawrence Weekly, who has gone on LVCVA trips to South Africa and China and acknowledged in the story there has been some spending with no business purpose, said he has received positive messages from supporters and apologized at the meeting for the controversy.
"It comes with the territory," said Weekly, a Clark County commissioner.
"It was never my intention to hurt anybody or to hurt this agency or our state," Weekly said. "I'm just trying to do the right thing. It's unfortunate that we're here today to have to have this conversation. It is what it is."
Community harmed
Bowling said the Review-Journal story "intended to harm the strategic mission of the LVCVA, which in turn harmed the community."
"I appreciate the authors have wrapped themselves in self-righteousness and will claim that they are helping the public," Bowling said. "But that reality is far different. If an unbiased news organization were to take a professional review of the LVCVA, I'm absolutely confident of the outcome."
Ralenkotter said his staff is conscientious about the spending of public money and the LVCVA's results speak for themselves.
"I want to make it very clear today in this public meeting with all of you that as the staff that reports to this board, we take our responsibility of properly spending visitor-generated public funds very seriously," Ralenkotter said. "As the organization responsible for selling Las Vegas to the world, we work tirelessly to grow the destination and attract new meetings and conventions while fighting off competition from Orlando, Chicago, New York and all across the country and all across the world."
Not a competitor
He also said there is a misconception that the LVCVA competes with resorts.
"There have been some comments and discussion — and this isn't something that is new — that we compete with other resorts and convention centers," he said. "That is so far from the truth that it's unbelievable."
The Review-Journal is owned by the family of Las Vegas Sands Corp. Chairman and CEO Sheldon Adelson. Las Vegas Sands Corp. operates the Sands Expo and Convention Center, which hosts conventions and trade shows the same way as the LVCVA.
The Review-Journal owns the domain lasvegas.com, which is subleased to the Las Vegas Convention and Visitors Authority. The sublease terminates Aug. 2.
Contact Richard N. Velotta at rvelotta@reviewjournal.com or 702-477-3893. Follow @RickVelotta on Twitter.