LVCVA spends millions to wine and dine but some question spending
Updated April 3, 2017 - 9:38 am
The Las Vegas Convention and Visitors Authority spends millions of taxpayer dollars on high-end entertainment, including top-shelf liquor and $300 steaks, as well as gifts for employees and first-class trips for board members. The agency's lavish purchases at times have little or no business purpose and routinely violate its own vague expense policies, a Las Vegas Review-Journal investigation found.
Over the past three years, the authority paid at least $697,000 for alcohol, $85,000 to hire showgirls and hundreds of thousands more for concert tickets, skyboxes, banquets, exotic car rides and jewelry for employees. The payments for board members raise questions about the independence of their oversight at the nation's largest tourism agency. Board Chairman Lawrence Weekly, for example, requested $1,000 in concert tickets that he conceded had no business purpose.
"It leaves the appearance that there's a cozy relationship," said Clark County Commission Chairman Steve Sisolak, who added that the authority should spend public money efficiently.
I would like to know the cost-benefit ratio. How do they spend the money and what did they get for the money?

— Clark County Commissioner Steve Sisolak
Famous for the slogan "What Happens Here, Stays Here," the authority has a $251 million operating budget, funded mostly by hotel room taxes, to market Las Vegas as a destination. The agency touts the city's high hotel occupancy rate and consistent ranking as North America's top trade show destination as proof of its effectiveness. The Las Vegas area drew 42.9 million visitors last year.
"We're No. 1, and we continue to be No. 1 because we continue to do it bigger and better than anyone else, and we have a great destination."
Rossi Ralenkotter, the authority's president and CEO, made $768,000 in salary, bonus and benefits last year.
The authority says visitors to Southern Nevada contribute more than $59.6 billion to the local economy. The agency takes credit for bringing in $12 for every $1 it spends.
Ralenkotter maintains that expenses such as a $21,000 NASCAR suite that included a Las Vegas police detective and a city building inspector on the guest list are critical to its primary function of "relationship building."
"You don't just walk into a room and say 'I want you to come to my city next year' and the deal is done," Ralenkotter said. "You have to establish a relationship. This is a people-to-people business."
No destination sells itself.

— Rossi Ralenkotter
But not everyone agrees.
"Las Vegas can advertise itself," said Clark County Commissioner Chris Giunchigliani, a former state legislator who sat on the Assembly Ways and Means Committee. "You always need to have the messaging out there, but you should be sensitive to wining and dining. Just because you can, doesn't mean that you should."
The authority is not alone in marketing Las Vegas.
Casinos on the Strip spent $142 million last year on advertising and promotion, figures from the Nevada Gaming Control Board show.
Ralenkotter said the authority spends only about $4.5 million, or 1.8 percent, of its budget annually on entertainment. The agency employs 500 people and manages convention space.
Michael Green, an associate history professor at the University of Nevada, Las Vegas, who has studied local government, said the public should be concerned about the way the authority conducts business.
"On the one hand, they are trying to make a good impression on people who could benefit Las Vegas," he said. "But it's public money and all of us who are paid by a government entity should be accountable for what we're spending."
BOARD SEATS ARE COVETED
Serving on the authority board has long been regarded as a plum assignment for elected officials because of its prestige, perks and access to gaming executives who also serve on the board.
"This puts them into the same room with some of the most important business leaders in our state," said Dan Hart, a longtime political consultant. "It grants you a certain stature as a politician. You get to talk about the lifeblood of our community, the tourism industry."
Over three years, the authority spent about $60,000 on trips for elected officials serving on the board. It purchased first-class plane tickets, chauffeured rides and expensive hotel accommodations for them.
Board members also reported receiving $8,000 in gifts from the authority. But the staff said the gifts were not purchased with taxpayer money and were provided by business partners such as the National Finals Rodeo and the Las Vegas Bowl.
Pete Sepp, president of the National Taxpayers Union, said it is a conflict for elected officials to accept gifts and travel from an agency they oversee.
"It's difficult to see how the oversight function can work effectively with virtually no daylight between the authority board and those who spend it," he said. "The last thing you want to do is undermine your authority to blow the whistle on others when they're doing this kind of spending."
Board policy actually requires that its members attend either an authority-sponsored trip or a local event each year. Agency staffers said those trips make it easier for them to get board approval for big-ticket spending.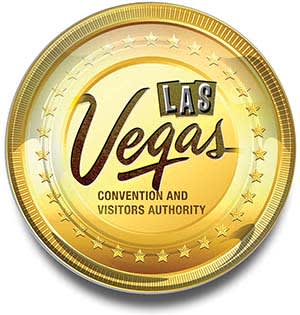 "What helps us with the elected officials is if they have some knowledge of what we do," Cathy Tull, the authority's senior vice president of marketing, said in an interview with the Review-Journal about board travel last year.
That way, when agency staff asks board members for funding, "They're not like: 'You're spending what?" Tull said.
But she said staff doesn't have to educate the corporate executives on the board about how the authority does business.
"The private-sector gaming guys completely understand it because they've been to the show and they get how that's done," she said.
NO INFLUENCE, WEEKLY SAYS
Authority Chairman Lawrence Weekly took more perks than any other board member over the three years analyzed by the Review-Journal.
The county commissioner accepted about $33,000 worth of travel, meals and what he reported as gifts from the authority, including an $11,000 flight to South Africa, a trip to China, a Bluetooth speaker and a Fitbit. Over the past three years, authority staff members also have donated $3,500 in toys to Weekly's annual holiday drive to collect gifts for foster children and disadvantaged youths.
Among the gifts Weekly accepted was $1,062 in tickets to the iHeartRadio Music Festival headlined by Justin Timberlake, Katy Perry and Elton John in September 2013. Ralenkotter purchased them with his agency American Express card. The justification for the expense was listed as "Board PR — Attend event representing LVCVA."
When asked about it, Weekly said, "There was no business, there (were) no business reasons." He said he gave the tickets to two constituents, who were named in authority billing records as Shanelle Andrews and Jye Green.
Weekly insisted gifts and trips do not affect his oversight of the authority.
"No sir, it doesn't influence any of that," he said.
Weekly added that he doesn't believe the board should be in the business of micromanaging staff because Ralenkotter does a good job.
"We have a lot of confidence in the CEO," said Weekly, who last year described Ralenkotter's management style as "poetry in motion" after leading the board to approve a $166,000 bonus for him.
The second biggest beneficiary of board travel was Las Vegas City Councilman Ricki Barlow, who joined the authority in July 2015.
In the fall of that year, the authority paid nearly $13,000 for him to fly to England and Copenhagen, Denmark, for the launch of Norwegian flights to Las Vegas. Four months later, he traveled to Rio de Janeiro and Sao Paulo to attend the World Travel Market at a cost of about $5,000. A Barlow aide and the authority said he was unavailable for comment.
The authority credits Weekly and Barlow's trips with helping to promote Las Vegas and secure direct flights from overseas. Ralenkotter declined to address whether gifts, travel and entertainment influences board members charged with overseeing him and his staff.
EXPENSES ARE QUESTIONABLE
The Review-Journal examined more than 32,000 pages of receipts over three fiscal years from many of the authority's top executives, finding repeated instances of extravagant — and questionable — expenses. In particular, the receipts detail numerous meals at pricey restaurants that seem to violate the authority's ambiguous policies of "sensible" menu items and banning "excessive" drinking.
In June 2014, for example, authority sales representatives spent more than $6,900 at a Toronto steakhouse, entertaining a party of 15 that included convention executives and members of the U.S. Consulate. The dinner featured two 16-ounce Okinawa ribeye steaks, which cost $328 a piece, as well as 11 bottles of wine and lobster on top of $138 prix-fixe meals for each guest.
The authority also spent extravagantly on its own employees. Over the three years examined, the agency paid nearly $30,000 for Tiffany bracelets and an additional $20,000 on employee service rings. Ralenkotter received a 40-year ring that cost $3,685. An agency spokeswoman said the bracelets were branded with the authority logo and given to female staffers so they can promote Las Vegas wherever they go.
Authority policy requires that all spending be business related, but several receipts described expenses where it was difficult to see the purpose. For instance, two authority staffers, two airline officials and their spouses went to a Jimmy Buffett concert, where the listed reason for attending was the Delta Airlines "Fall 2014 sales team meeting." The tickets cost $960.
"You know better than that, that they're not having a meeting at a rock concert," said Weekly, the board chairman. "They met prior. One of the reps said they wouldn't mind seeing that and we got something out of it like great direct flights that bring thousands of visitors."
The newspaper also found that executives often violate the authority's policy that a "typical" bottle of wine should be "targeted at under $100." Over three years, the authority spent about $40,000 on bottles costing $100 or more.
The authority also paid top dollar for liquor. In April 2014, an executive spent $1,170 on a bottle of Grey Goose Magnum with table service at Mandalay Bay's LIGHT nightclub, where he was entertaining executives from Allegiant Airlines. Later that same year, the authority paid more than $10,000 for a group of Latin American travel and airline representatives to enjoy open bars at the Marquee, Hakkasan and XS nightclubs on the Strip.
"It raises eyebrows and concerns when they're having bottle services and partying all night but not everybody really sees the other side of it," Weekly said.
You've got to give something to get something.

— Lawrence Weekly
The agency's liberal alcohol policy stands in stark contrast to the state and Clark County, which prohibit such purchases with tax dollars. Publicly funded nonprofits that promote convention and tourism in New York, San Francisco and Atlanta all told the Review-Journal that their policies allow alcohol purchases.
The Reno-Sparks Convention and Visitors Authority, which is also a government agency supported by hotel taxes, limits liquor spending to two drinks a person per meal.
Ralenkotter refused to comment on individual expenditures. "If someone does something that is outside of what we believe is (appropriate), then we take the action," he said.
An outside auditor reviews the authority's financial statements — but individual expenses are reviewed by internal staff, who report directly to the board. Audits posted online did not question any receipts for excessive spending on food, alcohol or entertainment.
LVCVA PAYS FOR 'THE BRAND'
The authority pays Oscar Goodman, the former mayor of Las Vegas, $72,000 a year to greet tourists, with a showgirl on each arm.

Former Mayor Oscar Goodman, right, receives $72,000 a year to promote Las Vegas for the authority. (Chase Stevens Las Vegas Review-Journal) @csstevensphoto
"They get their money's worth," said Goodman, who rose to prominence as a mob lawyer before Bombay Sapphire gin sponsored him while in office.
I'm the brand. I live the brand. I'm there with the showgirls every day, welcoming people.

— Oscar Goodman
A former board chairman, Goodman secured his no-bid contract with the authority just weeks after leaving office in 2011. The contract sets vague duties such as "act as an ambassador of the destination at all times" and "be responsible for engaging the business community in support of major tradeshows." It specifically states that the authority does not have the money to hire full-time staff for the position, yet it pays nearly 40 percent more than the median household income of $51,000 in Nevada.
Ralenkotter said the authority did not have to bid the contract.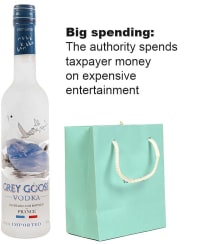 "He was the right person for the job because of who he is," Ralenkotter said.
Today, Goodman's wife, Carolyn, is the Las Vegas mayor — and she sits on the authority board. Jack Pitney, a longtime political science professor at Claremont McKenna College in Southern California, said Oscar Goodman's contract combined with Carolyn Goodman's role on the board appears inappropriate.
"It certainly doesn't look good, but Oscar Goodman is very familiar with things that don't look good," Pitney said. "Suspicious minds might think that there was some kind of deal involved."
The Goodmans contend that there is nothing inappropriate about the contract and that it does not interfere with Carolyn Goodman's independent oversight of the authority.
They also acknowledge they have traveled on several authority trips over the years, including to Washington, D.C., in April 2014, when the agency shelled out $3,300 for first-class flights for the couple and spent nearly $2,000 on a room for them at the Park Hyatt hotel.
Ralenkotter declined to comment on whether the gifts, trips or contract was corrupting. "I can't speak on behalf of the mayor. You would need to talk to the mayor about that."
Sepp of the taxpayer's union said there should be limits to building relationships.
"When you go beyond top-shelf brands and the price goes from $100 to $1,000," he said, "that would seem to many taxpayers to be crossing a line."
The Review-Journal is owned by the family of Las Vegas Sands Corp. Chairman and CEO Sheldon Adelson. Las Vegas Sands Corp. operates the Sands Expo and Convention Center, which competes with the LVCVA-operated Las Vegas Convention Center.
The Review-Journal owns the domain lasvegas.com, which is subleased to the Las Vegas Convention and Visitors Authority. The sublease terminates Aug. 2.
Staff writers Rick Velotta, Art Marroquin and intern Brooke Wanser contributed to this story.
Contact Arthur Kane at akane@reviewjournal.com. Contact Brian Joseph at bjoseph@reviewjournal.com. Contact Jeff German at jgerman@reviewjournal.com. Follow @ArthurMKane, @bjoseph1 and @JGermanRJ on Twitter.
Arthur Kane has been a reporter, editor, producer and executive producer at top metro newspapers and a top 20-market television station. His work sparked indictments, audits and changes to state law. He has been honored with two DuPont-Columbia awards, a Peabody and been a finalist for the Investigative Reporters and Editors honor.
Brian Joseph's reporting has appeared in numerous publications, including Mother Jones and Newsweek magazines and the Orange County Register newspaper, where he worked for eight years. In 2013-14, he was an investigative reporting fellow at UC-Berkeley. He's won a Polk Award and an Association of Health Care Journalists award, among others.
Jeff German joined the Review-Journal in 2010 after a lengthy, award-winning career at the Las Vegas Sun, where he was a columnist and reporter who covered courts, politics, labor, government and organized crime. He has a masters degree from Marquette University and is the author of the 2001 true crime book, "Murder in Sin City."
Additional information: Click to view a PDF of the expense reports below. NOTE: Documents are large and may take time to load. If the PDF doesn't immediately appear, scroll within the embedded image.