Reid Airport has highest February passenger counts in history
Updated March 28, 2023 - 6:31 pm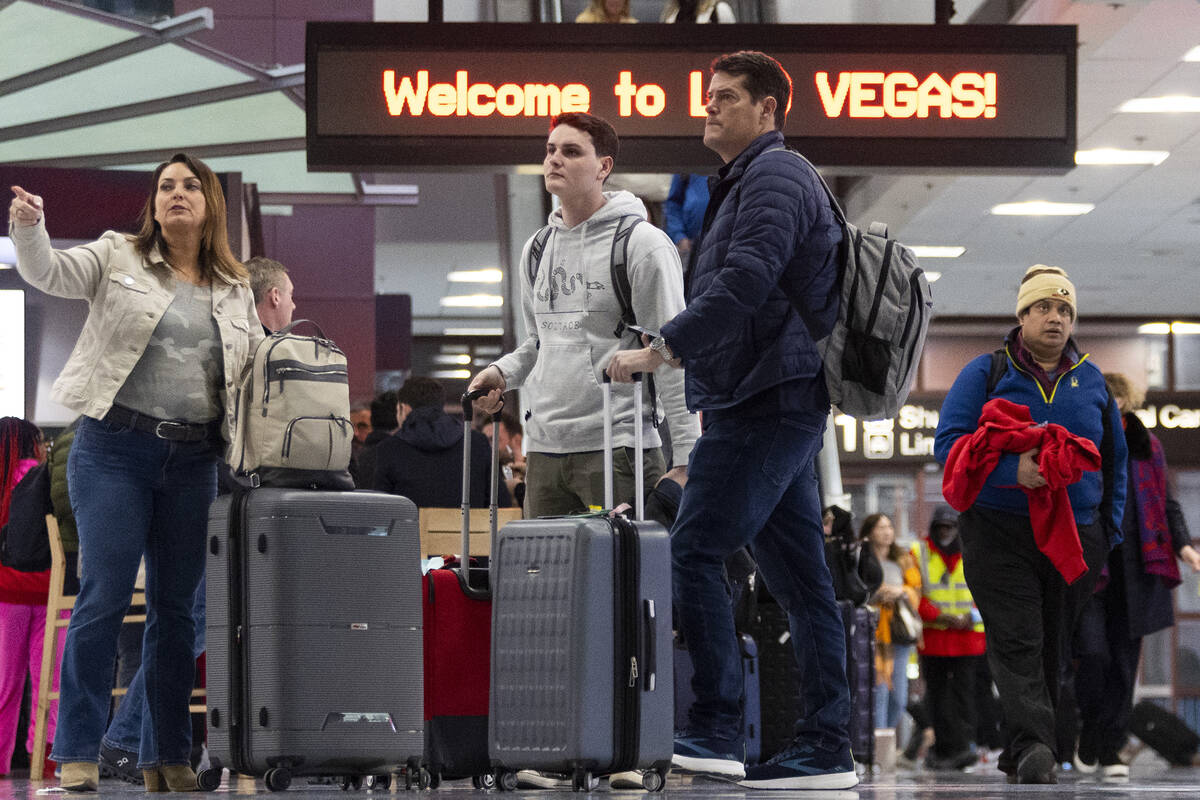 Visitation to Southern Nevada continued to take double-digit percentage strides toward pre-pandemic levels, the Las Vegas Convention and Visitors Authority reported Tuesday.
But an analyst in tourism and gaming says the city needs to look at long-term infrastructure improvements in order to sustain the growth that's on the immediate horizon.
"While there is a symbiotic relationship with tourism and gaming, each has their own segment of drivers," Brendan Bussmann, industry analyst with Las Vegas-based B Global, explained in an email. "With major events and MICE (Meeting, Incentive Travel, Conferences and Exhibitions) still recovering, tourism numbers should continue to climb especially over the next 12 months."
But Bussmann added that it will be important for public infrastructure to keep up with resort growth — particularly with Harry Reid International Airport having a record February and airport capacity gradually reaching toward its maximum.
Second airport
"We are reaching a point that we need to look at future growth ability," Bussmann said. "While the current pipeline of hotels will give us room for the current growth that is expected, we need to start looking at long-term infrastructure and this chiefly is why we need to get the second airport back on track to support current and future demand."
He was referring to a planned reliever airport south of Las Vegas expected to be built in the Ivanpah Valley. That airport isn't expected to be built until 2037 at the earliest.
Reid officials reported late Monday that more passengers used the facility than in any February in history.
The 4.2 million passengers using the Las Vegas airport was a 24.9 percent increase over February 2022, according to the Clark County Aviation Department.
For the first two months of the year, passenger levels are up 31.9 percent and on pace to bring more than 51 million passengers for the year, which would be a record.
Rosemary Vassiliadis, Clark County's director of aviation, has said Reid's capacity is around 65 million to 67 million passengers a year. The airport has been working with airlines to schedule flights away from peak periods to keep traffic at the airport flowing evenly.
While domestic traffic brought 3.9 million passengers to the airport in February, international arrivals more than doubled to 202,998.
Highway traffic down
According to the LVCVA's report issued Tuesday, tourism indicators were up in all categories but one — the number of vehicles on major highways to Las Vegas.
The Nevada Department of Transportation reported an average 116,017 vehicles on highways, a 3.7 percent decline from February 2022. Average traffic on Interstate 15 counted at the California-Nevada border was 38,414 — down 8.5 percent. Both figures were higher than totals from February 2019. NDOT does not differentiate between vehicles with tourists and local traffic.
Every other category in the report showed double-digit percentage increases, including a 51.1 percent bump in convention attendance to 663,400 — which was higher than January's total of 513,900.
Hotel occupancy and average daily room rates remained strong.
"Overall hotel occupancy exceeded 82 percent for the month, 12.9 percentage points higher year over year, but down 4.8 points from 2019, while weekend occupancy reached 89.3 percent, up 1.8 points year over year and down 2.6 points versus February 2019," said Kevin Bagger, vice president of the LVCVA Research Center. "Supported by the strengthening convention-group segment, midweek occupancy reached 78.8 percent, up 18.1 points versus February 2022 and down 5.8 points versus February 2019."
The average daily room rate was $176.64 for the month, up 18.1 percent from a year ago and up 35.8 percent from February 2019.
Strip room rates averaged $188.18 in February, while downtown properties averaged $95.23.
Anecdotally, major casino companies have said they expect March to have one of the highest average room rates on record with a variety of March Madness watchers in town as well as the well-attended once-every-three-years ConExpo-Con/Agg construction industry trade show in town in mid-March. An estimated 139,000 people attended the convention, making it the best attended Las Vegas trade show in three years.
Contact Richard N. Velotta at rvelotta@reviewjournal.com or 702-477-3893. Follow @RickVelotta on Twitter.
February tourism indicators
February 2023 February 2022 Change
Visitor volume 3.082 million 2.617 million +17.8%
Citywide occupancy 82.2% 69.3% +12.9 points
Room nights occupied 3.493 million 2.925 million +19.4%
Convention attendance 663,400 439,000 +51.1%
Average daily room rate $176.64 $149.52 +18.1%
Air passengers 4.176 million 3.344 million +24.9%
Average daily highway auto traffic 116,017 120,476 -3.7%
Clark County gaming revenue $1.081 billion $949.9 million +13.8%