Southwest flight attendants hold picket outside Convention Center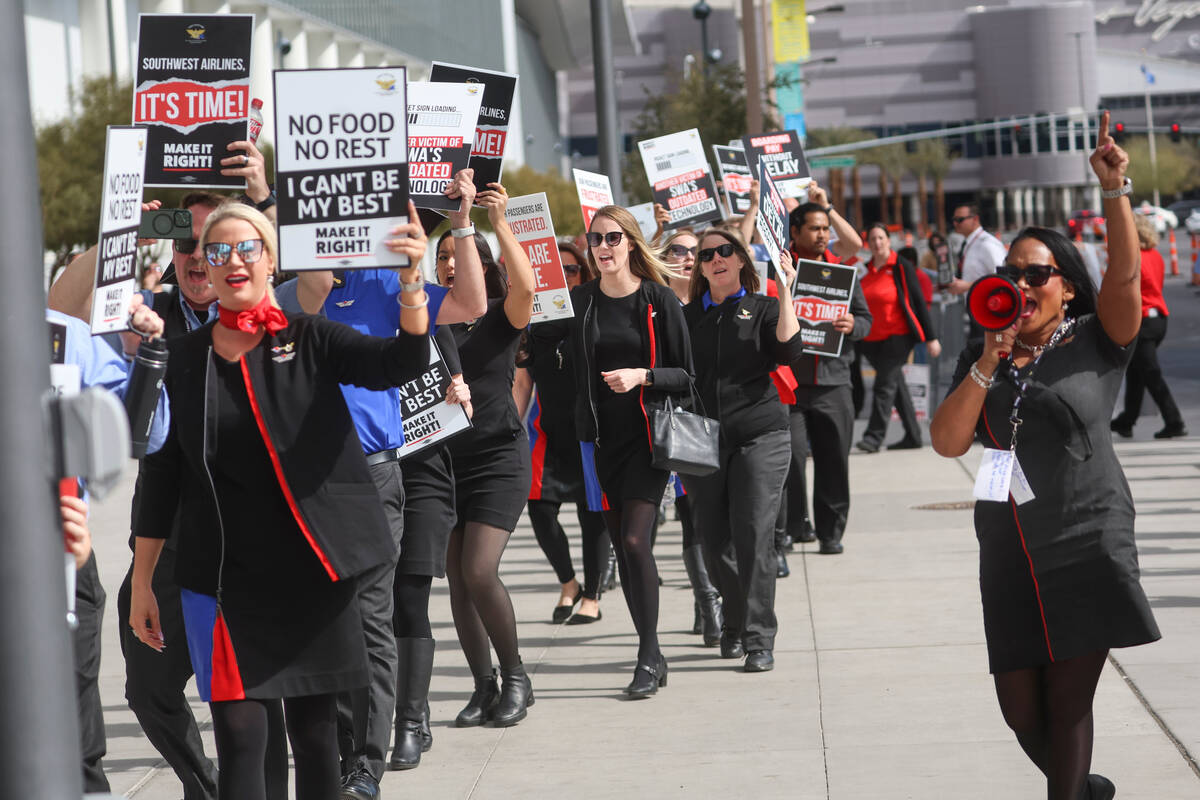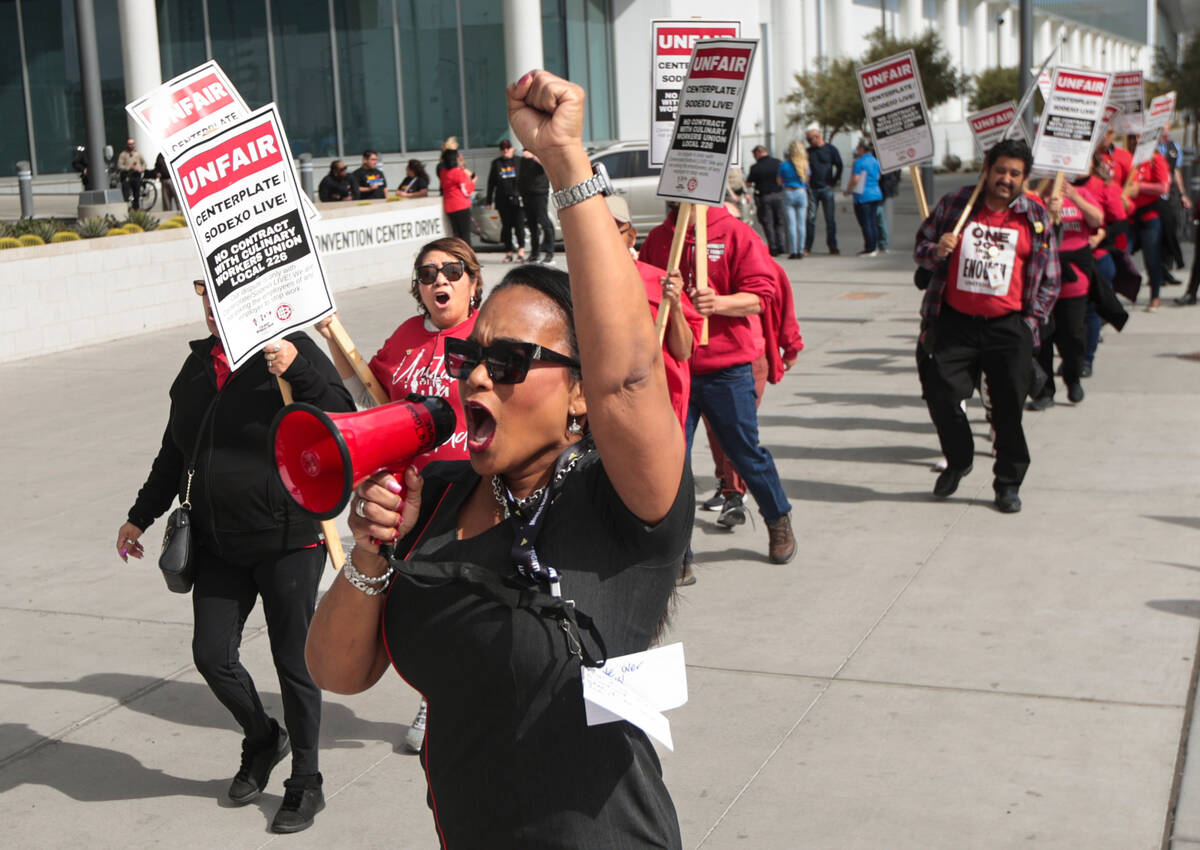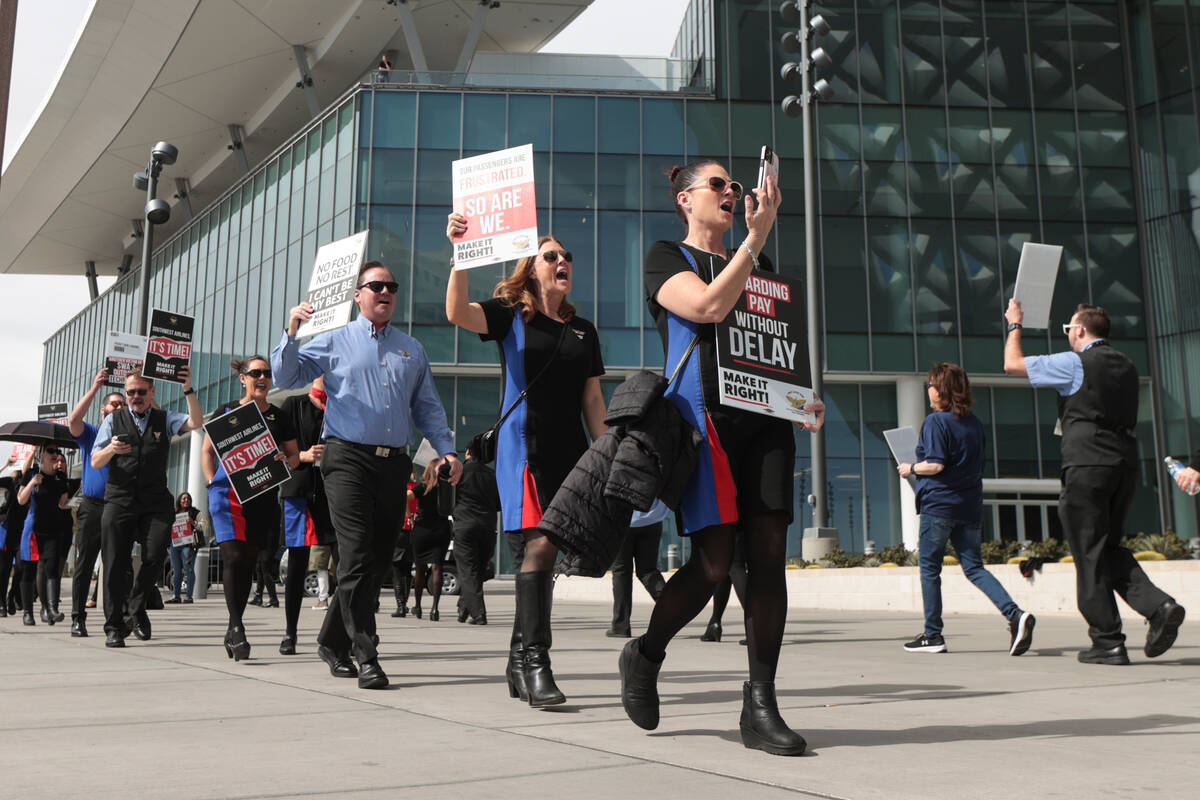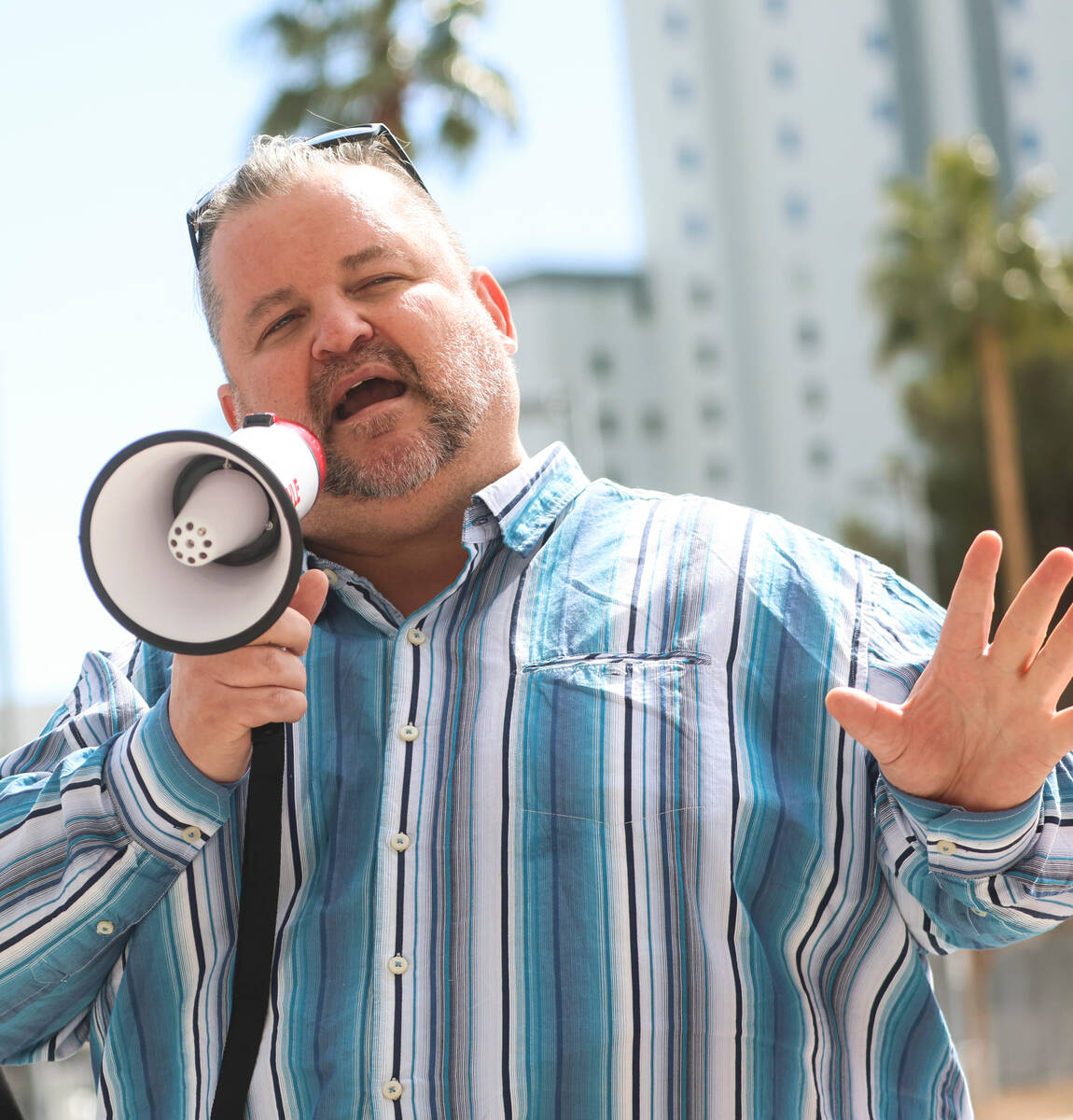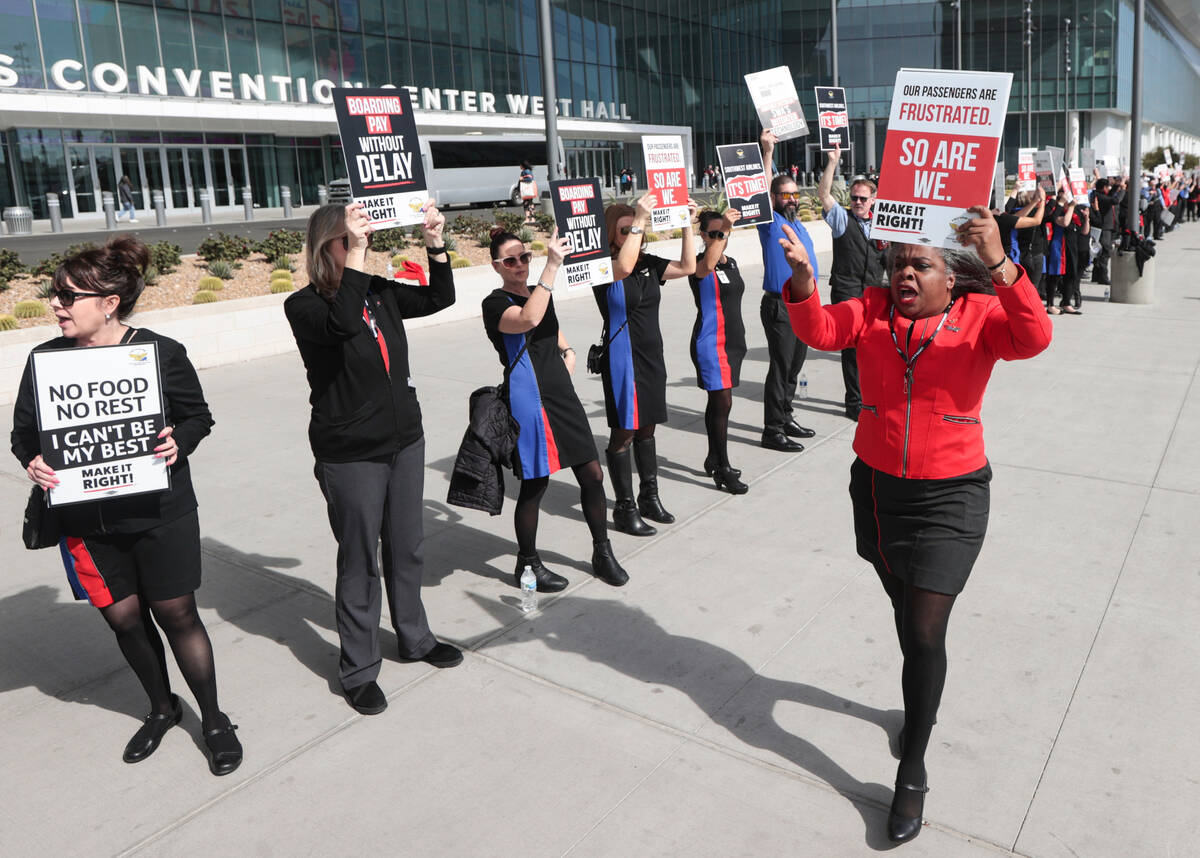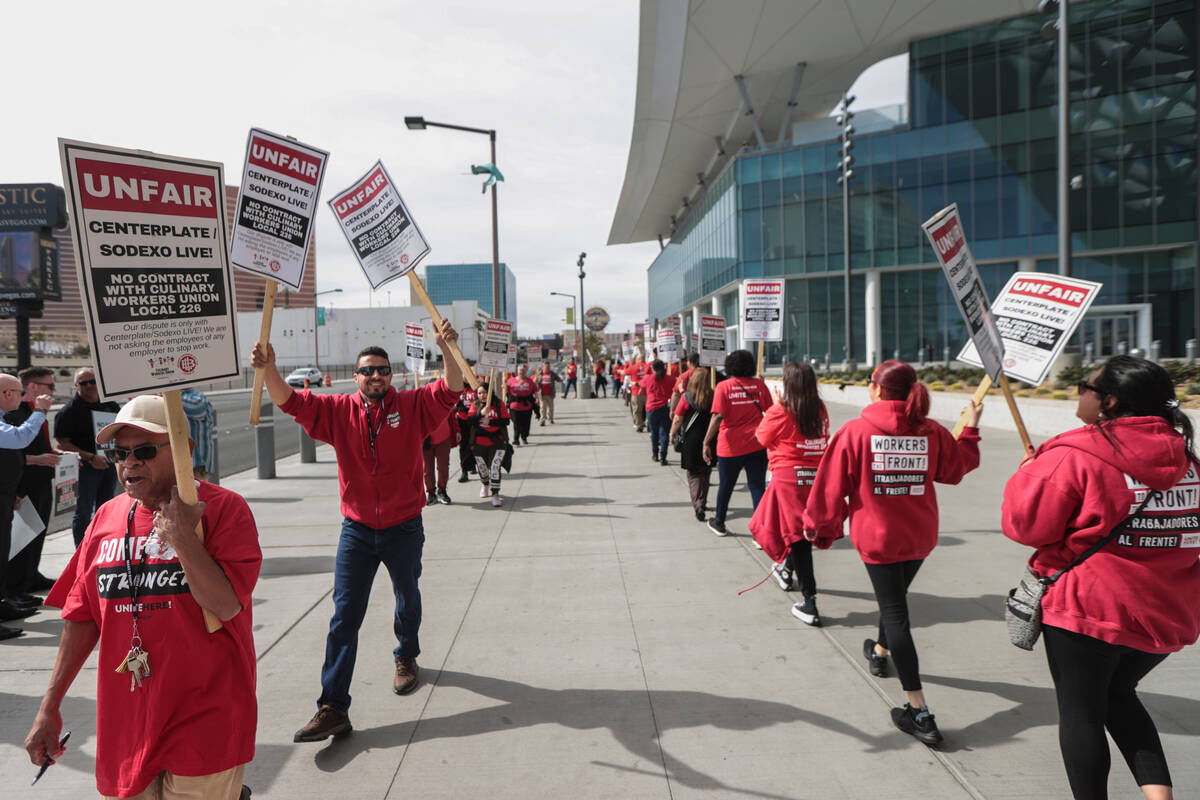 Thousands of Southwest Airlines employees were in Las Vegas on Tuesday for the company's annual rally, but at least one employee group wasn't in the mood to celebrate.
Southwest employees gathered to hear directly from the company's top executives and to celebrate its performance in 2022 at the West Hall of the Las Vegas Convention Center. But just outside, hundreds of Southwest flight attendants walked in a loud informational picket line, demanding a new contract that would pay them more and pay them for time spent awaiting flight departures.
"We're really not in the mood to party," said Lyn Montgomery, president and lead negotiator for Transport Workers Union Local 556, the union representing Southwest's 18,000 flight attendants.
The flight attendants carried placards and shouted union slogans as executives and other employees arrived for the Southwest Rally. Meanwhile, outside the North Hall, dozens of Culinary union workers, who protested the lack of a contract with Sodexo Live! late last week, were showing their support by also picketing. Sodexo is the company that operates the Centerplate food service concession at the Convention Center.
Southwest has sown several seeds over the years in Las Vegas, and the city is reaping the benefits. Next month, the airline will debut the largest Las Vegas flight schedule in its history with 243 daily arrivals and departures at Harry Reid International Airport.
By fall, the number of daily operations will expand to 277, 71 flights more than the airline had in pre-COVID September 2019.
Four-year wait
Montgomery said flight attendants have been without a contract for four years and are demanding a deal for improved pay, benefits and safety, saying they are overworked, exhausted and in need of significant change.
She said flight attendants have endured high levels of passenger aggression, airline technology failures, reroutes, delays and lack of food and rest over the past few years, with historic operational failures and threats of pay cuts from their employer.
In December, Southwest experienced one of the worst technological meltdowns the aviation industry had ever seen, delaying and canceling flights between the Christmas and New Year's holiday that affected thousands of passengers, many in Las Vegas.
"Our passengers are frustrated, and so are we," Montgomery said.
Flight attendants were angered by the company quickly responding to and compensating shareholders before them.
Montgomery said workers still love the company, but their level of frustration pushed them to hold an informational picket to draw attention to their plight.
Chief Operating Officer Andrew Watterson, in Las Vegas as one of the speakers at the Southwest Rally, said the company was aware of the picket line and said a contract settlement is one of several the airline is addressing.
"We are a very heavily unionized company with 10 different labor unions," Watterson said in an exclusive interview with the Review-Journal. "We have had five contracts settle in the last 90 days, and we still have three outstanding, including those with pilots and flight attendants.
"They are doing informational picketing, which is their right, and it's part of union-management relationships to have that kind of dialogue," he said.
Longtime growth plan
Watterson said the recent growth spurt of Southwest in Las Vegas has been a part of the company's plan for years.
"A series of things conspired to prevent us from achieving our objectives," he said. "We had to ground our (Boeing) 737-300 (jets) and retire those planes earlier than expected in 2017, so that starved us of fleet. But at the time, it was OK because the MAX was coming."
The MAX jets are the next-generation Boeing 737s that are technologically advanced and more fuel efficient than the earlier 737 versions.
MAX jets worldwide were grounded in 2019 after two unrelated crashes killed 346 people in Indonesia and Ethiopia. Once the MAX jets were cleared to fly again by the Federal Aviation Administration, the COVID-19 pandemic kept many passengers on the sidelines.
"For us, it was five years of fleet constraints," Watterson said.
Once people began to fly again after the pandemic, Southwest put its growth plan back in place.
"In 2021, we placed a big order with Boeing, 600 aircraft, so we're getting lots of aircraft now and making up for lost time," Watterson said. "Now we're able to grow some of our big cities like Las Vegas that we were unable to do in the years running up to COVID. It's a big step up, but it's after a good five years of going sideways."
During the down days of COVID-19, Watterson said Southwest kept its planes and employees busy, adding 18 destinations, including its Hawaii service from the West Coast to five cities on four islands. Las Vegas was one of the beneficiaries of the Hawaii service with nonstop flights.
Watterson said nine of the 18 new cities received direct service to and from Las Vegas.
He said business travel — transporting passengers to conventions in Las Vegas — is on the upswing, and with new aircraft deliveries, Southwest has been able to grow the market.
"What's nice about Las Vegas is there's good ability to develop real estate here," he said. "New attractions and new hotels, raise capacity of visitors which falls into airlines raising capacity. It's a nice symbiotic relationship. As Las Vegas sees a pathway to growing with new attractions and hotels, we see a path for growing air service."
Southwest doesn't do a lot of schedule modifications for special events, "but what's good about Vegas is that outside the peak events there is still bread-and-butter demand. The peaks are welcome, but the bread-and-butter demand all year long" is what maintains the steady growth of the airline in the city.
Contact Richard N. Velotta at rvelotta@reviewjournal.com or 702-477-3893. Follow @RickVelotta on Twitter.