State approves $35 million Strip pedestrian bridge work
September 14, 2015 - 12:49 pm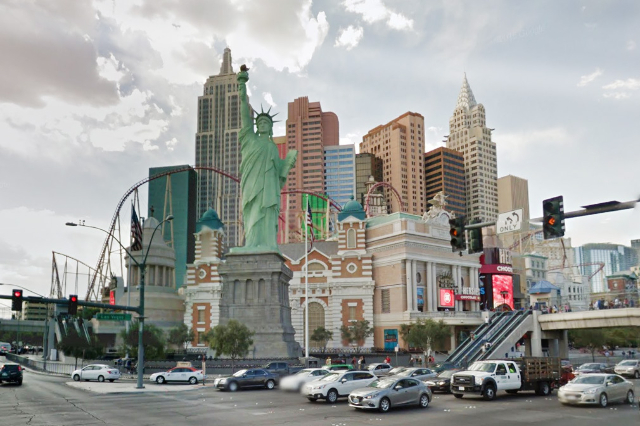 CARSON CITY — The state Transportation Board on Monday awarded a $35 million contract to upgrade the pedestrian bridges at the Las Vegas Strip at Tropicana Avenue, but the new escalators and other improvements won't be completed in time for the opening of MGM Resorts International's new 20,000-seat arena.
The board, including Gov. Brian Sandoval, approved the contract with the Whiting Turner Contracting Company.
Sandoval said he fully supports the project, but Clark County must take over maintenance and repair of the bridges after they are finished. He was told there is an agreement "in concept" for such a transfer of responsibility.
About 130,000 people per day use the bridges to access MGM Grand, New York-New York, Excalibur and Tropicana.
Whiting-Turner will replace 16 escalators, four at each corner, with state-of-the-art equipment while installing low-energy glass and air-conditioning units for elevators.
The bridges are 165-feet-long, 16-feet-wide and have 17-foot clearance heights. Existing bridges are 21 years old, but there have been frequent escalator system failures.
But John Terry, the Nevada Transportation Department's assistant director of engineering, told the Transportation Board the work won't be completed ahead of the MGM arena opening. The bridge most affected by the arena, the western-most crossing, will likely be ready a month or two after the arena opens, he said. The other three will take longer because only one can be done at a time.
The arena is projected to open in April 2016.
Terry said that while the bridges will remain open for pedestrians, who will be able to use the stairs and elevators. For some of the bridge work, there will be an inconvenience factor where pedestrians will have to take a longer trip using three bridges to avoid the closed structure, he said.
Contact Sean Whaley at swhaley@reviewjournal.com or 775-687-3900. Find him on Twitter: @seanw801