Tourism officials to spend $200,000 on six Nevada events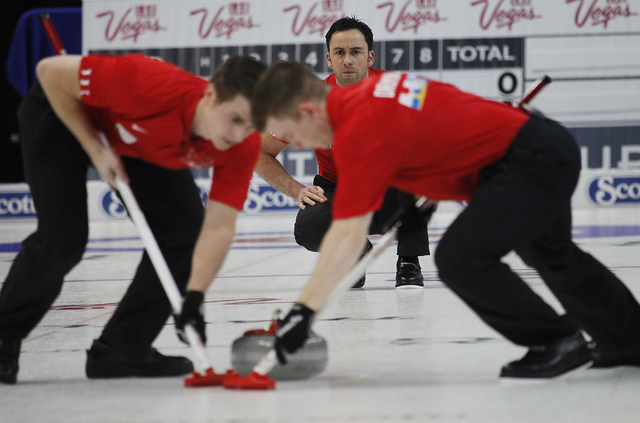 The Nevada Division of Tourism will spend $200,000 to sponsor six events — four in Northern Nevada and two in Southern Nevada — to generate tourism in the state.
The Nevada Commission on Tourism voted unanimously Wednesday to spend $50,000 each to assist the National Championship Air Races near Reno; the Sierra Ski Marketing Council to publicize skiing in the Lake Tahoe area; and the Reno Air Service Corp. to enhance the efforts of public and private partners to recruit air service to Reno-Tahoe International Airport.
A fourth Northern Nevada entity, the Great Reno Balloon Race, will receive a $15,000 sponsorship.
The two Southern Nevada events receiving sponsorship assistance were the 2017 Continental Cup of Curling, to be staged at the Orleans Arena, $20,000; and the Red Rock Rendezvous, a rock-climbing event targeted at millennial visitors, in March and April at Red Rock Canyon National Conservation Area, $8,000.
The commission also authorized spending $7,000 on developing new collateral materials.
The National Championship Air Races sponsorship will enable the airing of a television special on the NBC Sports network. Mike Crowell, president and CEO of the Reno Air Racing Association, said the organization learned from last year's production in which it was disappointed with the air date of the show — on Easter Sunday. He said he would negotiate with NBC for a better time slot.
The curling event, to be played on ice sheets at The Orleans, is expected to attract more than 3,000 mostly Canadian fans.
The Red Rock climbing event will target visitors to Southern Nevada for one of the most popular rock-climbing events in the country.
Claudia Vecchio, director of the Nevada Department of Tourism and Cultural Affairs, said her office didn't receive any other sponsorship requests from Southern Nevada.
Commissioners also received an update on the Oct. 11-12 Nevada Governor's Global Tourism Summit in Reno.
Last year, the largest tourism gathering in the state was revamped to develop a more international presence. This year, the event, planned at the Grand Sierra Resort, was scheduled earlier in the fall to avoid scheduling against other meetings and tourism trade missions.
Four industry and media familiarization trips are planned for more than 50 travel sales representatives and travel writers from overseas. State leaders are planning trips from Las Vegas to Northern Nevada on U.S. highways 93 and 95 before the conference.
The board also approved 162 rural tourism promotion grants totaling $895,770 to rural Nevada programs.
Contact Richard N. Velotta at rvelotta@reviewjournal.com or 702-477-3893. Find him on Twitter: @RickVelotta