Trade shows add security in wake of Las Vegas shootings
October 13, 2017 - 1:29 pm
Updated October 13, 2017 - 4:44 pm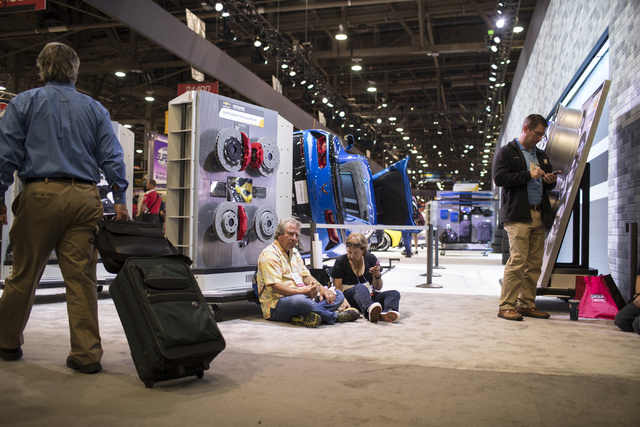 Security for trade shows of all sizes is up for review following the Las Vegas Strip shooting.
About 12,000 people showed for the annual National Business Aviation Association that started Tuesday and ended Thursday.
Among the changes this year: more officers, a security tower in the parking lot and required bag checks every day, spokesman Dan Hubbard said.
Even Hubbard had his bag checked and presented a photo ID before entering the Las Vegas Convention Center, he said.
"I'm sure that, as we look to the next show, we'll continue to consider our security profile, as we always do," he said. "All options will be on the table."
Most trade show organizers declined to talk about security specifics or said they are still evaluating best practices with local authorities.
Background checks included
The ABC Kids Expo will run from Tuesday to Thursday and is expected to draw about 14,000 to the convention center.
Six of the nearly 700 exhibitors have canceled following the shooting, ABC President Larry Schur said. ABC did not give them a refund.
For comparison, dozens canceled after the hurricanes earlier this year and earthquake in Central Mexico.
The show expects an increased amount of security workers, but has background checked exhibitors in advance of the show.
Badges were mailed to those who registered before Sept. 1, but everyone else must provide two documents proving identity at the show to get their badge, Schur said.
Accepted documents include a government-issued photo ID, company credit card, pay stub and company ID.
"We're pretty rigid," he said.
The Specialty Equipment Market Association also expects more security personnel, possibly causing delays at the doors for people coming in.
The expo is co-located with the Automotive Aftermarket Industry Week, expected to bring 160,000 people from Oct. 31 to Nov. 3.
Organizers have also filed security questions and requirements from individual exhibitors and visitors, spokesman Peter MacGillivray said.
Months of visitor screening is done before the show using personal information like birth dates and verifying place of employment.
The show expects a record year, reminding MacGillivray of when exhibitors showed even following the Sept. 11, 2001, terrorist attacks.
"We still feel really proud of the people that stepped up," he said. "While everybody is concerned, they have confidence in Vegas."
The Promotional Products Association International expo has used the Mandalay Bay Convention Center since 2003. The expo expects to draw about 20,000 people Jan. 14 to Jan. 18.
"Many members of the promotional products industry consider Las Vegas and the Mandalay Bay Resort and Casino a second home during the expo," PPAI CEO Paul Bellantone said.
"The promotional products industry's support for the Las Vegas community and the PPAI expo has been overwhelming," he continued.
Contact Wade Tyler Millward at wmillward@reviewjournal.com or 702-383-4602. Follow @wademillward on Twitter.