Trade tensions may impact Chinese tourism in Las Vegas
Updated July 5, 2018 - 7:20 pm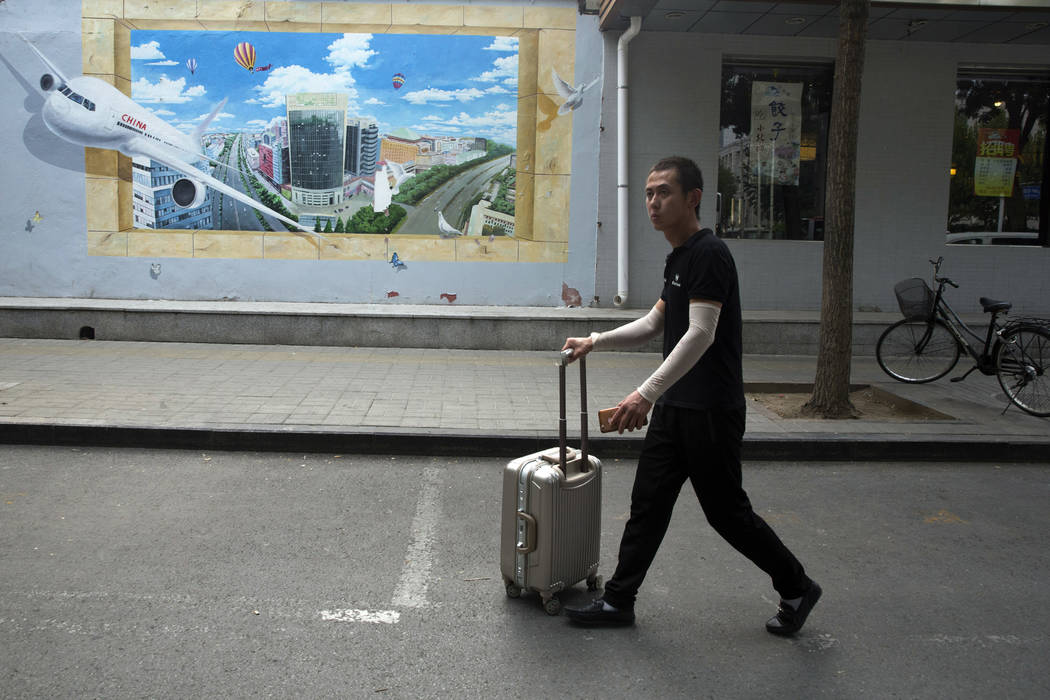 A looming trade war with China may threaten visitation from one of the fastest-growing tourist markets.
Chinese tourists traveled overseas 131 million times in 2017, a 7 percent increase from the previous year, according to the China National Tourism Administration. With trade tensions escalating between China and the U.S., some believe tourism numbers in Las Vegas could take a hit.
Gary Hufbauer, a senior fellow at the Peterson Institute for International Economics, a Washington, D.C.-based think tank, said a trade war's biggest impact on Nevada would be a decline in wealthy Chinese travelers looking to gamble, an illegal activity in their home country.
"My guess is that there will be many Chinese who will feel uncomfortable traveling to the United States if this trade war goes forward from here," he said.
On Friday, the United States plans to initiate $34 billion worth of tariffs on Chinese goods. China has announced plans to retaliate with tariffs on an equal amount of U.S. exports.
Amid rising tensions, the Chinese embassy in Washington issued a U.S. travel warning, saying there's a lack of public security in the country with frequent cases of shootings, robberies and theft.
"Travelers in the United States should be alert to their surroundings and suspicious individuals, and avoid going out alone at night," the embassy wrote last week.
Barry Lin, vice general manager of destination marketing services at online travel booking service Tuniu.com — headquartered in Nanjing, China — believes the political tension will have little influence on Chinese travelers' plans. He said he noticed plenty of people lining up to apply for visas in Shanghai just last week.
"The trade war is just between the governments," he said in a phone interview. "The Chinese tourists, they don't care a lot about the politics side. Once they have the money, they want to go abroad, stay in a good hotel, eat good food, and buy something they cannot get in China. I think the trade war is just temporary. It will blow over very soon."
The Las Vegas Convention and Visitors Authority said in a statement Thursday that it's too early to determine what kind of impact a trade war would have on Las Vegas, but it will "continue to aggressively market Las Vegas as the greatest travel destination around the world."
An affluent market
Two years ago, China had the sixth-largest share of international travelers in Las Vegas, with more than 233,000 visitors, according to the LVCVA.
And those travelers tend to drop a lot of cash; a 2017 analysis from New York-based Nielsen found that Chinese tourists spent an average of $762 per person shopping on their most recent overseas trip. Non-Chinese tourists spent an average of $486.
Hufbauer said the U.S. could see less of this spending if tensions continue to rise.
"The atmosphere for pleasure travel is not so good right now, and it's getting worse," he said.
Jonathan Grella, the executive vice president for public affairs for the Washington, D.C.-based U.S. Travel Association, said international tensions pose a threat to America's pursuit of a growing global travel market.
"China is one of the fastest growing international inbound markets," he said in a statement on Tuesday. "Increasing Chinese visitation is a golden opportunity to reverse the trade balance, bolster competitiveness and create American jobs."
The People's Republic of China is the fifth-highest tourist-generating country to the U.S. as of September 2017, with more than 2.24 million arrivals, according to the National Travel and Tourism Office, a division of the U.S. Department of Commerce.
Impact on Las Vegas
Stephen Miller, director of the Center for Business and Economic Research at UNLV, said a trade war would have little impact on Las Vegas unless the Chinese government were to restrict travel to the U.S. This sort of retaliation wouldn't be unprecedented; China banned all group tours to South Korea in 2017 during a diplomatic standoff over defense system installations.
Even if the Chinese government does place a travel ban, Miller said it's unlikely to make a big dent in Las Vegas tourism rates.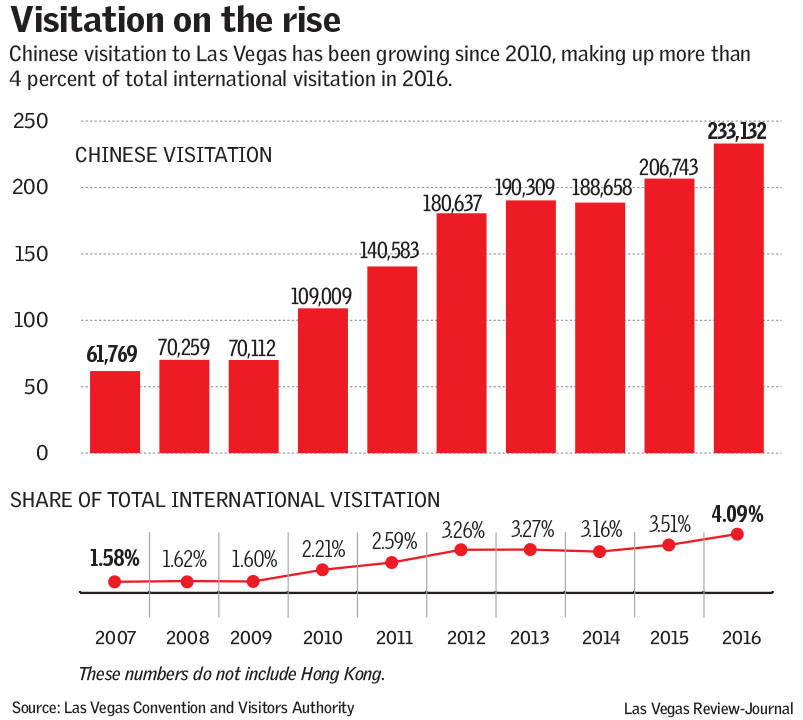 "Wealthier people are the ones coming to the United States, and they might have a better ability to avoid travel restrictions," Miller said. "The Chinese might feel offended that we're picking on them (with tariffs) and decide to go to Europe instead of the U.S. … but that's still to be seen."
Anne Madison, the chief strategy and communications officer for Brand USA, said politics rarely influence where people want to visit.
"The USA continues to be one of the most inspirational destinations for Chinese travelers who, like most people around the world, are drawn to travel opportunities and experiences that can be found here," she said in an email.
Contact Bailey Schulz at bschulz@reviewjournal.com or 702-383-0233. Follow @bailey_schulz on Twitter.
Tariffs to take effect Friday
WASHINGTON — President Donald Trump made clear Thursday that U.S. tariffs against Chinese imports will take effect early Friday and that he's prepared tosharply escalate a trade war between the world's two biggest economies.
The administration was set to start imposing tariffs at 12:01 a.m. Eastern time Friday on $34 billion worth of Chinese imports, a first step in what could becomean accelerating series of tariffs.
China on Thursday rejected "threats and blackmail" ahead of a threatened tariff hike and has promised a swift retaliatory strike on an equal amount of U.S.goods.
The Associated Press