Tribal nation buying shuttered motel site on Strip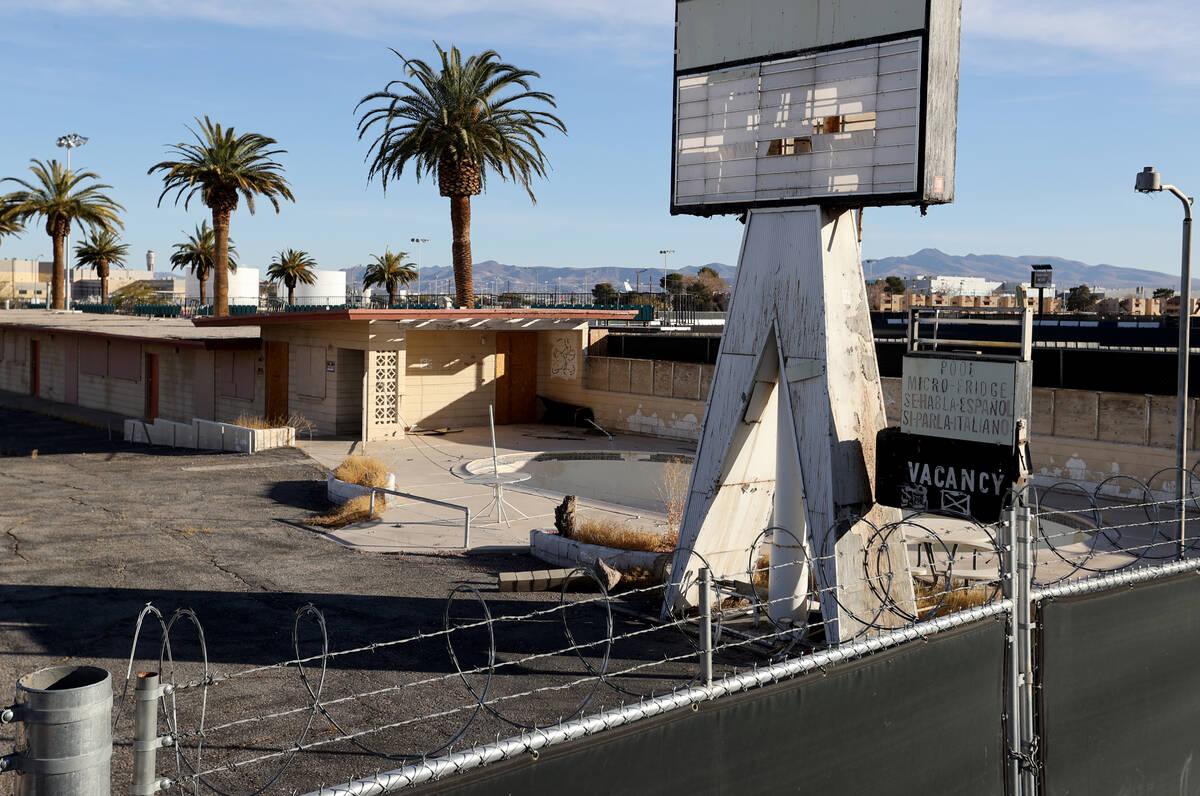 A North Dakota tribal nation is in the process of buying a shuttered motel site on the south Strip, potentially expanding its holdings along Las Vegas Boulevard.
The Three Affiliated Tribes on the Fort Berthold Indian Reservation entered an agreement to purchase the former White Sands Motel property, across from the Luxor, for $10.25 million, Clark County District Court records show.
The narrow 1.1-acre parcel is surrounded on three sides by the former Route 91 Harvest festival site, most of which was acquired by the tribal nation late last year.
A court hearing on the sale of the motel property is scheduled for March 23.
"The MHA Nation is pursuing opportunities to acquire the property but the process hasn't been completed," Mark Fox, chairman of the tribal group also known as Mandan, Hidatsa and Arikara Nation, said in a statement provided by his office Wednesday. "There is no guarantee of acquisition at this point in time."
The run-down former White Sands building has been closed for years and carries a history of vandalism, vagrants and feral cats. If it sells, it would almost surely be demolished.
And if MHA Nation takes ownership, it would give them a property that juts into their existing land holdings, letting them fill a real estate doughnut hole of sorts.
'Investment for us'
The tribal nation, operators of the 4 Bears casino in North Dakota, already purchased 20-plus acres along the south edge of Las Vegas' famed resort corridor for more than $100 million.
In July 2020, it bought an 8.7-acre lot immediately east of the former Route 91 site for $12 million through a bankruptcy case. At the time, Fox said he had been eyeing activity in Las Vegas for years. His group had no concrete plans for the site, though he described the purchase as "an investment for us, plain and simple."
MHA Nation then acquired most of the 15-acre former Route 91 site for about $92.8 million from casino giant MGM Resorts International in late December.
The property was the scene of the deadliest mass shooting in modern U.S. history. MGM set aside two acres for a permanent memorial to the Oct. 1, 2017, tragedy.
MHA Nation previously said in a news release that its purchase from MGM "represents a substantial opportunity for investment and return," and revenue generated would help fund tribal projects and programs.
It also said it "whole-heartedly supports" the memorial site for the Las Vegas massacre.
At the time, Fox told the Review-Journal that MHA Nation was "absolutely looking to acquire" the former White Sands property as well.
'Vagrants, trespassers and the animal groups'
The White Sands was built in 1959, during Las Vegas' mafia days. It was advertised as a beautiful place, offering TV, coffee and air conditioning.
The motel closed around 2008, according to Clark County records, and has been in rough shape for years.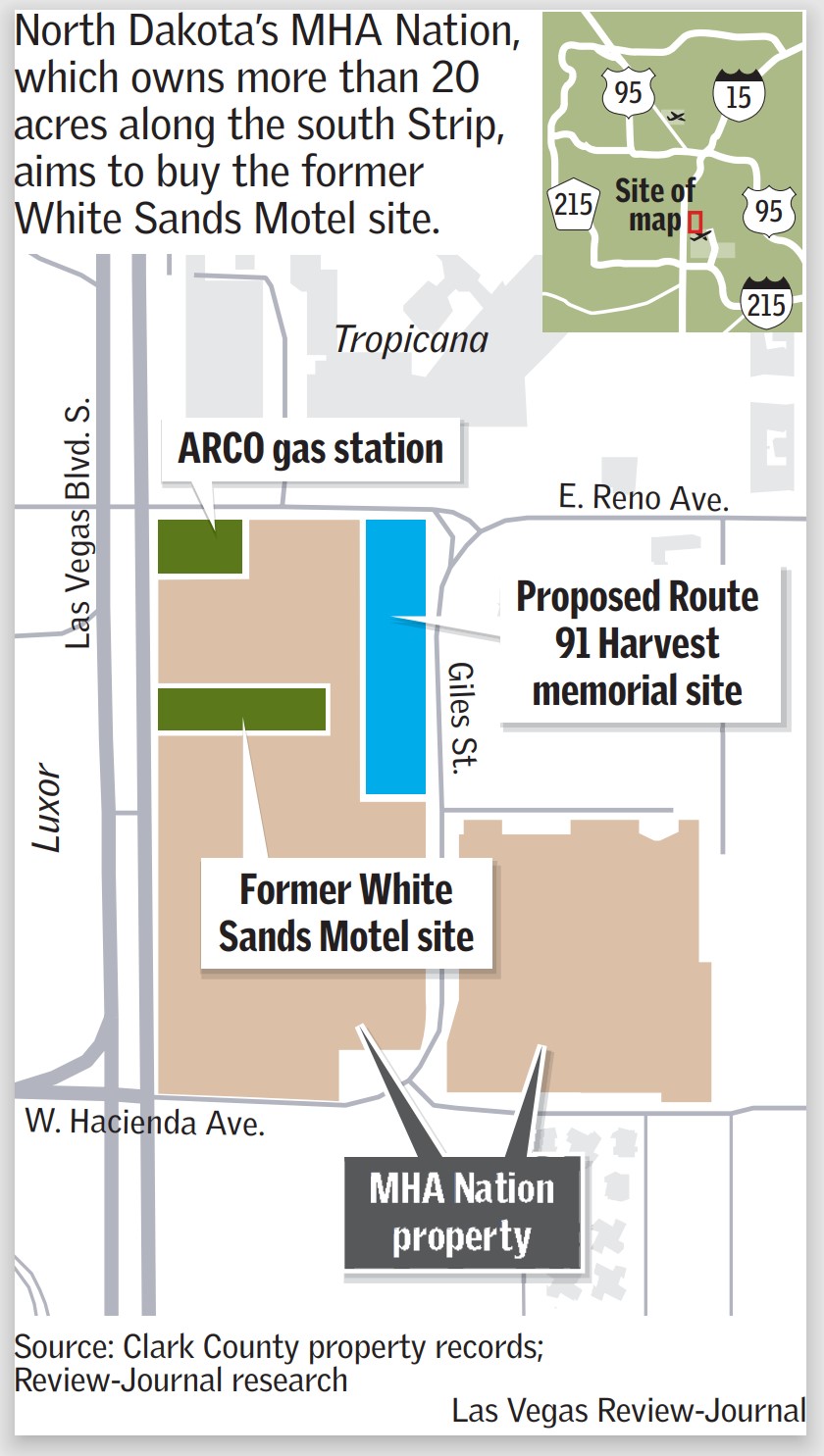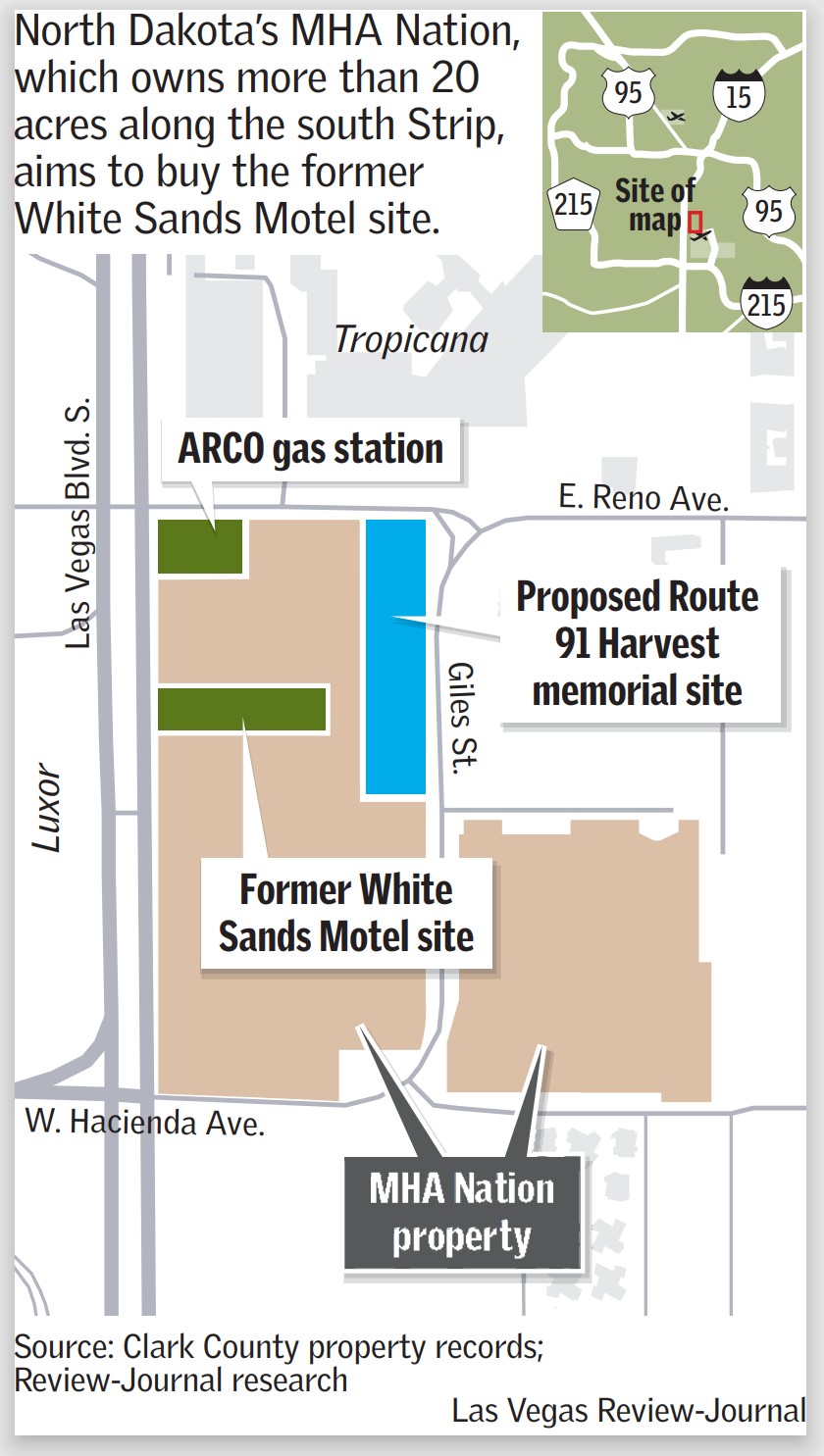 According to a "declaration of imminent danger" from the county in 2015, the structure was dangerous and had criminal activity, and feral cats and kittens "were noted in all units."
"Despite putting up chain link fences and boarding up all doors and windows on the property, it has been very difficult to keep vagrants, trespassers and the animal groups from gaining access to and destroying the property," according to a letter to the county in 2015.
The property is owned by the estate of Spartaco Colleli, who owned the White Sands and died in 1992, records show.
Las Vegas probate lawyer Kennedy "Kenny" Lee, special administrator of Colleli's estate, stated in a court filing last month that the property was appraised at $10.7 million and that he entered a purchase and sale agreement with the tribal nation.
A copy of the agreement, signed by Fox, was enclosed in court records.
Efforts to get comments from Lee were unsuccessful this week.
Contact Eli Segall at esegall@reviewjournal.com or 702-383-0342. Follow @eli_segall on Twitter.