Tropicana Las Vegas shoots for bull's-eye by hosting darts competition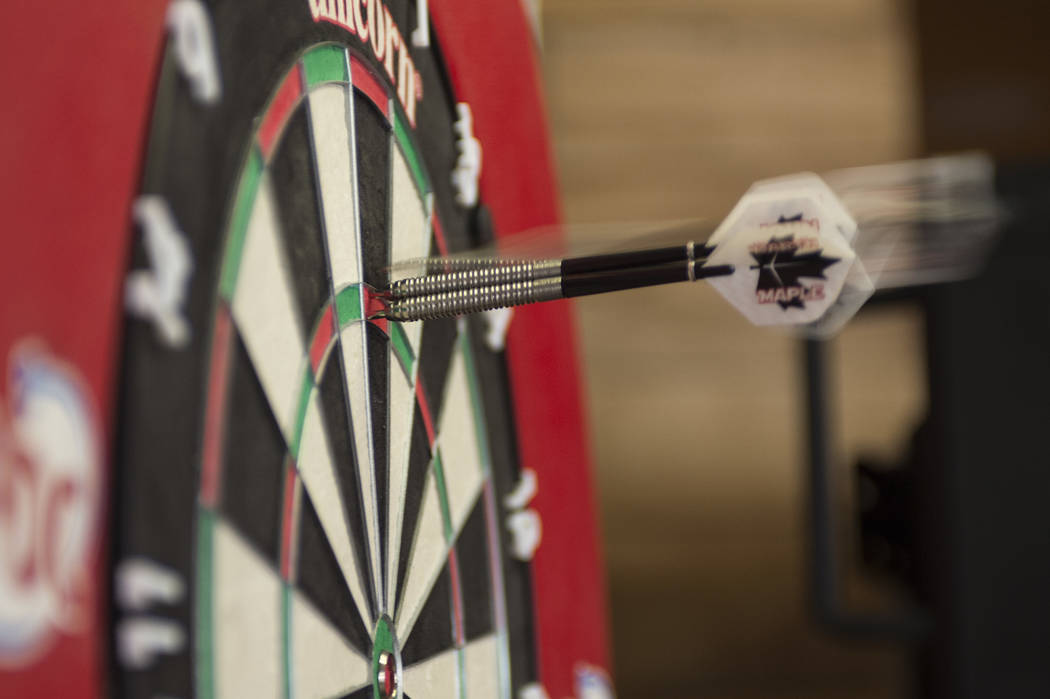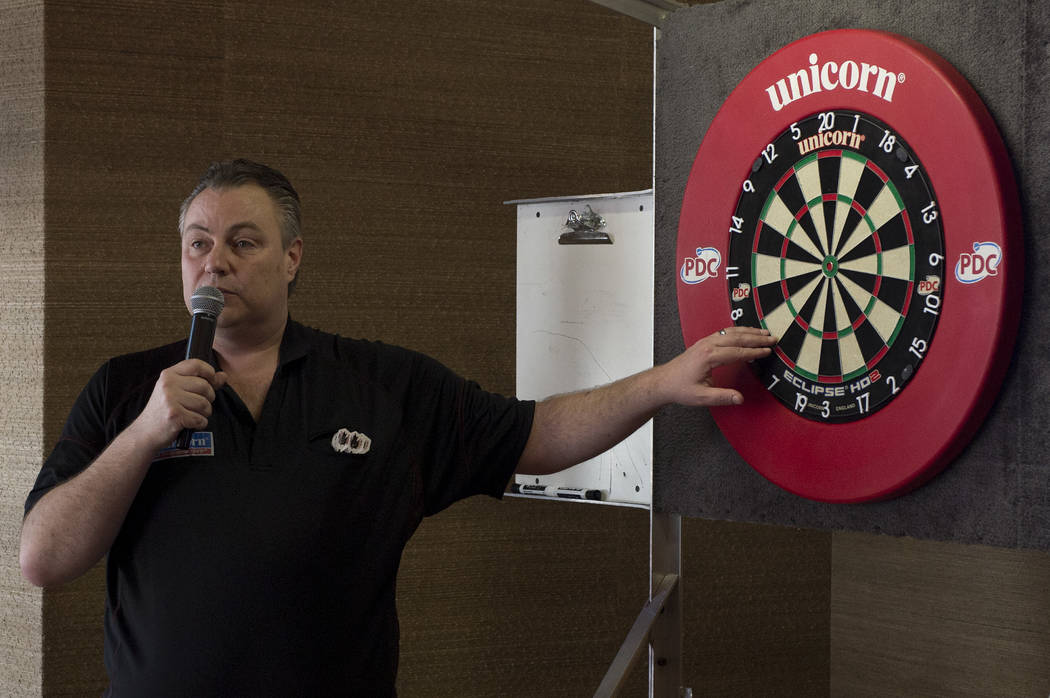 The Tropicana Las Vegas hopes to hit a tourism bull's-eye in July when it plays host to one of the world's largest competitive dart competitions.
A circus atmosphere with costumed fans and competitors who will strut onstage to their own walk-on music is expected at the U.S. Masters Darts Tournament, part of the internationally televised 2017 World Series of Darts competition, July 13-15 at the Tropicana's Trinidad Pavilion.
Eight of the world's top dart competitors, including six of the current top eight world-ranked players, have been invited to participate in the Masters event July 14 and 15.
The venue will hold between 1,200 and 1,400 fans and tickets will cost $40 to $60 per session or $150 for a three-day pass. Competitions will run from 1-5 p.m., each day. Big screens will enable fans to see the action close up.
Three-time world champion John "Darth Maple" Part was at the Tropicana on Wednesday to promote the tournament and give a dart primer.
Part, who tossed several darts into the bull's-eye and treble 20 slot during his demonstration, said the competitive tournament dart atmosphere is a perfect fit for Las Vegas, which is always looking for a new niche audience with an international twist.
Darts are second-most-watched competitive sporting events viewed on European television, Part said, and exuberant fans come out to watch their favorite players. Part described dart competitions as a "beer-hall atmosphere" with fans cheering the action.
Partnering with the Great Britain-based Professional Darts Corp., the Tropicana began selling Masters packages including transportation, lodging and event tickets last summer when it was announced that Las Vegas would be the host for the event.
The July competition will be the first time a World Series of Darts competition will occur in the United States. The Professional Darts Corp. has staged world events in Dubai, Australia, New Zealand and China. A North American dart competition, the PDC Desert Classic, occurred at the Tropicana in 2010.
In the July event, qualifying matches for North American players will occur July 11 and 12, whittling the field to eight players. Those eight will be matched up against the world's best July 13 with the final rounds July 14.
Among the world competitors will be Michael "Mighty Mike" van Gerwen of the Netherlands, the current world champion; Gary "The Flying Scotsman" Anderson of England, a two-time world champ; and Peter "Snakebite" Wright of England, a fan favorite with a colorful Mohawk haircut that matches his clothing.
Part got his "Darth Maple" nickname because he's a Canadian "Star Wars" aficionado. His walk-on music is Darth Vader's "Imperial March" theme.
Contact Richard N. Velotta at rvelotta@reviewjournal.com or 702-477-3893. Follow @RickVelotta on Twitter.
Darts competition
Throwing darts is one of those rare competitive events in which scoring occurs backward.
Each player starts with 501 points and has three throws at a dartboard that is 7 feet, 9.75 inches away and 5 feet, 8 inches from the floor to the center of the bullseye. Players throw at a target with 20 segments numbered from 1 to 20 with an outside ring worth double points and an inside ring worth triple points. The outer ring of the bullseye is worth 25 points while the inside bullseye is worth 50. As a result, the most valuable space is a triple 20 (60 points) compared with a bullseye (50 points).
Point values are deducted from 501 with each throw and a player must deduct to exactly zero to win and the last shot must be in the double zone.
As a result, players not only need to have the skill to deliver a dart to the right location but must strategize how to get down to zero.
The best possible sequence of play: to get 501 points in nine throws, a feat that wins special recognition in televised dart events.
The event in Las Vegas will be a best-of-11-leg match, which means a player must win six legs to win and advance.