What is flight padding? A growing problem for Reid airport travelers
Updated April 26, 2023 - 7:13 am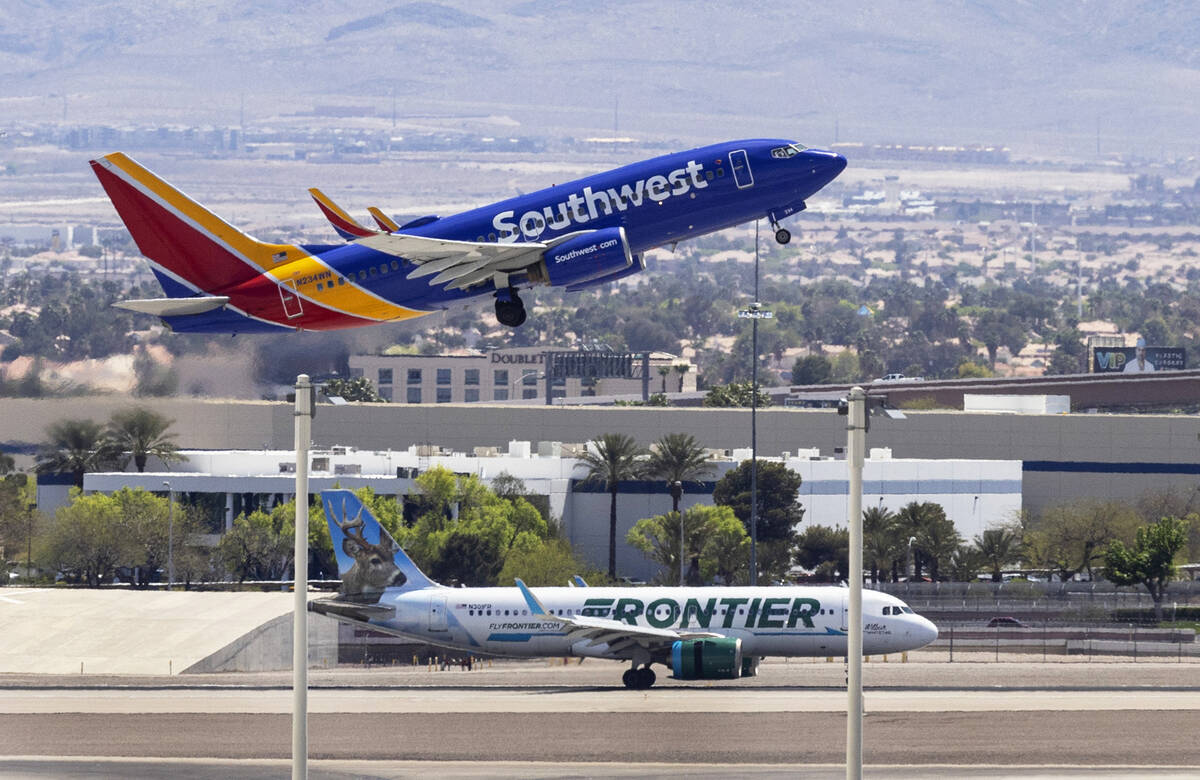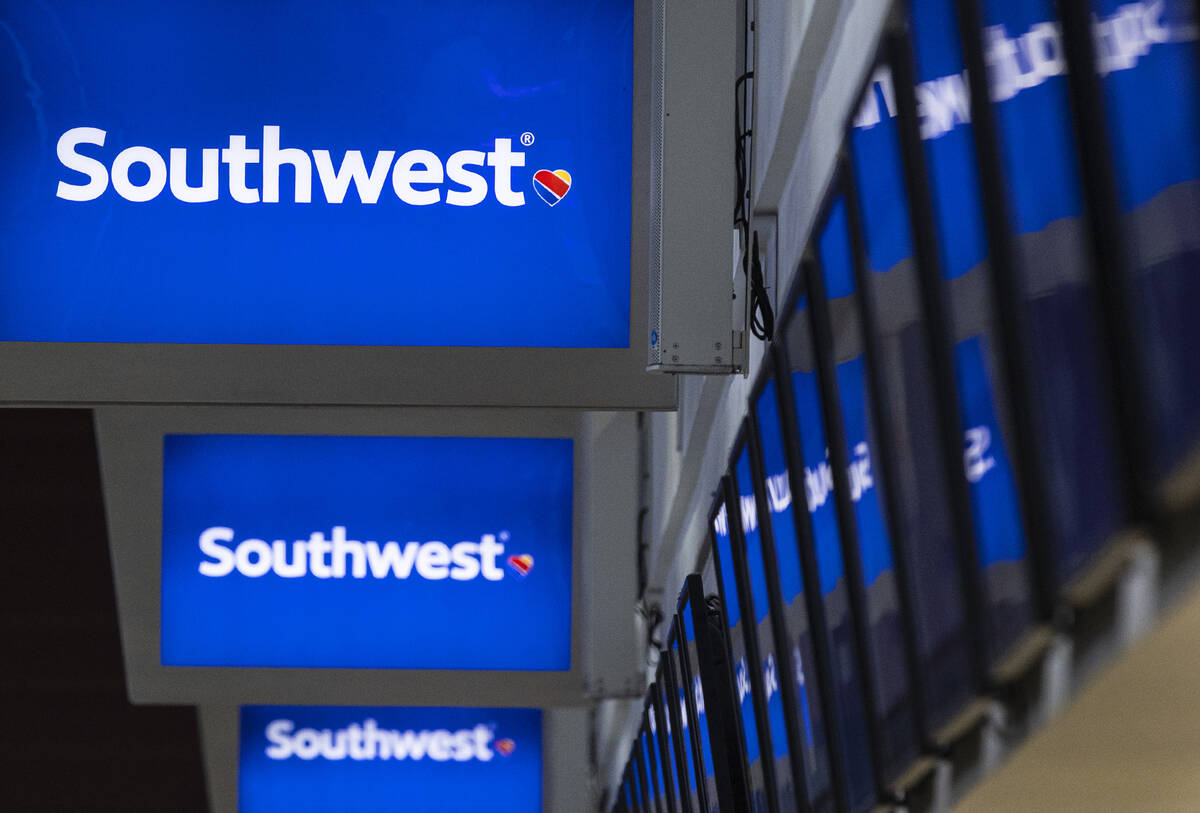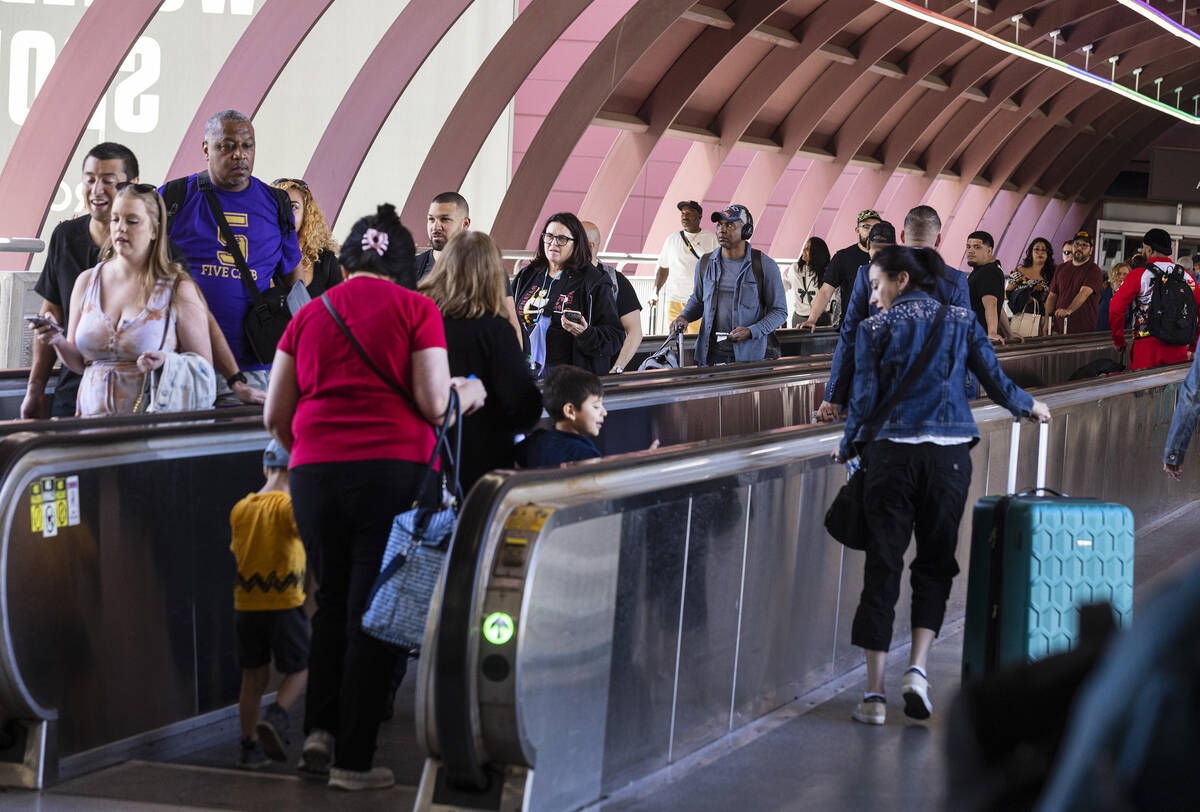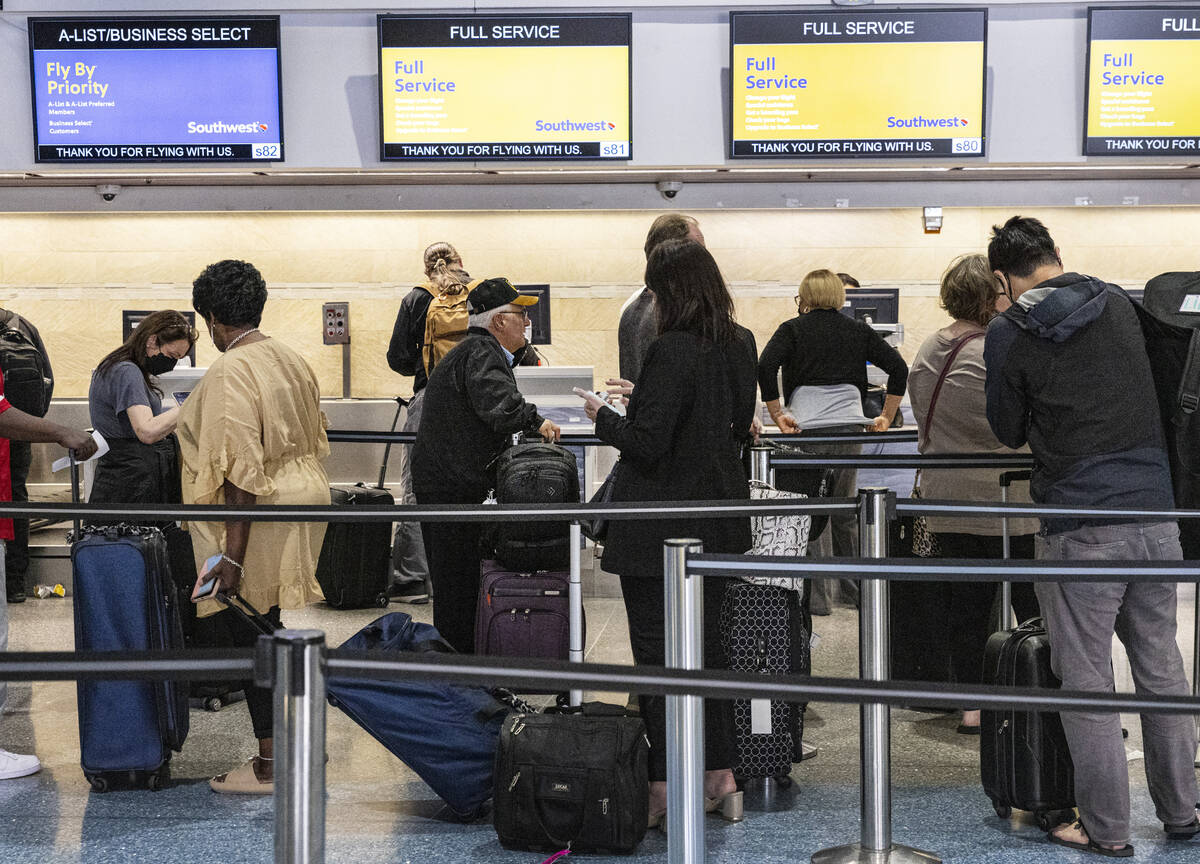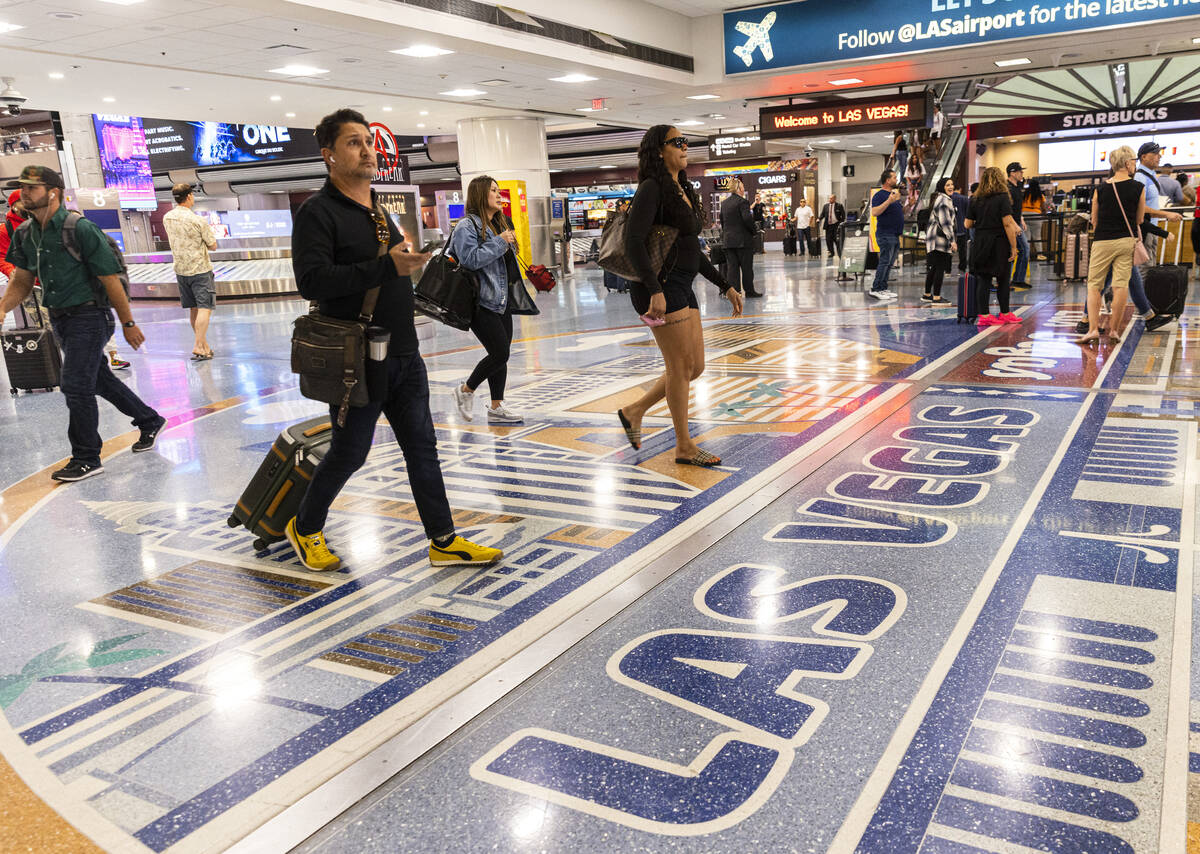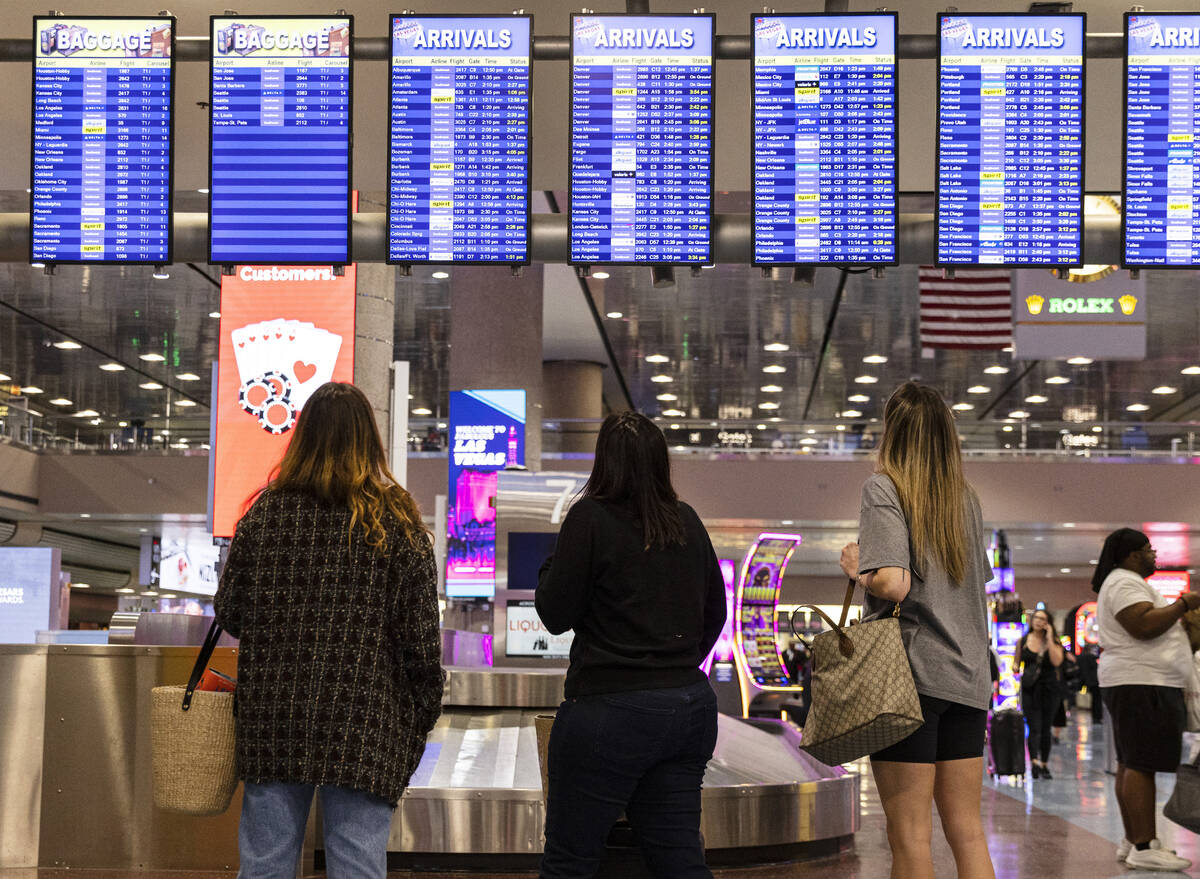 Personal finance site FinanceBuzz recently published a report about airline flight padding, or "schedule creep."
That's when airlines build in extra time in their flight schedules to make their on time arrival statistics look better than they are.
The report caught my attention because Harry Reid International Airport was listed as the eighth-most affected airport in the nation for flight padding, with Southwest Airlines — which flies roughly one-third of all commercial airline passengers to and from Las Vegas — as the biggest offender of padding schedules.
On average, airlines are padding their scheduled flight times by just over 10 percent, according to FinanceBuzz. On a typical two-hour flight, carriers add around 11 minutes to a flight schedule to counteract delays. In 2012, they added eight minutes, meaning padding time has increased by 27 percent in 10 years.
"Padding schedules is a common practice across all modes of transportation, especially in the airline industry where external factors like air traffic control, aircraft maintenance and weather conditions can significantly impact the departure and arrival times, leading to constant changes," said Jeff Price, professor at the Department of Aviation and Aerospace Science at Metropolitan State University of Denver.
"Padding is nothing more than programming in extra time to the actual flight time to account for variables," he said. "It's just like a person driving to a location early to account for unexpected traffic or delays."
But even with the extra padding, more than 20 percent of flights were delayed in 2022. That number would have ballooned to more than 30 percent without the extra padding. The Bureau of Transportation Statistics define a late flight as 15 minutes beyond the scheduled time.
Most padding by Southwest
FinanceBuzz said it analyzed government data on more than 35 million flights, including some dating back to 2012, to see just how pervasive the practice is and how it has changed over time.
The data determined that flights to and from Reid airport, on average, had 11 extra minutes of time added to schedules, or a 12.6 percent increase.
It also showed Dallas-based Southwest, which has flown more than 3 million passengers to and from Las Vegas so far in 2023, adds 11 minutes of padding to its scheduled flights, or 13.9 percent, based on average flights being 79 minutes — scheduled time lists 90 minutes.
The airport with the highest amount of padding is no surprise: Southwest's headquarters Dallas Love Field.
By comparison, Las Vegas-based Allegiant Air shows seven minutes of average padding time, 6.4 percent, and has the second lowest amount of padding among large air carriers, just behind Hawaiian Airlines.
FinanceBuzz believes flight padding to be a growing problem as on time performance is being affected by weather, technological glitches and cluttered skies and airports.
Transportation experts feel it's only going to get worse. Southwest experienced a technology glitch last week that temporarily grounded all its flights for 17 minutes. The airline is still recovering from the bad publicity hit it took in December when thousands of flights were canceled over a technology glitch.
"Schedule padding has developed over decades as airlines strive to operate with punctuality in the face of ever-increasing congestion, both in the air and on the ground," said R. Tolga Turgut, assistant professor at Florida Institute of Technology's College of Aeronautics.
Representatives of Reid International aren't sure why they got dragged into the conversation, since they say it's the airlines, not the airports, that manage flight schedules.
Southwest justifies the need for extra time.
"While we can't independently verify the data in the report, our schedules are designed to take into account various operational needs including seasonal weather patterns — winds, storm patterns, winter weather operations, summer operations — local airport constraints stemming from construction projects or other airport-specific needs, available routes, and the time it takes to turn larger aircraft while on the ground," Southwest spokesman Dan Landson said.
"Our teams are focused on planning a safe and efficient operation that allows us to deliver world-class hospitality to our customers as they travel throughout our network as we connect them to the people and places important in their lives."
Important to consumers
Is schedule padding an important issue to consumers?
Yes, especially if it involves compensation for a late flight, which passengers are entitled to if delays last for days or missed connections result in an unexpected overnight stay.
"Depending on the circumstances, you might try to fly out an entire day or so earlier," Price said. "My family does this when we take a cruise. We fly out an extra day or so in advance to reduce our chances of a delayed or canceled flight. Obviously, in some severe circumstances, like the one that occurred with Southwest over the holidays, no amount of pre-planning is likely to help in such situations. Individuals resorted to various measures, such as renting cars to travel to their desired location or, if possible, driving their own vehicles to reach their destination. Some people drove to other airports in the region to look for other flight options."
Price said avoid standing in a customer service line to rebook a flight by using the airline's app or your status level with the airline, which may have dedicated telephone numbers.
"Overall, airlines do have a responsibility to get you to your destination or refund your money," he said. "In most cases, they will rebook you on other available flights; however, in some cases that might not be until a day or two later."
Contact Richard N. Velotta at rvelotta@reviewjournal.com or 702-477-3893. Follow @RickVelotta on Twitter.
Worst airports and airlines for flight padding
Here are the top five U.S. airports and airlines for flight padding, according to FinanceBuzz:
1. Dallas Love Field
2. Charlotte Douglas International
3. George Bush Intercontinental (Houston)
4. William P. Hobby International (Houston)
5. San Francisco International
— — —
1. Southwest Airlines
2. Alaska Airlines
3. United Airlines
4. American Airlines
5. Delta Air Lines