Workers sign, raise steel beam at Las Vegas Convention Center project
Updated August 20, 2019 - 6:35 pm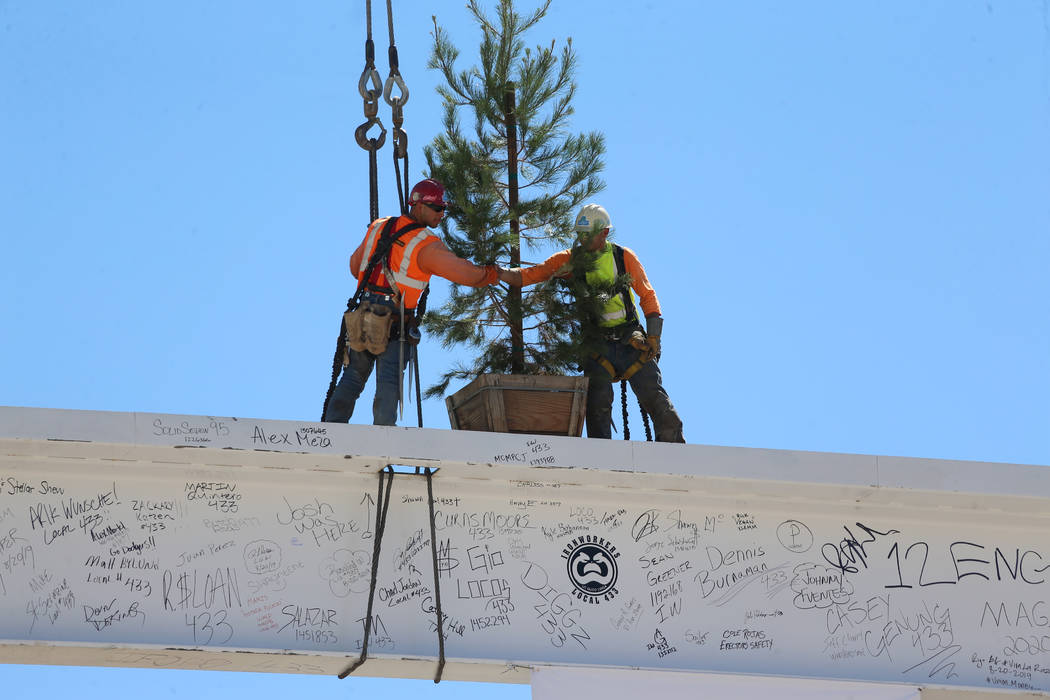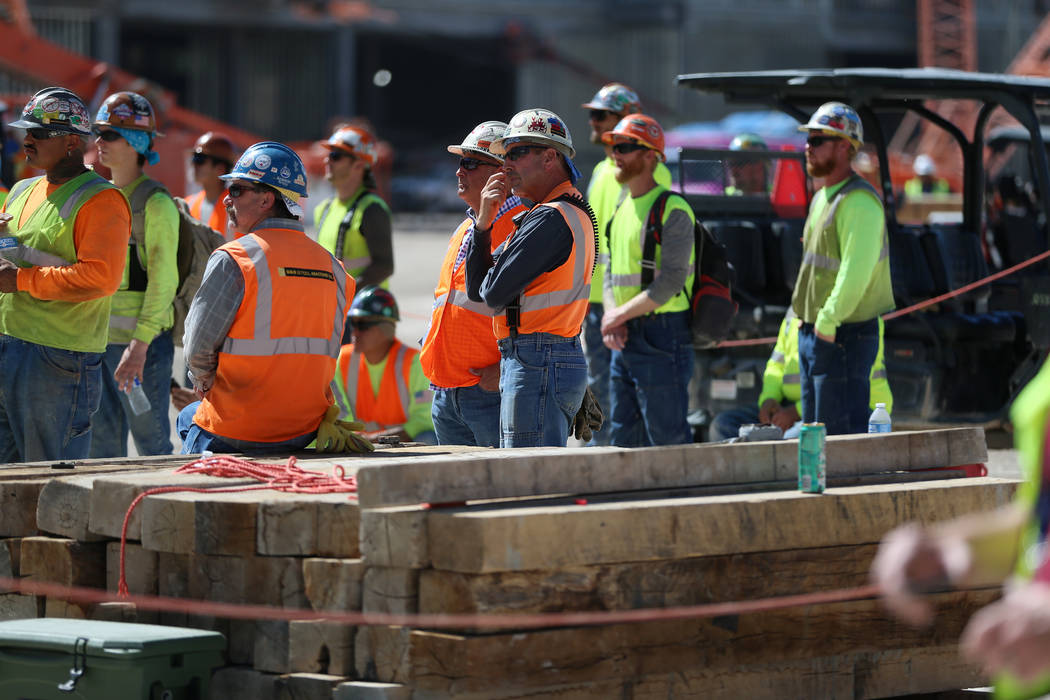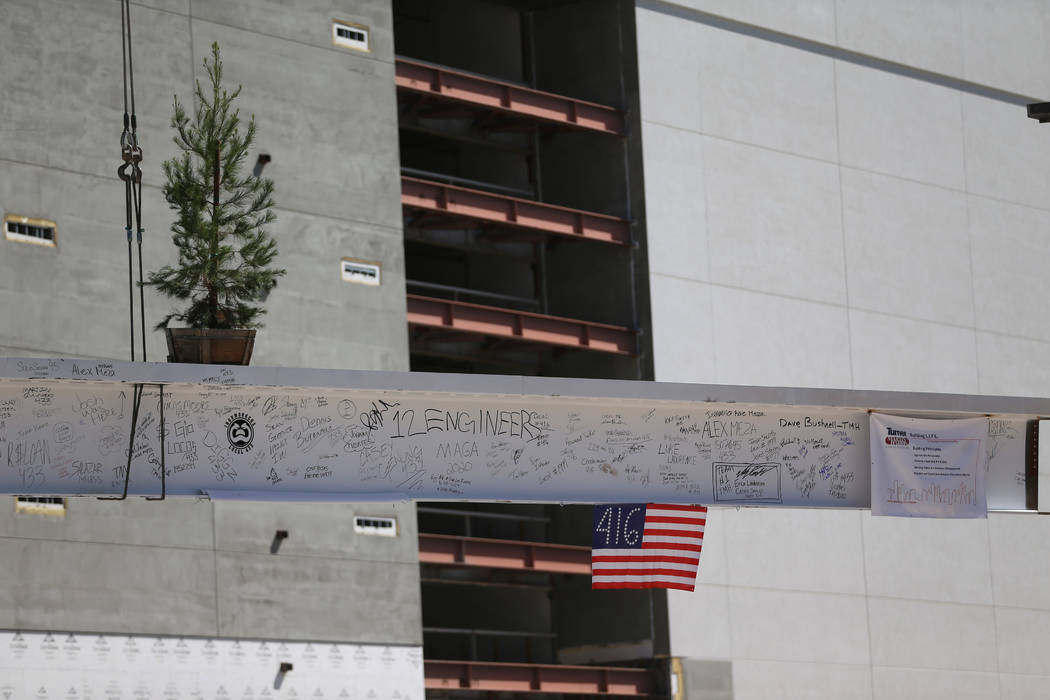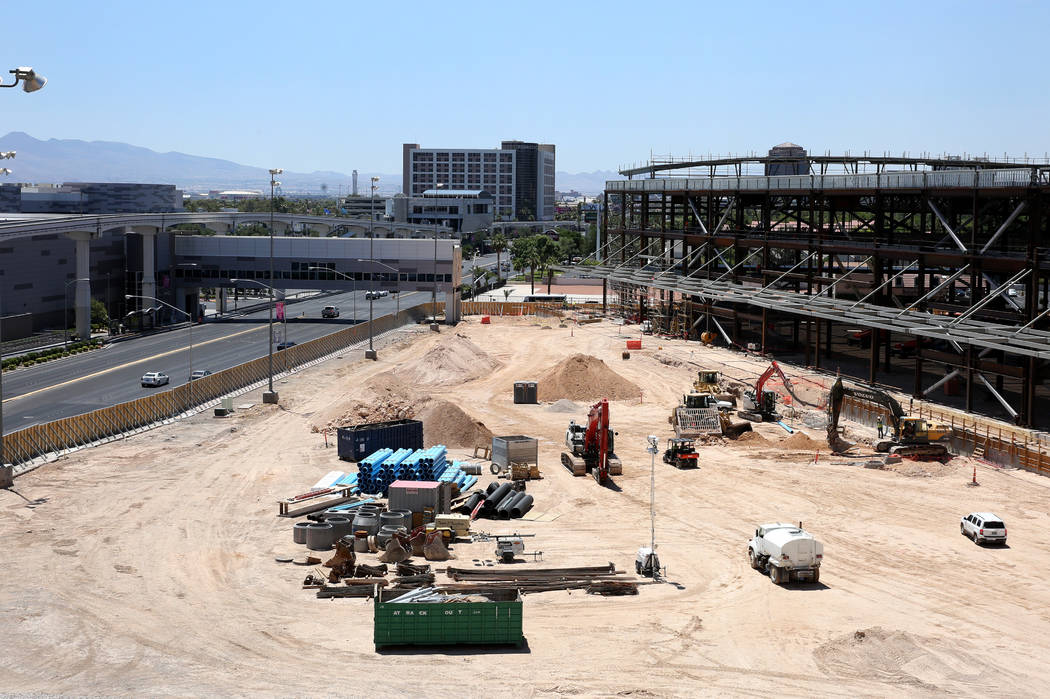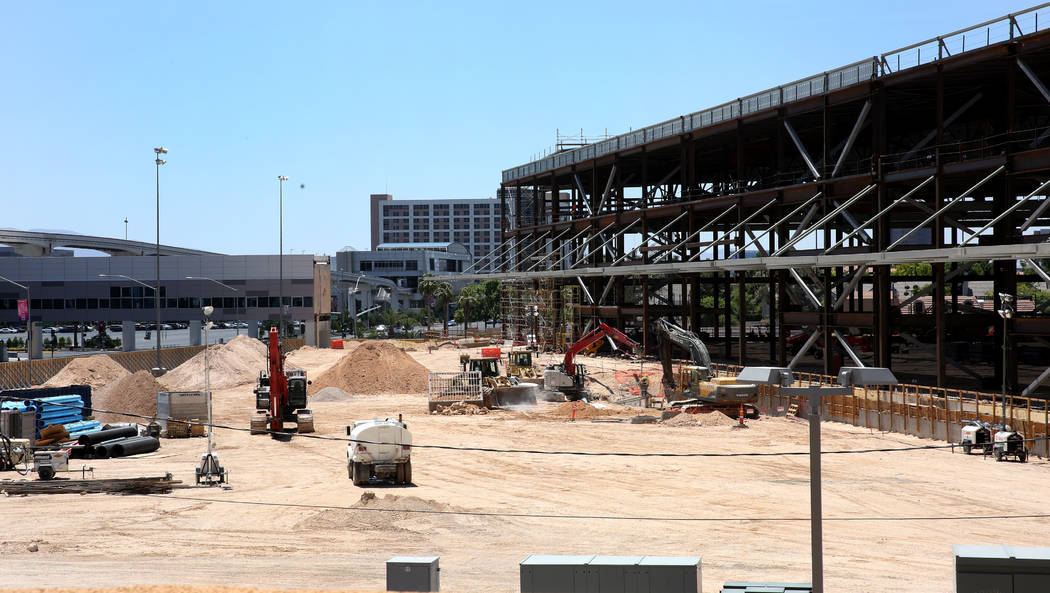 A steel beam signed by workers completing the frame of a massive exhibition hall at the Las Vegas Convention Center was hoisted into place Tuesday amid cheers and whistles from the laborers who built the $935.1 million structure.
Installation of the beam was the latest milestone in the Las Vegas Convention and Visitors Authority's effort to provide space to attract more conventioneers to Southern Nevada and stay ahead of competitors hoping to knock Las Vegas from its ranking as North America's top convention city.
"Conventions and tourism in general represent a $60 billion boost to the Southern Nevada economy," LVCVA Chief Operating Officer Brian Yost said minutes after a the beam was floated into place with a crane.
"We estimate that with this new space we'll be able to attract an additional 600,000 attendees to Las Vegas. With the 15,000 hotel rooms that are being built in the market currently, this will be a great way to fill those additional rooms."
Top convention city
Trade Show News Network this year named Las Vegas the top city for conventions for the 25th straight year, but Orlando, Chicago, New York and other competitors have been aggressive in their efforts to steal business.
Once the $1.5 billion expansion and renovation is completed in 2023, the Las Vegas Convention Center will add 1.4 million square feet to the existing 3.2 million square feet to become the nation's second-largest convention venue behind Chicago's McCormick Place.
The convention authority is accomplishing that with a three-phase project, financed in part with the same legislation that provided funding for the construction of the 65,000-seat, $1.9 billion Allegiant Stadium project.
The expansion is expected to be completed by December 2020 and ready for CES 2021 delegates. Once the new building is online, workers will embark on a hall-by-hall renovation project in 2021 and 2022 that will take some space out of commission for six months at a time.
The process is expected to make it easier for trade shows and conventions to stay in Las Vegas while construction is underway.
Yost said a key feature of the 600,000-square-foot exhibition hall is the addition of the largest expanse of unobstructed space in North America.
"We're excited to reach this milestone," Yost said. "It represents a lot of hard work on behalf of a lot of hardworking folks and we're just here to celebrate them today."
More celebrating soon
Guy Martin, president of Martin-Harris Construction and co-principal of the Turner-Martin Harris Joint Venture that is building the expansion, said there will be more celebrating to come in a couple of months.
"From the very first day, our team has treated this as basically two projects within a project, the (exhibition) hall and the meeting rooms and atrium," he said.
"Today was a very significant day, but more importantly today is all about the tradesmen and women that are making it possible," he said. "This isn't a topping off with a whole bunch of delegates, and nobody's flying in from Carson City or Washington D.C. This is about the men and women that choose to come to this job every day over all the other work that's going on in Las Vegas."
Dewey Newton, senior vice president of Turner Construction, said his company wasn't big enough to handle the project on its own and the joint-venture partnership is working well.
"Having Guy and Frank Martin as our joint-venture partner who know the market, they know the trades, they know all the people on the site you'll see today," he said. "It just makes the work more efficient, less traveling for us, less cost and we have a partner that knows the county and the city really well."
People-mover
The cost of the project includes a $48.7 million people-mover being developed by The Boring Company, and a $525,500 third-party review of the tunnel work for the underground transit system with three stations and more than a mile of dual tunnels that will carry vehicles on Tesla chassis.
A groundbreaking for the people-mover is expected to occur in October, and it is projected to be completed in time for CES 2021. Officials are securing permits ahead of the underground work.
An above-ground station for the people-mover is planned adjacent to the new hall. A ramp leading down to the tunnels will whisk passengers to stations near the North Hall and to a parking lot east of the South Hall.
Contact Richard N. Velotta at rvelotta@reviewjournal.com or 702-477-3893. Follow @RickVelotta on Twitter.
Convention Center by the numbers
-4.6 million Square footage of Las Vegas Convention Center when the expansion and renovation projects are complete in 2023.
-26,500 Weight of steel in tons to be used on the expansion project.
-5,600 Weight of reinforcing steel in tons to be used on the project.
-67,000 Amount of concrete to be used on the project in cubic yards.
-14,000 Number of jobs created during the expansion and renovation projects.
-725 Number of tradesmen and women on the expansion site daily.
-45. Percentage of work completed on the expansion project.